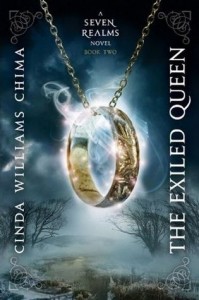 The Exiled Queen
(
Seven Realms #2
)
by
Cinda Williams Chima
Purchase on:
Amazon
, 
iBooks
, 
Book Depository
Add to:
Goodreads
Synopsis:

Haunted by the loss of his mother and sister, Han Alister journeys south to begin his schooling at Mystwerk House in Oden's Ford. But leaving the Fells doesn't mean that danger isn't far behind. Han is hunted every step of the way by the Bayars, a powerful wizarding family set on reclaiming the amulet Han stole from them. And Mystwerk House has dangers of its own. There, Han meets Crow, a mysterious wizard who agrees to tutor Han in the darker parts of sorcery—but the bargain they make is one Han may regret.

Meanwhile, Princess Raisa ana'Marianna runs from a forced marriage in the Fells, accompanied by her friend Amon and his triple of cadets. Now, the safest place for Raisa is Wein House, the military academy at Oden's Ford. If Raisa can pass as a regular student, Wein House will offer both sanctuary and the education Raisa needs to succeed as the next Gray Wolf queen.

Everything changes when Han and Raisa's paths cross, in this epic tale of uncertain friendships, cut-throat politics, and the irresistible power of attraction.
Agh! HAN! Now, I'm not guna lie….I loved book one WAY more than this. However-my track record is that I almost ALWAYS hate book two in a series, because, well, things are still developing. Hey, don't blame me. I like the build-up, but I'm fucking ready for this epic book three and four now-LET THE GAMES BEGIN!
Due to the fact that I KNOW book three and four will be epic thanks to my lovely Dark Pup, I have no doubt this series is about to get real fangirlish for me.
You've been warned.
Related Posts