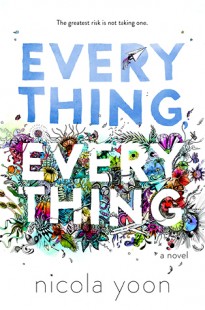 Everything, Everything
by
Nicola Yoon
Purchase on:
Amazon
Add to:
Goodreads
Synopsis:

My disease is as rare as it is famous. It's a form of Severe Combined Immunodeficiency, but basically, I'm allergic to the world. I don't leave my house, have not left my house in fifteen years. The only people I ever see are my mom and my nurse, Carla.

But then one day, a moving truck arrives. New next door neighbors. I look out the window, and I see him. He's tall, lean and wearing all black—black t-shirt, black jeans, black sneakers and a black knit cap that covers his hair completely. He catches me looking and stares at me. I stare right back. His name is Olly. I want to learn everything about him, and I do. I learn that he is funny and fierce. I learn that his eyes are Atlantic Ocean-blue and that his vice is stealing silverware. I learn that when I talk to him, my whole world opens up, and I feel myself starting to change—starting to want things. To want out of my bubble. To want everything, everything the world has to offer.

Maybe we can't predict the future, but we can predict some things. For example, I am certainly going to fall in love with Olly. It's almost certainly going to be a disaster.
Let's be frank one second here : from the start I knew that (almost) whatever could happen, I was going to adore this book. Why? Because as you might know, I'm an absolute sucker for insertion of different mediums in a book, when it's well-done, and I love using some of these mediums in my reviews. Annnnnd Guess what? It was the case here, and I fell in love with the concept before even starting to like the characters – I know, I know, I can be so easy sometimes. Am I weird? Maybe, but originality strikes a note to which I can relate.
Actually, there were so many different formats here that I struggled to choose which one I would use – let's face it, I wanted everything : Maddie's spy schedules, her hilarious spoiler reviews, her copybooks excerpts … Anyway, I chose to use Ollie and Madeline's IM conversations because sue me, but they were my favorite parts through and through. I'm such a stalker, I can't even.
"Madeline : I'm not a princess.
Madeline : And I don't need rescuing.
Olly : that's ok. i'm no prince."
Alienor : I'm sorry but at first you sounded one dimensional to me.
Olly : but i climb stuff!!
Alienor : Yes you do. I'm really impressed but
Madeline : I'm sick!!
Alienor : Yes you are but
Madeline : And I really love architecture
Alienor : I know! Good for you girl!
Olly : but when we message together it was funny right
Alienor : Yes it was but can you please use punctuation
Madeline : See Ollie! I told you it was annoying
Olly : you did but i just feel like not using punctuation and that's my right for fuck sake
Alienor: Anyway – Now moving on guys
The fact is, if at first I found the characters pretty flat, I slowly grew attached to them throughout the story.
Madeline : Wait – you mean like you would in real life then?
Alienor : EXACTLY! Really, I felt like I was slowly becoming friends with you guys, and there's where my first hint of love appeared.
Olly : even if Maddie gets obsessed over me pretty quickly?
Madeline : I'm not obsessed.
Olly : you so are
Alienor: Yeah, well, about that – you do grow attached quickly but I didn't bother as much as usual because 1) It's not an instalovish PNR way of falling in love, but 2) it's a pretty accurate description of first love in my opinion. Of course we're stupid and of course we're obsessed! Come on! So, yeah. You grow attached quickly, but it's not shocking in any way, as you sound like real teenagers through and through.
Olly : you don't think Maddie is acting stupidly then?
Alienor : OF COURSE SHE IS, DUH. SHE IS A TEENAGER IN LOVE. But anyway, I can't deny that when I reached the second part, I was feeling her despair and her hope, her angst and her joy. I cared. You're young, you're cute. I loved you together ♥
Madeline : So you don't think I was reckless?
Alienor : You so were, and I'm warning you here, some readers will be annoyed by you for sure. Yes you took selfish and reckless decisions but really, who are we to judge? Would I be able to suffer life confined in a house without feeling reckless? I don't think so, and luckily I'll never know for certain. So, yes. I could have been mad at her sometimes. The fact is, I never did.
Olly : And me i mean you're not talking about me
Alienor : Well, like Maddie you can appear reckless at some point but damn, you are adorable and I felt like I could relate because – sorry but – you're not flawless by any means. So YES. You took some dumb decisions TOO. YES. You fall in love quickly. YES YES YES – no instalove though. Now that I cleared the air, let me say –
Madeline : He's just so cute right?
Alienor : He SO is.
Madeline : And he can climb!
Alienor : That he can.
1
day I needed to finish it
2
characters who made me smile and feel
3
Scenes that almost made me cry
4
Stars I'm willing to give
WAIT – It's not perfect then?
5
Number of fucks I give
TRIGGER WARNING : Domestic abuse
Related Posts