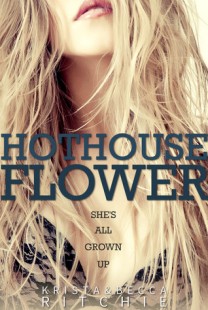 Hothouse Flower
(
Calloway Sisters #2
)
by
Becca Ritchie, Krista Ritchie
Purchase on:
Amazon
, 
iBooks
Add to:
Goodreads
Synopsis:

yke Meadows, meet Daisy Calloway ... she's all grown up.

Twenty-five-year-old Ryke Meadows knows he's hard to love. With a billion-dollar inheritance, a track-star resume, and an alpha-male personality—he redefines the term likable asshole. But he's not living to make friends. Or enemies. He just wants to free climb three of the toughest mountains in Yosemite without drama or interruption.

And then he receives a distressed call from a girl in Paris—a girl that he has never been allowed to have.

Daisy Calloway is eighteen. Finally. With her newfound independence, she can say goodbye to her overbearing mother and continue her modeling career. Next stop, Paris. Fashion Week begins with a bang, and Daisy uncovers the ugly reality of the industry. She wants to prove to her family that she can live on her own, but when everything spirals out of control, she turns to Ryke to keep her secrets.

As Daisy struggles to make sense of this new world and her freedom, she pushes the limits and fearlessly rides the edge. Ryke knows there's deep hurt beneath every impulsive action. He must keep up with Daisy, and if he lets her go, her favorite motto—"live as if you'll die today"—may just come true.
Trigger Warning : I chose to write this review as Ryke's, therefore there will be a lot of cursing. Sorry about that.
➊ The romance
Ryke and Daisy's story started as a fucking surprise for me : I didn't expect to like them that fucking much, but during the first 50% I can't deny that I spent a great time. The sexual tension between them was fucking off the charts and I couldn't ship them more. I loved that they were friends and cared about each other so much, loved their complicity and their flirting. After Kiss the Sky I wasn't sure that I would like these characters, but frankly? They grew on me, even if Daisy stays a little too dependent for my liking, and Rose & Connor stay my favorite by far, even in this one.
Connor,


And then when Ryke and Daisy finally had sex, Fuck. That was fucking hot. Okay, I forgive them the "I'm the only one to give you orgasms" line that was a little ridiculous.
➋ The drama
Well this being said, excuse me but the obstacles to their relationship were fucking dumb in my opinion.
It fucking killed me to see the drama stretch and stretch and stretch around Lo's possible reaction and I wanted to punch him in the face each time he would make them feel bad only because they were drawn to each other. Just grow a fucking brain and stop being selfish. Now, Ryke annoyed me as well with his "I don't give a shit what people think" attitude. Look, I don't like to justify my actions to others either, but sometimes you have to realize that people aren't in your fucking head to know what you think. Ugh. Talk about useless drama.
➌ The French
It's starting to fucking spoil my enjoyment because I can't help but cringe when I read them talking in French. I'm sorry, but asking a native speaker to check is not that hard. No French in his right mind would say something like : "Je serais génial, mais je sais ce qui me fait toujours obstacle". It just doesn't make any fucking sense. You don't use génial to express how you're feeling. Never.
In a word : More generic NA material than Kiss the Sky (yes, that would mean more stupid angst, more stereotypical leads and unrealistic scenes), but what I fucking loved in the first still owns the show : friendship, family and no girl hate.
Now, if you would excuse me, I'm going to wash my mouth and come back to Connor and Rose's schemes in Fuel the Fire.
Ps. If you found the fuckings in this review annoying to read, I'm not sure that you will stand Ryke's POV. Just sayin'.
Related Posts