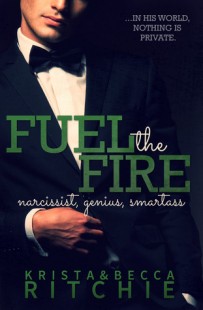 Fuel the Fire
(
Calloway Sisters #3
)
by
Becca Ritchie, Krista Ritchie
Purchase on:
Amazon
, 
iBooks
Add to:
Goodreads
Synopsis:

Protect your family. At all costs.

It'd take the impossible to hurt Connor Cobalt, even for a moment.

Protect your family. At all costs.

At twenty-six, his narcissistic tendencies have made room for the people he loves.

Protect your family. At all costs.

And he loves Rose. But when his love is threatened, when his greatest dreams with her are compromised — what is the cost then?

Protect your family. At all costs.

Love will guide his choices.
For the first time in his life.
"Nowadays people know the price of everything and the value of nothing." – The Picture of Dorian Gray, Oscar Wilde
While I was gathering my thoughts about Fuel the Fire, I drew the conclusion that I needed to find a way to prevent me from rambling and adding a millions quotes. Yes, that happens with this kind of books. Favorites. You know, Connor said something that I found beautiful : that he was attracted by people's thoughts, by people's fire without never restraining himself in gender boxes, under a label. As I was reading the last page, smiling, I realized that what he said about people is also true when dealing with books.
A great book must make me think, feel, change my world during a few hours, and sometimes, it lingers. Considering how full of tropes the NA genre is, I repeatedly stated how rarely I found enjoyment reading it. It remains true. However, I don't want to say that Fuel the Fire is a great New-Adult book.
No. It's an incredible book. Period.
But before I start fangirling, as promised, here's my bingo.

Now you can take everything in this bingo and multiply my emotions by 1000. I loved this book from start to finish, including its flaws (some repetitions of sayings, a tendency to drag at some point, several mistakes that should have been edited). So many passages made my heart beat in anticipation that I can't hold a grudge. Except… except when revenge is involved, apparently : I let escape an evil little laugh that my boyfriend found *almost* scary (you'll know when).
My heart is full. I am so proud of Connor and Rose that it's getting ridiculous, but I don't even care. They're my perfect match.
Ps. After Hothouse Flower I didn't think that I would read Ryke and Daisy's next book, but I have to admit that I really enjoyed the dynamics between Ryke and the other characters here (especially Connor), so I might change my mind. Okay, I changed my mind.
Related Posts