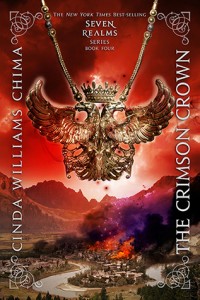 The Crimson Crown
(
Seven Realms #4
)
by
Cinda Williams Chima
Purchase on:
Amazon
, 
iBooks
, 
Book Depository
Add to:
Goodreads
Synopsis:

A thousand years ago, two young lovers were betrayed-Alger Waterlow to his death, and Hanalea, Queen of the Fells, to a life without love.

Now, once again, the Queendom of the Fells seems likely to shatter apart. For young queen Raisa ana'Marianna, maintaining peace even within her own castle walls is nearly impossible; tension between wizards and Clan has reached a fevered pitch. With surrounding kingdoms seeking to prey on the Fells' inner turmoil, Raisa's best hope is to unite her people against a common enemy. But that enemy might be the person with whom she's falling in love.

Through a complicated web of lies and unholy alliances, former streetlord Han Alister has become a member of the Wizard Council of the Fells. Navigating the cut-throat world of blue blood politics has never been more dangerous, and Han seems to inspire hostility among Clan and wizards alike. His only ally is the queen, and despite the perils involved, Han finds it impossible to ignore his feelings for Raisa. Before long, Han finds himself in possession of a secret believed to be lost to history, a discovery powerful enough to unite the people of the Fells. But will the secret die with him before he can use it?

A simple, devastating truth concealed by a thousand-year-old lie at last comes to light in this stunning conclusion to the Seven Realms series.
"He's the one steps away, right?" she said. "He knows this is dangerous turf-for both of you. He won't make his move until he knows he can win it all."
"But what if that never happens?" Raisa said.
"He won't settle," Cat said. "He'll wait forever if need be."
Man..I was so excited about writing this review. I was so excited to show how much I loved, adored, cherished this series. But now, sitting here, finally able to type out my feelings I think….How could I possibly put into words just how much this series meant to me? We read a book or a series and we obsess about it ceaselessly, yet when it comes time to actually put it into words? It's virtually impossible to capture that essence of what makes us so happy, excited, unflinchingly devoted to these characters. And yet…I can't very well not try, right?
That's what you do when you love someone-you notice and notice and notice.
I mean, what's the point, really, when so many other wonderful reviewers have done it a million times better than me and a thousand times before. What makes mine so special? Me? My review-why stop here and read this? For instance: Anna? Her review is just so perfect, and it shows just how much she adores this series, but makes it fun and exciting with her cute little visuals and adorable accent that is translated through the thoughts on her review. It's simple, yet portrays every gamut of emotion she felt throughout the series with out being a screeching fangirl (which she is, if I do say so myself) and spoiling everything. I don't know anyone who is more obsessed with these characters (I'd like to think my obsession is only a peg below hers, but I can't be sure-she has got it bad) or who took better care in representing them and presenting them in a way that people become curious, despite their level of enjoyment for fantasy. If you're reading this review, you're likely one of my best friends who always reads them (I know who you are and I ADORE YOU). Or, you might be someone who thinks my ramblings are worth reading every once in a while. And hey, if that's you? I admire your tenacity, I can be a bit much to take.
…He paused for a heartbeat, then added, "Though avoiding Nightwalker seems like a good idea to me."
"It's a match my father favors," Raisa said.
"Then your father is wrong," Han said. "Nightwalker thinks the world sprouted from his bunghole."
Raisa dismissed this image with some difficulty.
But that's my point-This series isn't simply about the adventures or the romance or the peril and action that shape how the throne is ruled and the towns destroyed-It's so much more than that. It's the soft looks between life long friends as things become complicated. It's the touch of a street thug who might just be what you've been looking for your entire life without even knowing it. It's the desperation shared with the person you thought you'd grow old with as that dream crumbles to ashes beneath your feet. It's a character driven series. And if you don't like, love, adore, obsess, care, or cherish these people that have been through literally every devastating thing possible…you have nothing.
"Haven't you heard about me?" he [Han] said, with a tight smile. "I'm really a very dangerous person." And he did look dangerous until he said, "Look, could you watch Dog for me while I'm gone?"
And if only I can show my love of the characters, and everyone can see how much I adore them, then I guess I'll call my review a success. I'll admit that-I don't always just love books that aren't all packed to the brim with romance and peril and desperate attempts at love while things begin to disintegrate before two young lovers' eyes. I am becoming a person who adores character driven stories where we get to know a person inside and out in just day-to-day life….but I'm not always on board, especially with fantasy. So believe me when I say this is a breath of fresh air. Literally. I mean it.
Would she be required to sacrifice everything-every single person she cared about for this bloody throne?
Apparently so.
So much love, loss, betrayal, and heartache are bestowed upon on our young characters, and seeing them go through each and every devastating event makes the vice-like grip on your heart tighter and tighter, squeezing until you can't hardly breathe anymore, causing you to fall deeper and harder in love with characters you were already falling head over heels for after only a few chapters in book one. Raisa, the proud Princess who can't wait to help her kingdom grow and become a better place, yet doesn't want to be forced to marry. Amon, her best friend and soldier, the guy who would do anything to protect Raisa and the throne-even forfeit his own life. And so many more just like this…but none quite like Han.
He reached over and closed his hands over hers, the first time he'd dare touch her. He looked into her eyes. "This may sound arrogant, and I'm sorry if it does, but you're so alone, Raisa, and so am I. Didn't you ever wish you could have a…a partner? A friend? Somebody you could say anything to-where you didn't have to pick and choose words like a merchant at a market? Someone who wants you for yourself?"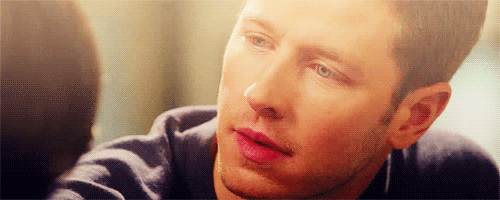 Han, who is many things without being conceited. Han, who would do ANYTHING to protect those he loved…even as that count becomes smaller and smaller, Raisa being his number one priority. Han, who makes your stomach drop and your heart beat way too fast with a simple smile, haunted eyes, a quick joke, his loyalty, his misguided love for Raisa becoming the real and true thing…Even if it wasn't what he ever wanted or planned for. But that's the thing about Han, you know?? He never wanted these things coming his way, yet he excels, he thrives, he becomes the best he can be-For he won't settle for less…He wants everything . And that includes the girl who stole his heart right from underneath his feet. He's used to being the thief…but as it turns out, she invaded his heart from the beginning, stealing his heart before he knew what happened to him.
He closed his eyes, breathed in, opened his eyes again as if to assure himself she was still there. "I want to breathe you in for the rest of my life."
So, as you see, this isn't the best review, but I loved these characters. They mean so much to me-every one of them. I can't wait to someday get these gorgeous hardbacks for my shelf, and I can't wait to re-read them again with my Han loving (creepily obsessed?) buddy who loves our random (and frequent) gush sessions about all things Seven Realms (okay, mostly Han, shut up). But, for now, I have to live with being tired 24/7 and having to finish this series much quicker than I wanted to and in less than desirable circumstances. It sucks, but that's what re-reads are for. I didn't get to enjoy the last three books as much as I'd have wanted to, real life and all that jazz, but it didn't stunt my enjoyment, and that's really saying something. So, for those of you still reading (doubtful), I hope that my love for these characters is enough to excite you and nudge you into giving Han's journey a try. If not, oh well, more Han for me.
*Re-written seeing as my laptop shut off randomly for no reason whatsoever, just…UGH I'm too tired to care about making it all perfect again, so it isn't nearly as good. So sad.*
**************************
Would she be required to sacrifice everything-every single person she cared about for this bloody throne?
Apparently so.
Oh. My. Gahd. This series was beautiful, fantastic, other-worldy in it's ability to pull you in and wish you never had to let go. These characters (HAN!) have embedded themselves into my heart forever, and I will not likely forget them soon. Raisa and Han and Amon and Dancer and Cat…I can't even. And Han's loyalty (and Raisa's, for that matter) made my heart stutter with undiluted joy and cheer even when all hope was lost.
What started out as a curiosity on my part has became something that I:
A) MUST have on my bookshelf (Aaahhh Christmas will be a salty one indeed)
B) Will have to re-read again, and SOON
C) Will never forget
D) Will forever consider a favorite
Thanks to Jen for the gentle nudge by buying the first book for me for Christmas this year, and a begrudging thanks to the Snake that all but pushed me off the cliff. You both ROCK ♥
RTC when I can! Because….HAN! 😛
Related Posts