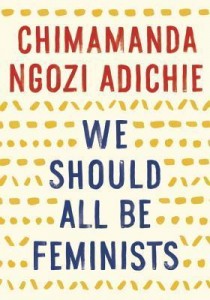 We Should All Be Feminists
by
Chimamanda Ngozi Adichie
Purchase on:
Amazon
, 
iBooks
, 
Book Depository
Add to:
Goodreads
Synopsis:

What does "feminism" mean today? That is the question at the heart of We Should All Be Feminists, a personal, eloquently-argued essay—adapted from her much-viewed Tedx talk of the same name—by Chimamanda Ngozi Adichie, the award-winning author of Americanah and Half of a Yellow Sun. With humor and levity, here Adichie offers readers a unique definition of feminism for the twenty-first century—one rooted in inclusion and awareness. She shines a light not only on blatant discrimination, but also the more insidious, institutional behaviors that marginalize women around the world, in order to help readers of all walks of life better understand the often masked realities of sexual politics. Throughout, she draws extensively on her own experiences—in the U.S., in her native Nigeria, and abroad—offering an artfully nuanced explanation of why the gender divide is harmful for women and men, alike. Argued in the same observant, witty and clever prose that has made Adichie a bestselling novelist, here is one remarkable author's exploration of what it means to be a woman today—and an of-the-moment rallying cry for why we should all be feminists.
The fact that feminism is often considered as a negative concept is rather new to me, simply because I've internalized my anger/my annoyance for years and started to point what shocked me to people only recently.
Why is that? Did my family raise me in the belief that we women shouldn't speak up? Hardly. Not once did my parents implied that I shouldn't be ambitious because I was a woman. Every day of my teenage years my mother repeated to me that I should never do something – including sex – that I didn't want to do to fulfill other's expectations and for that, I'm grateful. I am a thirty years old woman who's successful in her work, has been in a fulfilling and loving relationship for 6 years and we don't intend to have children just quite yet. My family is okay with that and never implied that I should start a family because that's what people do.
So, why? What can explain that until a few years ago I used to not stand up when faced to situations where my being was judged by gendered standards? I could say that I don't know, but it wouldn't be true : I genuinely think we are the products of our society and that I had internalized so many biased statements about what I can do as a woman and what I can't that I didn't even notice them anymore. This is why I find this kind of books important.
Short and highly readable but powerful and yes, needed. Because I'll always remember the first time I expressed out loud my anger and bewilderment about a sexist situation : people (including women) told me exactly what the author has been told : "ugh but you're a feminist". And yes, feminist was quite the insult here. So I started reading books. Researching. Noticing more and more generally admitted stereotypes in my everyday life. Now, when I hear someone saying things like (last week in an official meeting), "children can stay here if their mum is busy or their father is at work", I frown and speak up. I'm annoying, but the fact is, I don't fucking care if I am.
"Anger, the tone said, is particularly not good for a woman. If you are a woman, you are not supposed to express anger, because it is threatening."
I'll add : because if you're angry people say that you're "making a scene", and god forbid you answer when you're insulted! Earlier last week my little sister was publicly insulted in broad daylight because she was wearing a dress. She called me, baffled to see that nobody reacted and that people told her to calm down because "it was how things were" when she answered angrily in a situation where she had every right to be mad. Don't tell me it's not true that we women are supposed to be kind and pleasant : it stays, in 2015, how most people think, and you're quickly called a – sexually frustrated – bitch when you dare to say that no, thank you, I don't want to be insulted for no reasons.
"We teach females that in relationships, compromise is what a woman is more likely to do.
We raise girls to see each other as competitors – not for jobs or accomplishments, which in my opinion can be a good thing, but for the attention of men."
As a teacher, I can't agree more with the author's statement about how we raise children. If I'm sure that many of you are progressive in that subject, it remains that wrong ideas about what are – and more often than not in people's heads, must be – masculinity and feminity are spread every day and I see it in my pupils' behavior on a daily basis. These stupid expectations hurt both men and women.
"What if, in raising children, we focus on ability instead of gender? What if we focus on interest instead of gender?"
That's why I urge you to read this short essay and I'm going to shove this book in my friends' throat gently and nicely advice my friends to read it. If it can make people more interested in these issues, it would already be a positive step.
Related Posts