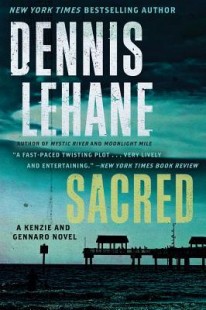 Sacred (Kenzie & Gennaro #3)
by Dennis Lehane
Purchase on: Amazon, iBooks
Add to: Goodreads


Synopsis:

Dying billionaire Trevor Stone hires private detectives Patrick Kenzie and Angela Gennaroto find his missing daughter. Grief-stricken over the death of her mother and the impending death of her father, Desiree Stone has been missing for three weeks. So has the first investigator Stone hired to find her: Jay Becker, Patrick's mentor.

Patrick and Angie are led down a trail of half-truths and corruption into a world in which a therapeutic organization may be fronting for a dangerous and seductive cult, a high-tech private investigation firm may be covering up lethal crimes, and a stolen cache of millions in illegal funds may be tied to both disappearances and a tanker full of heroin. Nothing is what it seems as the detectives travel from the windblown streets of Boston to the rum-punch sunsets of Florida's Gulf Coast. And the more Patrick and Angie discover, the more they realize that on this case any wrong step will certainly be their last . . .

Snappy dialogue, explosive action scenes, and original characters have become Dennis Lehane's trademarks. With Sacred, Lehane confirms his status as today's hottest young author of first-rate mysteries that are also smartly written literary novels.
"Everyone is suspect. Everyone is suspect.
It was starting to become my mantra."
I'll tell you this : Read this series, because it's basically awesomeness in a bottle.
You've got Patrick, sarcastic and clever detective who stole my heart (I mean – just marry me already), Angie, his partner who shows more and more strength, Bubba, their psychotic friend who's always there when action starts (and blows off things), Cheswick, the coolest lawyer ever (yes, I quote)… and several really interesting new characters, including Jay, Patrick's mentor (hehe). I missed Oscar and Devin, though, because these cops are all kinds of awesome (most of the time).
Angie and Patrick? BEST. TEAM. EVER.
Even if this book isn't as incredible as Darkness, Take My Hand (but let's face it : there aren't many), I found the story compelling and really greatly created, as in : you better follow all the clues because there's no such thing as a plot hole here.
Nobody can be trusted, layers must be unraveled, and again, you're blown away by the inherent darkness of the plot who shows perfectly the wickedness of human nature… But there's love, too. So much love, I may grow a second heart or something.
If you have a thriller series to read, it would be this one. As for me, I'm going back to school and the kiddos so, you know, it will probably be the only "review" this book gets. Sorry, Patrick, I know you deserve better. I still love you.
Related Posts