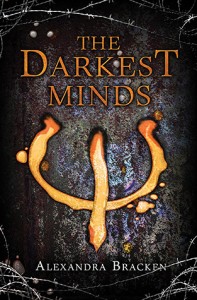 The Darkest Minds
(
The Darkest Minds #1
)
by
Alexandra Bracken
Purchase on:
Amazon
, 
iBooks
Add to:
Goodreads
*5 Stars!!!!! I can't forget about these books-rating any lower is blasphemy on my part. END OF STORY.*

*4.5 Stars*


They were afraid of us-the ones who lived.

What if one touch could change the course of your life forever? Wow. I didn't know what to expect. So many dystopians lately fail to stand out and just fade back into the crowd. I can't say that this necessarily jumped to the front-I've read a LOT of dystopians-but it definitely brought something special to the table. I never once felt bored, never felt the desire to skim and skip and jump to another page. Each page had something to say and added another thin, fine layer to this already interesting and expertly woven story. And, for once, I don't think a single character's presence was a wasted space-everyone slid perfectly into their slot of the story and made the moments that much more meaningful.
They'd taken in a monster, thinking it was a mouse.
Ruby is hiding something, something that will not only change her status in the camp she was taken to, but make her a weapon for the good guys-or are they the bad guys? Who should she trust?
How can she embrace this ability, this gift, as people are starting to say, when it's always been taught and implied that it's wrong wrong wrong? What will she do when all of a sudden she shouldn't be suppressing her powers, but embracing and using them? And most importantly-how will she keep herself from becoming a monster?
I guess once you'd had a taste of the worst, pretty bad isn't all that terrible.
A story about a 16 year old girl coming to terms with the struggle she has faced since she turned 10, the feeling of loneliness and not belonging anywhere, and the realization that she might always be alone. And then, after she is 'taken' from the camp by a group claiming to be advocates for the 'greater good' and people who don't condone her abilities, she gets away and runs into a group of other 'infected' kids who are also on the run after a camp escape-but they have their own grief to carry. Smuggled on by the youngest, and cutest :P, member of their little threesome, Zu, she finds herself on a journey to find a place that is described as 'heaven' to kids with their abilities-and at the head of this place of peace and comfort is a guy, Clancy, who might be one of the last people who can truly understand Ruby-for he has the same level (orange-hard to explain the color system) of abilities as she, and perhaps he could help her hone them to become something more than a hindrance…but can she trust him?
"I told you we should have taken that Ford SUV," Chubs said.
"That piece of-" Liam caught himself. "That box on wheels was a death trap-not to mention its transmission was shot to hell."
"So, naturally, the next choice was a minivan."
"Yep, she called to me from the parking lot of abandoned cars. The sun was shining through her windows like a beacon of hope."
Chubs groaned. "Why are you so weird?"
"Because my weird has to be able to cancel out your weird, Lady Cross-stitch."
What I loved most about this story? The friendships that were formed and the loyalties earned were so precious and not taken lightly-and I found myself grinning from ear-to-ear merely because of the banter between friends. Romance wasn't the only star of the show. BUT….you know meeeeeeee-it wouldn't be a Chelsea review if I didn't gush about the romance. It was absolutely adorable, incredibly sweet, kind, and over-the-top heart-wrenching as Ruby and Liam fell for one another. It was NOT rushed. It was NOT forced. It was NOT whiny or one-sided. But the slow-burn and building realization that they might be able to make it work (even with her crazy ability) was utterly heartwarming and I was a butterfly induced, grinning fool. But not once did the romance overshadow the story-the pacing and progression was absolute perfection with just enough of a slow-burn to make me a mess.
"God." He shook his head, mouth twisting into a shadow of a smile. "Did you know…you make me so happy that sometimes I actually forget to breathe? I'll be looking at you, and my chest will get so tight…and it's like, the only thought in my head is how much I want to reach over and kiss you." He blew out a shaky breath. "So don't talk about getting me out of here, because I'm not leaving, not unless you're part of the package too."
I finished this late last night and was very pleased with the cliffhanger. I really enjoyed the book as a whole, even, but the last 40% was just so good. It brought the story up a few paces and raised my 4 star rating to a quick 4.5. Loyalty, love, betrayal, and naivety, there wasn't much missing from TDM. I guess the only reason this wasn't a five star was that I wasn't fully engrossed in the story at first. You know, the incessantly talking in my ear, turning the television up to ear-busting decibels boyfriend was a huge factor, and also, I was just extremely tired and was half dozing through the first 40%, so I can't say really anything was wrong with the story-just lack of time and quiet to fully immerse myself into the book. So, at the moment, I can't think of a single negative thing to say…and the more I think about it, I get even giddier about the story as a whole….so yeah.
"The darkest minds tend to hide behind the most unlikely faces."
A strong cast and even stronger story of survival while the whole world is out to get you, we get a very fun, and yet very serious, story about what it means to embrace what you are or what you can be. This is one of those that while I would make sure you like dystopian first, there was literally no reason I wouldn't pass along a recommendation. It was funny, fast-paced, sweet, and even a little heartbreaking…but completely worth the read. Read it, don't read it…doesn't matter. But I am stoked for book two.
"Never, never, never. I am never going to forget you."
Related Posts