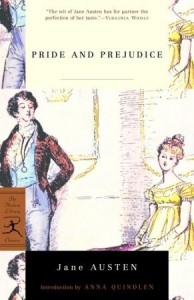 Pride and Prejudice
by
Jane Austen
Purchase on:
Amazon
, 
Book Depository
Add to:
Goodreads
Synopsis:

"It is a truth universally acknowledged, that a single man in possession of a good fortune must be in want of a wife."

So begins Pride and Prejudice, Jane Austen's witty comedy of manners--one of the most popular novels of all time--that features splendidly civilized sparring between the proud Mr. Darcy and the prejudiced Elizabeth Bennet as they play out their spirited courtship in a series of eighteenth-century drawing-room intrigues.
"I cannot fix on the hour, or the spot, or the look, or the words, which laid the foundation. It is too long ago. I was in the middle before I knew that I had begun."
Life is short, and my time for reviews even shorter. I'm sorry to those who read every one of my reviews, because I am saying this almost every time now. But it also seems important to repeat this fact for those who aren't familiar with my reviews…or for those who might have forgotten how long winded and detailed my older reviews were. I take pride and find great enjoyment in writing all of my reviews-but as it turns out, if I want to write reviews at this time of my life, they need to be short and sweet (I'm even writing this review on my phone in the notes section, which is causing even more problems to arise). So this brings me back to my original point-this review won't be long, detailed, or gushy. It will be quick, to the point, and only focus on the nitty gritty. As it turns out, that will be very easy. This was far from a favorite, so it won't pain me to shorten my thoughts and get to the point…but I don't want my words mistaken: while this wasn't a favorite, I far from hated it.
Vanity and pride are different things, though the words are often used synonymously. A person may be proud without being vain. Pride relates more to our opinion of ourselves, vanity to what we would have others think of us.
Pride and Prejudice is a book I've never wanted to read…but when Mr. Darcy is mentioned in literally EVERY little thing, one tends to take notice (hark, am I reading another book because of a boy again?? Sigh, I really am too easy). I've never been one to love historicals and I can't say I like deciphering every little thing as I read, but I finally just decided to give it a go-a fact my dear friend noticed and caused her to buy the book for me as a gifty nudge…I truly love Jennifer for her devotion to a beloved favorite, and admire her stubbornness in my needing to read it-who says two chicks don't become more and more alike (cough pushy) the longer they chat.
Needless to say I was right in my assumption-No, the classics aren't for me. They are a bit slower and, frankly, I felt dumb when I read this. The writing is very good…but my comprehension level was virtually nonexistent. Now, to be fair, I got the hang of it, but not until I truly got interested-coincidence? I think not.
At 50%, this book really took a turn for me. Whether it was the adorably haughty, yet earnest, Darcy (it totally was) or the idea that things were taking a turn for the better (again, it was Darcy), I finally gave a shit. I started smiling more and I got butterflies. I became invested and longed for the story to have always been that way.

She began now to comprehend that he was exactly the man, who, in disposition and talents, would most suit her. His understanding and temper, though unlike her own, would have answered all her wishes. It was an union that must have been to the advantages of both; by her ease and liveliness, his mind might have been softened, his manners improved, and from his judgement, information, and knowledge of the world, she must have received benefit of greater importance.
Finally there was something to root for and a reason to be reading this. Darcy was clearly in love with Lizzy and she finally started to see the good in him…I'm all for animosity between a couple, but it pained me to wait in this one. I'm sorry, but 40% on who should court whom and how everyone is related and the idea that marriage was the basis of the novel…well, it became a bit tedious (in my hardly reputable opinion). I'm all for a relationship fueled book, but for the love of God let it be leading somewhere for our main couple (and not ONLY at 50%!!!). And I know I know it's about family and…okay, whatever, the beginning is above me. But my point remains-GET TO THE GOOD SHIT! For all of us, Janey.
In short, I could live my whole life and never read that first 50% again, and be fine. But that would mean I'd have to give up the last 50% and that I'm not so okay with. There's something to be said for a simple story and a cute, but arrogant, male lead. And…After saying all this…I've decided I will read this again. I don't know when, and I don't know if the result will be the same, but I sure am hoping for a total win and that full effect. <3
************************************
Ahhhh so I've finally met this Mr. Darcy fellow…
I must admit, he was exactly what I needed 🙂
Review to come (HOPEFULLY) Agh. Fuck you, real world. I'll just lay here and pout.
Related Posts