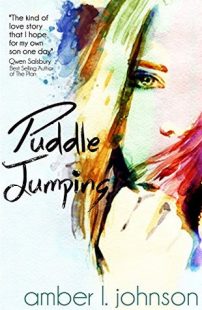 Puddle Jumping
by
Amber L. Johnson
Purchase on:
Amazon
Add to:
Goodreads
Synopsis:

When it comes to love there's no such thing as conventional.

Everyone thinks Colton Neely is special.

Lilly Evans just thinks he's fascinating.

Once friends when they were younger, their bond is cut short due to her accident prone nature and they go their separate ways. Years later, they meet again and Lilly learns that there is something special about the boy she once knew, but she has no idea what it all means. And she's not sure if she's ready to find out.

When he walks through the corridor of her school the first day of her senior year, she knows that it's time to get to know the real Colton Neely. The more she learns, the deeper she falls.

Their friendship grows into love, even as Colton does not express it in words. But one decision threatens to break down the world that Lilly has tried so hard to integrate into and she must figure out if the relationship can survive if they are apart.
Review:
Puddle Jumping was adorably sweet and had humor and heartfelt moments sprinkled throughout.  It was the perfect book to make me feel all wonderful and cozy inside.  Because Lily and Colton's story was incredibly heartwarming and I hope all of my friends will give this book a try.
Words he's been branded with could never describe him. He's not special. He's extraordinary. To me.
Lily Grace Evans was a breath of fresh air.  We met her in the first chapter as a headstrong ten year old little girl who tasked to babysit Colton Neely, who was just one year younger than her.  While Colton just wanted to color, Lily had crazy wild ideas, and I still crack up thinking about their first interactions.  But then the story progressed as they grew up into teenagers.  And I loved how I got to watch them interact here and there as the years passed.  What evolved from their brief childhood moments to their teen years was pure, beautiful and believable.
I would do whatever it took to be what he needed me to be. He was worth it even after only one day.
As a teenager, Lily continued to be a kind and thoughtful person.  She tried her hardest to make life easier for Colton.  Not only because she cared for him, but so he could experience life like her.  She never saw Colton as different, he was always just Colton to her.  And she wanted the rest of the world to see that too.  I loved everything about Lily!
With a small sigh he squeezed my hand tighter. "I wish you were like me."
The breath in my body just rushed out all at once as I asked him why.
His gaze traveled my face again before he focused on my hair, saying exactly what he had on his mind. "Because then you would understand."
Colton Neely was innocent, trusting, beautiful and heartbreaking.  And while he looked just like any other boy , his mind worked a little differently.  But when words would fail him, he had an astonishing way to express his thoughts and feelings through his paintings.  Each time he painted his emotions, it would melt my heart.  Because those thoughts and feelings spoke volumes to the extraordinary person he was.  It was impossible not to fall for Colton.
But you know what shocked me the most?  That Puddle Jumping was only a little over 100 pages long. How was that even possible?  Because the feelings that were invoked in me and the attachments I formed with the characters is something that should have only happened with a full length story.  So it was a wonderful surprise.  Another wonderful surprise was that I loved the relationship between Lily and Colton's mom.  It was honest, embarrassing and made me have tears in my eyes while I wished I still had that type of relationship in my life too.
He kissed me.
Warm and soft. Gentle at first until his lips had acclimated to mine. It wasn't like any kiss I'd ever experienced before because my knees felt nonexistent and I wanted to fall, taking him with me in a pile on the ground so I could curl into him and never let go.
This is a story to pick up when you need a smile, for when you want your heart to be happy, or you just need to feel ok with the world for a while.  It's that heartwarming.  Puddle Jumping was everything that my heart was looking for and more.
P.S. Thank you to my amazing friend, Chelsea, for sending me this book and introducing me to Colton & Lily!  You knew I'd love them just as much as you did, and you were so right! ♥
Related Posts