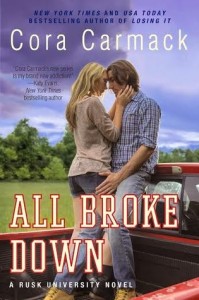 All Broke Down
(
Rusk University #2
)
by
Cora Carmack
Purchase on:
Amazon
, 
iBooks
Add to:
Goodreads
Synopsis:

In this second book in New York Times and USA Today bestselling author Cora Carmack s New Adult, Texas-set Rusk University series, which began with All Lined Up, a young woman discovers that you can't only fight for what you believe in... sometimes you have to fight for what you love.

Dylan fights for lost causes. Probably because she used to be one.

Environmental issues, civil rights, corrupt corporations, and politicians you name it, she's probably been involved in a protest. When her latest cause lands her in jail overnight, she meets Silas Moore. He's in for a different kind of fighting. And though he's arrogant and infuriating, she can't help being fascinated with him. Yet another lost cause.

Football and trouble are the only things that have ever come naturally to Silas. And it's trouble that lands him in a cell next to do-gooder Dylan. He's met girls like her before fixers, he calls them, desperate to heal the damage and make him into their ideal boyfriend. But he doesn't think he's broken, and he definitely doesn't need a girlfriend trying to change him. Until, that is, his anger issues and rash decisions threaten the only thing he really cares about: his spot on the Rusk University football team. Dylan might just be the perfect girl to help.

Because Silas Moore needs some fixing after all.


I drop my head against the steering wheel and groan. So much for keeping things simple. "You are in so much trouble, Dylan Brenner."
And trouble's name is Silas Moore.
Oh em gee…This is a literal OMG. I started another book that made my eyes burn on the SECOND PAGE and thought shit, what will I read now?? So, on Friday at 10 pm (what…I have a life-I DO!), when my book didn't work, I went to another that my lovely lovely Jennfier had bought me…and from page one on…I WAS A GONER.
"Are you hurt?" I ask.
A flash of a smile has a field of goose bumps sprouting along my arms. "You worried about me, Pickle?"
I throw my head back and groan.
"I'm going to kill him."
One word, Y'all…one word: SILAS. I just…I can't even. This book just popped out at me one day and I couldn't help but mark it as TBR. I mean…football. But I never thought I'd actually read it, ya know?? I thought it was a filler that would sit there for years and eventually I would delete it on one of my epic TBR sweeps (just did one recently, Hallelujah!). But no, for some reason, on a late Friday night when I needed a pick me up, fate led me to this hidden gem…and I couldn't be a happier little Silas fangirl. XD
And…fuck.
Just fuck.
I could probably live the rest of my life only using that word and it would sum things up fine.
So, here's the deal, I'm guna level with you all-I have written a LOT of fangirl reviews lately. A LOT. A LOT A LOT. And I am tired, lol. I HATE when this happens right when I read a wonderful book that was not only well-written and sexy, but surprisingly heartfelt and addicting without being trashy. I had so much to say while I was reading-I mean, from the first chapter I was out of breath from all the butterflies attempting to escape through my throat. There is just something so sweet about a boy that has always had it rough, who is fighting for something he thinks is so out of his reach, and finding the girl of his dreams while trying to achieve greatness. And, better yet, thinking he doesn't deserve the girl who lights up his whole life.
His lips are still at my ear, and he lowers his volume so that Matt won't hear. "I promise not to get you dirty. Unless you ask real nice."
I don't even…I can't…Oh my God.
Oh! And a little tidbit for those who hate this kind of thing (It personally has never bothered me): No slut shaming. Well….I didn't think there was. Maybe I'm wrong? Anyway-My point in all this-I've written a lot of reviews for a lot of books in the last three weeks (the majority of them 5's), and I am officially worn out on writing them lol. So, if this review falls short, in the end, it is not for a lack of perfection in this novel. No, the reason for shorting my poor, tortured Silas is because this bitch be tired. I am just…ugh. So tired.
His eyes really are far too pretty for a guy like him. Dudes who look dangerous should just be dangerous. Period. The end. They should not be dangerous and beautiful all at the same time. It leaves the universe out of balance, and it makes me do stupid things like stare.
I think the most charming thing about this story…is it's writing. I mean, I don't judge that harshly on books, really, but I certainly can appreciate a well-written and humorous story. The reason this is so wonderful, to me, is that the book didn't merely rely on sex and witty banter and a smoldering hot male who only has eyes for our girl (He is a former manwhore-a plot I know most people might be tired of, but that I NEVER grow tired of, tee-hee). There was a lot of that-the sexy looks, the 'I'm falling for you but I'll take what I can get', the broken and torturedness-but it wasn't the only thing. And that, in NA, is amazing.
I will never be able to turn this girl down. Whatever she wants from me, it's hers. No matter what she asks for, I'll find a way to give it to her. She may not be mine, but somewhere along the way, I ended up hers.
The heart and soul of this story, though, is how much Silas wanted to make something of himself, to break the barrier of being just a brat who grew up in non-homes and trailers. He met Dylan in the oddest of circumstances…one might say they were immediately 'handcuffed' together
(LMAO I AM SO NOT CLEVER BUT BAHAHA). And from that moment on, he was intrigued by her. Tied to her. Into her. And, most importantly, protective of her.
His tongue peeks out to worry at his swollen, busted lip, and I feel a wave of heat curl up my spine.
Totally inappropriate. Totally psychotic because he is way out of my league. Or I'm way out of his league, I don't know. Either way, someone is out of someone's league.
GAWD his protectiveness just got me. I ADORED HIM. He could get violent, an offense that almost loses his place on the team, but he never got where I think people reading this would get a bad vibe from him. He thinks with his fists first, especially when it comes to his girl, but never in a, hmm, psycho way. And, despite what I implied…no insta-love. Just no. Stop it. Stop thinking that. STOP IT! But boy oh boy…I was pleased with their first….encounter.
I want to make her come so hard that for the rest of her life, she remembers me anytime someone touches her. I'm going to leave my mark on her perfect body, beneath the skin where she'll never get me out.
I want to ruin her for anyone else.
And I'm pretty damn good at ruining things.
Dylan was also a character I really enjoyed. She knew what she wanted. She was goal oriented and into helping others who cannot help or speak for themselves. She never blew Silas off because he didn't grow up like her, and she never felt above him…but this was also a part of the story in ways they need to overcome-Just to be clear. I can't say she was as good as Silas, but *Scoffs* who is, am I right? However, she was a great heroine and she didn't make me cringe, roll my eyes, or anger me in a way that endangered my enjoyment of the story. I loved her in a lot of ways, and she was always there for my beautiful broken football player.
Except I'm starting to think that the idea of "belonging" anywhere is false. We go through our whole lives thinking that we belong in one place and not in another. We think certain ideas and actions have to be relegated to the tiny little boxes we place them in. What if we just react instead? What if we take whatever the world gives us and instead of focusing on what it isn't, we enjoy what it is?
So, you know, my fingers are ITCHING to type more about Silas and his jealousy and his fierce protectiveness and possessive tendencies and his loyalty and his loving nature and his longing to be good enough for her and…oopsy poopsy. My bad….
But I think this said enough. And hell, if I need to add more tomorrow, I will. I mean, I get to add my quotes next and EEEEPSSSS that is my favorite part. Who wants to be too tired to enjoy re-reading my favorite Silas moments?? Not I. But, I digress-I just recently went on a deleting massacre of my TBR, and Cora's other popular series, Losing it, was deleted because I knew I'd never read it and it had been on there since, like, 2012. But, you know…I think I might be re-evaluating that decision. Hmmm….is that a pig in the sky?? Because that has NEVER happened before. What? I can admit when I'm wrong.
*********
I will never be able to turn this girl down. Whatever she wants from me, it's hers. No matter what she asks for, I'll find a way to give it to her. She may not be mine, but somewhere along the way, I ended up hers.
Ahhh!!! I am beyond excited I decided to give this one a try. Started another book, didn't get any feels, picked this one up….and ALLL THE FEELSSSSS!!! Silas stole my heart from page one-SO unexpected!
RTC!!
Related Posts