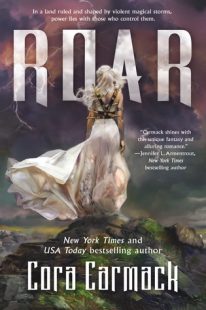 Roar
(
Stormheart #1
)
by
Cora Carmack
Purchase on:
Amazon
, 
iBooks
Add to:
Goodreads
Synopsis:

In a land ruled and shaped by violent magical storms, power lies with those who control them.

Aurora Pavan comes from one of the oldest Stormling families in existence. Long ago, the ungifted pledged fealty and service to her family in exchange for safe haven, and a kingdom was carved out from the wildlands and sustained by magic capable of repelling the world's deadliest foes. As the sole heir of Pavan, Aurora's been groomed to be the perfect queen. She's intelligent and brave and honorable. But she's yet to show any trace of the magic she'll need to protect her people.
To keep her secret and save her crown, Aurora's mother arranges for her to marry a dark and brooding Stormling prince from another kingdom. At first, the prince seems like the perfect solution to all her problems. He'll guarantee her spot as the next queen and be the champion her people need to remain safe. But the more secrets Aurora uncovers about him, the more a future with him frightens her. When she dons a disguise and sneaks out of the palace one night to spy on him, she stumbles upon a black market dealing in the very thing she lacks—storm magic. And the people selling it? They're not Stormlings. They're storm hunters.

Legend says that her ancestors first gained their magic by facing a storm and stealing part of its essence. And when a handsome young storm hunter reveals he was born without magic, but possesses it now, Aurora realizes there's a third option for her future besides ruin or marriage.
She might not have magic now, but she can steal it if she's brave enough.

Challenge a tempest. Survive it. And you become its master.
7/9/19 Finished the #StormlingReadAlong early and wowwowwow and I SO READY for Rage.  Below is my review from when I first read the book and honestly, my thoughts on it did not change at all!
—

This was an amazing start to a series that I am already really excited about!! Full, honest review given below. Thanks to NetGalley and Tor Teen for giving me a chance to read this eARC! ♥

Okay, on to the goods. When I saw that Cora Carmack had written a YA Fantasy novel I was PUMPED. I've read–more like devoured–her Rusk University novels already and was dying for more. The fact that the "more" was a genre that I am especially obsessed with had me rushing to request an ARC from NetGalley and turing into a fangirly mess once I actually got it.

Honestly, this book was really damn good. The only thing that bothered me was that there were a lot of abrupt changes in POV but that could just be the editing of my ARC and it could be taken care of once the book is actually in print. Other than that, this was such a fresh newpremise!!!! This book is set in a fantasy world where storms of any kind are magical and violent and there are only a select few people called Stormlings that are born with the power to reign them in and protect their kingdoms. Aurora, the main character and heir to the Pavan throne, was born without powers and has had to keep it a secret her entire life. Of course, her mother, the queen, decides that it'll be a great idea to marry her off to another Stormling prince so that her throne remains secure and her people stay protected. Of course things don't always go as planned…When Rora feels betrayed by her groom-to-be she sets out with a band of storm hunters to take control of her future and learn how to tame the horrible storms herself.

First of all, we are introduced to an interesting and easily likable/hateable group of characters. It seems at first like there could be a possible love triangle but fear not!! That isn't a thing in this first book. Rora, or Roar as she eventually becomes known as, was an extremely likeable female lead for me. She falls a little too easily for her male counterparts but given her sheltered life, I guess I can see how she quickly made a connection with two of the first two people who *really* paid her attention. Other than that though, she's a fighter. She's stubborn and pig-headed and I'm really excited to see how her future pans out. Locke, the love interest, is VERY swoon worthy (but I can agree that he CAN be a little overprotective at times). Oh my lawd. You guys will see. I'm a big fan…I am curious to see more about Cassius though.  Something tells me that he and Roar will have a hell of a time with a reunion in the next book…

Overall the story is a memorable one. The ending isn't a huge cliffhanger but does set up for book two perfectly which I will 100% be pining for. I highly recommend!!
Related Posts