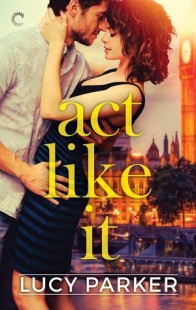 Act Like It
by
Lucy Parker
Purchase on:
Amazon
Add to:
Goodreads
Synopsis:

This just in: romance takes center stage as West End theatre's Richard Troy steps out with none other than castmate Elaine Graham

Richard Troy used to be the hottest actor in London, but the only thing firing up lately is his temper. We all love to love a bad boy, but Richard's antics have made him Enemy Number One, breaking the hearts of fans across the city.

Have the tides turned? Has English rose Lainie Graham made him into a new man?

Sources say the mismatched pair has been spotted at multiple events, arm in arm and hip to hip. From fits of jealousy to longing looks and heated whispers, onlookers are stunned by this blooming romance.

Could the rumors be right? Could this unlikely romance be the real thing? Or are these gifted stage actors playing us all?
► 3.5 stars happily rounded-up because Act Like It was loads of fun! Truth is, I was really wary when I first started it, but let's face it, I'm always wary when I read a romance novel, because they often contain several of my biggest peeves : cheating, slut-shaming, instalove… just pick one. Albeit not perfect, Act Like It was a great surprise in these aspects and a promising debut.
✔ Two main characters thoroughly enjoyable : meat Lainie, a nice but feisty actress and Richard, a misanthropic – but hilarious – jerk. Both actors in the same play, they're asked to fake a relationship in order to improve Richard's reputation, and oh my, given the outbursts he often throws in public (and his usual prick self), Lainie knows instantly that it's not going to be easy to achieve.
"You want us to do a TV interview? About… this?" Lainie asked, horrified.
"Could you not gesture directly at me when you say that?" Richard asked."
SPOILER ALERT : She wasn't mistaken.
Ah, Richard…
"He brought up the page and was greeted with the image of his own scowling face. Jesus. he looked like his great-aunt Harriet. It was something about the combination of the frown and the emerging beard."
What a piece of work. There's no denying that he acts like a complete jerk at the beginning, but in a way that I can handle. See, I don't like violent assholes. Darcy-ish pricks, though? They make me laugh and I love to sneer at them, both in books and in real life, because I'm a sucker for sarcasm. As long as people call them on their shit, in any case, and Lainie sure knows how to react to Richard's offensive remarks. I loved her, and Richard's devil-may-care attitude won me along the way. Hey, now, my favorite Molière's play is The Misanthrope. That says it all.
✔ A believable and gradual romance : nothing could be further from instalove than the beginning of Lainie and Richard's relationship. Basically, Lainie thinks he's a complete jerk, and Richard barely knows who she is (even though they work together). Are they happy when their boss ask them to fake a relationship? Ugh, no. Definitely not. They're annoyed, pissed, and not a little reluctant. Following them, we witness their relationship changing little by little, from indifference to friendship to more.
"It was more than that. He was… God, he was bonding with her.
Feelings – warm, strong, nauseating feelings – were springing up all over the place, unfurling in his chest, his gut, his groin. Sinking in deep with their little hooks."
But what I loved the most is the fact that despite his first objections, Richard doesn't dismiss his feelings from the moment they appear. No exhausting back and forth, and that's freaking rare.
Not to mention that Lucy Parker makes fun of several stereotypical sayings that we often find in romance novels :
"Tell me you want this. Me."
It was enlightening that she could be this far gone with desire yet still capable of irritation. "Richard." She braced herself against his stomach. "I'm prepared to stroke many things right now, but your ego is not one of them."
HAHAHAHAHA. I freaking love this girl.
"As kisses went, it wouldn't make her personal top ten. For one thing, there was still an edge of temper under the surface, and angry snogging didn't really rev her engine the way it seemed to for vintage romance heroines."
THANK YOU.
✔ Banter : BAHAHAHAHA. Really, these two are perfect together and make for the funniest interactions.
"Cat Richard?" he asked, when they came to a halt behind a double-decker bus.
"My landlady's ginger tom." Lainie sounded too calm. He glanced at her. Yes, her eyes were full of laughter. "He's called Richard. I'm feeding him while she's away for a few days, and he has to have meals twice a day. Bowel issues."
This was actually his life."
✔ The way sexism is handled : See, every time I point that a story contains sexism, people are quick to tell me that unfortunately that's how many real people act and that it shows how realistic the story is. Well. I can't argue with the "realistic" angle, but you know where is the difference in Act Like It? Both MC notice sexism remarks and behavior, and don't ignore them or accept them because "that's how life is". THANK YOU. As for slut-shaming, Richard and Lainie point several times how inacceptable it is, and it was fucking refreshing. Beware, I'm not saying that Richard never says anything sexist, because he does (and in one occasion it's not dealt with), but 99% of the time Lainie calls him on his shit, as well as other characters.
✘ Grammatical errors and editing mistakes : I won't lie, but I almost stopped reading in the beginning because of several grammatical mistakes and plain weird phrasing. Indeed some sentences just don't make any sense, and it spoiled my read a little. Honestly, I don't know if it gets better after the first 20% or if I was too engrossed to notice anymore, but Act Like It would have required further editing.
✘ The sex scenes didn't do a lot for me : Don't get me wrong, I was happy for them, but it still lacked a little chemistry in my opinion. This said, they were realistic and not over the top, and I REALLY liked that.
✘ Stupid drama…. But it stays really short so I'm not sure if it's really a cons. I suppose that I became more and more intolerant of it through the years, but I have to admit that as far as romance novels go, it stays pretty sufferable.
► Really enjoyable. Recommended for romance fans who are fed up of instalove.
Related Posts