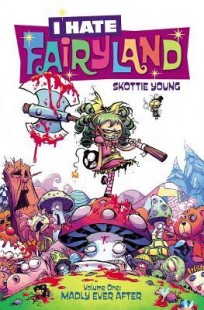 I Hate Fairyland, Vol. 1: Madly Ever After
by
Skottie Young
Purchase on:
Amazon
, 
Book Depository
Add to:
Goodreads
Synopsis:

From superstar writer and artist Skottie Young (Rocket Raccoon, Wizard of OZ, Fortunately, The Milk), comes the first volume of an all-new series of adventure and mayhem. An Adventure Time/Alice in Wonderland-style epic that smashes it's cute little face against grown-up, Tank Girl/Deadpool-esque violent madness. Follow Gert, a forty year old woman stuck in a six year olds body who has been stuck in the magical world of Fairyland for nearly thirty years. Join her and her giant battle-axe on a delightfully blood soaked journey to see who will survive the girl who HATES FAIRYLAND.
"Is anyone ever really ready for a riddle? They're kind of the worst, right?"
Who never dreamed of getting sucked into the Wonderful World of Fairyland?
That would be Gertrude. Do not fear, though, because as always in Wonderland (or whatever its name) she only has to find the Key to come back to her world.
Meanwhile, Gertrude can embrace all the joy and fluff and RIDDLES and – IT'S BEEN TWENTY-SEVEN FLUFFING YEARS, during which Gertrude offered the worst better of her awful wonderful personality to Fairyland's inhabitants –
Alright, she might be *a little* bitter –
But the girl's stuck into her 8 years-old body and you know, WHO WOULDN'T BE BITTER?
Alright. That girl. ANYWAY. Skottie Young raises valid questions, if you ask me : Aren't all these colors just too BRIGHT for the human brain? Don't you want to shoot that guy over there who's narrating your tale ON LIVE? Aren't riddles just FLUFFING ANNOYING?
I Hate Fairyland, Vol. 1: Madly Ever After is violent – bloody gore, even – full of cursing and oh so impertinent. If I can't say that I loved it, because there's just so much slash and kill I can take, and if the humor was a little too much on the ew, gross side for me, I still enjoyed all the references thrown into the story and –
I LOVE LARRY. Gertrude's (forced) guide shows the perfect kind of blasé sarcasm I adore. Every one of his deadpan remarks are one million times funnier than Gertrude's over-the-top craziness.
Here you go.
Related Posts