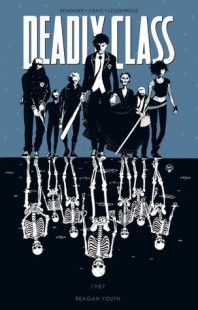 Deadly Class, Vol. 1: Reagan Youth
by
Lee Loughridge, Rick Remender, Wesley Craig
Purchase on:
Amazon
, 
Book Depository
Add to:
Goodreads
Synopsis:

It's 1987. Marcus Lopez hates school. His grades suck. The jocks are hassling his friends. He can't focus in class. But the jocks are the children of Joseph Stalin's top assassin, the teachers are members of an ancient league of assassins, the class he's failing is "Dismemberment 101," and his crush has a double-digit body count. Welcome to the most brutal high school on earth, where the world's top crime families send the next generation of assassins to be trained. Murder is an art. Killing is a craft. At Kings Dominion School for the Deadly Arts, the dagger in your back isn't always metaphorical.
➊ A tale of survival
Tell me, fellows readers, what are you ready to do to survive? What happens when the only hope life can give you is to eat expired chili and to fight with an old homeless over your fucking shoes? When the only choice offered to you is to attend an assassin school or to wait for a painful death to come?
"Happiness is just the absence of pain.
It's the best I can hope for."
Just picture it. You're alone. Cold. Hungry. Desperate. Feeling guilty and useless. Here comes a bunch of crazy teenagers who ask you to follow them. What do you do? Do you follow them, even if it maybe means losing yourself even more? FUCK YEAH.
➋ Sarcastic humor and irreverent ton everywhere. Hey, we're talking about an assassin's school, so obviously, don't expect regular high school drama.
– Wait a minute, oops, actually, YES, expect it : girls drama, bullying, social groups, assignments – Just keep in mind that every single event can lead to some messed-up and bloody situation. Be prepared for drugs, blood, and many good laugh nonetheless.
➌ A world building is absolutely amazing : Welcome to San Francisco in the late 1980s!
➍ Friendship and amazing characters. Strangely because we're talking about crazy fucking teenagers, duh what I loved the most was to follow these characters and to see the growth of their friendship. To be frank, it's really, really rare that I find myself connecting to comic books characters. For real, I end underwhelmed most of the time with comics, because I struggle to feel, to root for the characters. While here, it seems that I couldn't get enough of them.
➎ Marcus.
Yep, the guy won his own special place in my heart. Indeed there's nothing that I like more than characters with ambiguous morality, that's why I adored this little guy who's not completely evil but who's able to follow harsh paths in order to save himself and to be finally accepted. Moreover, I really have a soft spot for lonely, broken and slightly hopeless male-leads, I have to admit. And he's freakin hilarious on acid.
"Given what we're about to do — I shoud feel like a terrible person.
But I don't.
Morality's just comfort food — It holds no meaning outside of our minds."
Verdict: In my opinion Deadly Class offers everything I need to love a story : great characterization, suspenseful plot, enthralling world and so freaking fun, not to mention the ability to make the reader think – about this life, about the importance of friendship and the choices we make every day. Bravo.
Related Posts