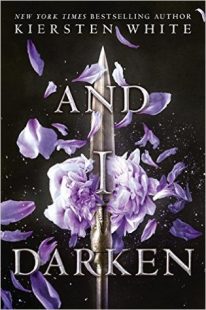 And I Darken
by
Kiersten White
Purchase on:
Amazon
Add to:
Goodreads
Synopsis:

NO ONE EXPECTS A PRINCESS TO BE BRUTAL. And Lada Dragwlya likes it that way. Ever since she and her gentle younger brother, Radu, were wrenched from their homeland of Wallachia and abandoned by their father to be raised in the Ottoman courts, Lada has known that being ruthless is the key to survival. She and Radu are doomed to act as pawns in a vicious game, an unseen sword hovering over their every move. For the lineage that makes them special also makes them targets.

Lada despises the Ottomans and bides her time, planning her vengeance for the day when she can return to Wallachia and claim her birthright. Radu longs only for a place where he feels safe. And when they meet Mehmed, the defiant and lonely son of the sultan, who's expected to rule a nation, Radu feels that he's made a true friend—and Lada wonders if she's finally found someone worthy of her passion.

But Mehmed is heir to the very empire that Lada has sworn to fight against—and that Radu now considers home. Together, Lada, Radu, and Mehmed form a toxic triangle that strains the bonds of love and loyalty to the breaking point.

From New York Times bestselling author Kiersten White comes the first book in a dark, sweeping new series in which heads will roll, bodies will be impaled . . . and hearts will be broken.
Excuse me while I shake my head, burst into crazy laugher and tear up a little. Bear with me, would you? I need to vent – Apparently being stuck in the head of a psychopath will do that to you.
✔ Unfortunately your right or wrong radar works like shit now, and you find yourself nodding along the way when murdering someone is advised. What? Your safety, you fool! (not all deaths, though – you know what I mean)
✔ Your sense of humor is – oh my GOSH, what have you done to your sense of humor? No more cute giggles because of puppies videos, no! Now you revel in hidden threats and your laugh gets a scary quality.
Well… No. Most of it is – Vicious and unforgiving and ruthless and oh so enthralling. Also, the FEELS. Trust me, I could spend the next hours rambling about how that fucked up book made me feel, about the flawed characters and all these times I CRINGED in their wake. But I COULDN'T STOP READING. Not for any second.
Why, they made me furious, the three of them (YES, the THREE of them, but mostly Lada and Mehmed). Lada… being Lada, and Mehmed with his double standards towards women (I know, I KNOW, his way of thinking is certainly realistic, but I hate – loathe – when men categorize women into little boxes). I shouldn't care for them but FUCK ME, I DO, WHAT DO I DO NOW TELL ME?
I could leave it at that, but the truth is, I also need to talk about the genuine sympathy I felt for them, about the messed-up but wonderful portray of a sister/brother relationship, about the ANGER I felt on behalf of Radu (aw, poor thing) and Lada.
The anguish.
What about it indeed. Oh my. The characters dynamics are lost into the threads of power, jealousy, love, tainted by them and so much more complicated because of them. This is all kinds of fucked up but oh so complex : first you have Radu, waiting for the smallest pieces of love his sister – anyone, really – could give him, while Lada… Sigh. Her need to control and own everything and everyone is relentless. Her father is a psychopath, alright? So what does she want? To make him suffer? Oh no. She wants to be better. Stronger. Everything he thought she couldn't be because she's a girl.
Radu and Lada both suffered from negligence. Such an horrible and hidden weapon, negligence is.
Honestly? Wandering in her mind is straight-on chilling sometimes, and her rage is soon wrapped around us, suffocating and formidable. Yet where a simplistic characterization would make it easy to root for sweet, kind Radu, and Radu only, this is not what happens. The complexity of Lada's personality – her layers – make it impossible for us to hate her, even though we perhaps ought to do.
I'm sorry, but I just love Lada, okay? How cruel and cunning she can be, I can't help but care for her all the same.
As for the romance, it was slow, never overwhelming, and above all, it felt real. Real because it never made Lada or Mehmed act out of character. Of course, then, it's messy and will make you suffer if you expect some kind of puppy perfect love. Nothing of the sort. They know and respect each others, and their lives don't revolve around their needs. They entered a fucked-up dance and none of them can possibly know where it will go. I can't wait.
Do not seek magic here, because there's none. Indeed there's no fantasy element but it reads more like alternative history, filled with politics and machinations. What are you ready to sacrifice to get what you want? Your love? Your family? Your country? Your dreams?
Honestly, I didn't know what to hope because FUCK ME, THERE ARE NO GOOD ANSWERS. Where have all the simplistic plots twists gone? They flee somewhere else for sure. Everything is so complicated that I couldn't even choose a path but the whole time I was about to yell WHAT DO YOU WANT FROM ME? FUCKING TELL ME.
I should also tell you that the ending was fantastic, and that I will count the days before I can dive into their lives again. That Kiersten White's writing may not be magnificent, but that its compelling quality is pretty impressive. If the pacing was a little slow, in my opinion it was perfect to convey the story.
This said, I cannot be the only one who struggled to keep tab on their ages. SERIOUSLY! There are so many jumps in time that even if they didn't annoy me per se, I found myself confused several times when it comes to the current age of the characters, because if 2 pages could relate 2 years, sometimes 90 pages only covered a few weeks.
Anyway, although the story seemed to run a little out of steam between 60 and 80%, my interest never wavered and trust me, this is rare lately.
Oh, and before I forget, a fair warning : I know little to nothing about the history of this area during this period of time so I cannot judge the book's accuracy. But what I can say is that it made me want to learn more. So there's that. I mean, there's even religion! And I could stand it! How awesome is that?! Given that my tolerance for religious talk is close to none, I'd say it's pretty amazing.
► Truly a fascinating story. Recommended.
Now available to order wherever books are sold!
*arc kindly provided by the publisher through Netgalley in exchange for an honest review*
Related Posts