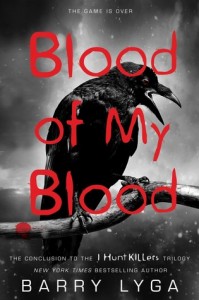 Blood of My Blood
(
Jasper Dent #3
)
by
Barry Lyga
Purchase on:
Amazon
, 
iBooks
Add to:
Goodreads
Synopsis:

Jazz Dent has never been closer to catching his father.

Jazz has been shot and left to die in New York. His girlfriend, Connie, is in the clutches of Jazz's monstrous father, Billy--the world's most notorious serial killer. And his best friend, Howie, is bleeding to death on the floor of Jazz's new home.

Somehow, these three must rise above the horrors and find a way to come together in pursuit of Billy.

But then Jazz crosses a line he's never crossed before, and soon the entire country is wondering: "Like father, like son? Who is the true monster?"

From New York City to the small town of Lobo's Nod, the chase is on, and this time, Jazz is the hunted, not the hunter--while Billy Dent lurks in the shadows.

And beyond Billy? Something much, much worse. Prepare to meet...the Crow King.

From acclaimed author Barry Lyga comes the shocking conclusion to the bestselling I Hunt Killer trilogy.
He [Howie] held out his hands, arms outstretched, ready for the bro hug that would come. 
Instead, Jazz laughed.
The laughter was quick, unexpected, and bright. Jazz dropped the pickax and shovel with an ill-considered clang and leaned against the car as he caught his breath.
Oh, holy hell. He's lost it. He's seriously lost it.
"You okay?" he asked as Jazz stooped to pick up the tools.
"I've never been okay," Jazz told him, and walked away.
Holyyy shit…that was a lot of epic in one book. I'm just….at a loss for words. The beginning started out with a bang, and that, I knew, was a certainty going in. But after all the cleaning up that had to be done after that shot in the chest that can only be described as a 'white-knuckle cliffy' at the end of the previous installment, I started to get nervous. After all the amazing-I repeat-AMAZING peril from book two, I didn't see how, even as dire as the circumstances were through the whole novel, this book could be near as good as the last book. But, oh…dear….sweet….Jesus this mother fuckin' book was everything I could ask for and more. HOLY SHIT I am just astounded by the awesomeness that was this story!!! What and how and why and who and blah blah blah how did he make up this story????? The epicness that jumps off of every page makes a ridiculous fangirl out of me, and for once I just don't care! I love this book so much it hurts.
What would come next wasn't a matter of intellect or reason or even mere emotion. It was as basic as biology. It was blood and sinew and brain matter. Raw.
I am so emotionally spent. This series reached deep into my heart, my mind, my soul and pulled out all the things that make up a perfect novel to me. There wasn't one moment I wasn't on the edge of my seat. Not one page passed where I didn't fret over the mental state of Jazz's mind. I still laughed and I still obsessed, but it was a different kind of obsession. In the previous works, I was fully invested in the crimes-who the killer was, what they were playing at, if Jazz would find the murderer(s) before it was too late, and, most of all, if they'd finally catch up to Jazz as he closed in on their string of killings. Jazz is, was, and forever will be my biggest concern. Always. So, naturally, wouldn't my obsession grow, expand, adapt when the nature of the story became about Jazz's sanity, mind, soul, his search for redemption and, most of all, to end Billy Dent's reign of terror? Of course it would! DUH.
What is like to go looking for your soul, only to learn you never had one to begin with?
Like I've said before, this series is character driven-if you don't connect or care for Jasper, then you likely won't find much to enjoy about this series. I mean, yeah, there's the idea that a killer is within grasp at any waking moment and there's also his palpable love for his girlfriend, Connie, and the strong, everlasting friendship with his best buddy, Howie. Who, by the way, became a favorite character of mine-his loyalty and devotion for his best friend who was slowly losing his mind in his quest to end Billy Dent broke my heart and made reading his POV something I actually looked forward to. But if you don't at least like Jazz a little, you're wasting your time. But How dare you, if that becomes the case-ugh, I can't even imagine a world where people don't love Jazz. Inconceivable.
Just sayin'.
"So, now what?"
"Can't tell you."
"You wound me."
"Well, you wound easily."
-Lmao, Howie and Jazz
Malice, death, truths, lies, betrayals, they go hand in hand with one another. Jasper is about to learn the true identity of the crow king. So many possibilities, so much speculation, but only one possible outcome that can rock you to your core and make both your eyes and stomach bleed. The truth will rip your heart to shreds and make you question, like the main detective in this book, what kind of world we live in. And, let me tell you, the truth isn't even the part that will make you choke on your own shock-no, what comes after? That's gut check time.
He dropped to his knees, gasping for breath. Was this shock? Was he going into shock? He couldn't breathe, and his vision had gone blurry.
This book explored not only a deeper side to Jazz, but also the cold, hard truth of what happens when you are done and your body has finally gone on auto-pilot. Shut down. Went into preservation mode. We watch as Howie and Connie do everything they can, which isn't much, as Jazz slowly descends into madness and let's his dark side he's always fought take over. He becomes detached, cold, driven in his desperation to end his father's life, because he believes it's his job-it's his duty and his duty alone-it's always been him. Father vs. Son. Mano y Mano. Wit, cunning, and all that crazy Billy has taught Jazz as he grew up. But what happens if he succeeds? If he finally lets all the lessons he learned take over when he's fought them so desperately his whole life? Will that be it? Will he be fulfilled, at peace, able to move on with his life like a normal human being? Or will he slowly become Billy Dent's successor, the next notorious serial killer….just like Dear old Dad wanted?
"I think I've had enough of your kind of love," Jazz said, surprising himself that he clenched his jaw tight, tears gathering. "You…you abused me," he spluttered. "You did horrible things to me. You made me-"
This story explored deep emotional levels I didn't know it possessed. I had no idea that I would think the last two (MURDEROUS) books would be tame, fluffy, funny, light-hearted compared to this one. But I clearly knew nothing. I will push and push and push people to read this series until I've annoyed them beyond comprehension. For that, I'm sorry. But, also, like Jazz, only a little sorry-this series is too good to go unnoticed by so many of my friends-but I'm about to shake everyone up. I will get people to read this. That's your only warning. Anna, you lovely lovely French vixen-THANK YOU SO MUCH FOR THIS WONDERFULLY HORRIBLE AND ADDICTIVE AND PERILISTIC series. I wear this badge with honor. I will NEVER EVER EVER forget Jazz or this series. Holy book hangover hell, here I come.

Killers hunt me.
Related Posts