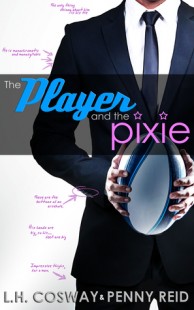 The Player and the Pixie
(
Rugby #2
)
by
L.H. Cosway, Penny Reid
Purchase on:
Amazon
, 
iBooks
Add to:
Goodreads
Synopsis:

How can someone so smokin' hot be so bad in bed? I mean, Sean Cassidy is absolute rubbish. RUBBISH. He is the epitome of walking, talking false advertising and I want a refund! Plus he's an arsehole. So… what is wrong with me that I can't stop thinking about him?

THE PIXIE
Lucy Fitzpatrick doesn't like rugby.
As the little sister of Ireland's most infamous rugby player, Lucy can't seem to escape the championship-sized shadow cast by her big brother, or her mother's frequent attempts to micromanage her future. Her rainbow hair is as free-spirited as her quest for inner peace, yet overbearing expectations keep bringing her down. And when she's down, her compulsive little problem lands her in seriously big trouble.

THE PLAYER
Sean Cassidy is a cold-hearted brute… or so he's been told. Frequently. By everyone.
His blonde locks, baby blues, and rock hard bod make ladies the world over drool with desire. As the rugby world's second most infamous player, he should be basking in his success. But Sean has never been content settling for second place, and his frequent confrontations with Lucy's big brother leave him cold. And when he's cold, his compulsive little problem lands him in the lap of Lucy Fitzpatrick.

THE PLAN
Sean has a problem only Lucy can solve. Lucy has a problem only Sean can fix. The solution seems obvious: you scratch my back, and I'll bail you out of jail. But when their business arrangement unexpectedly leaves Sean scorching hot and Lucy on the precipice of inner peace, can they convince the world—and Lucy's big brother in particular—that this is the real deal?

Either way, both the Player and the Pixie are about to teach each other some pretty monumental lessons about family, life, but most importantly, love.
"What do you want to do?"
"I'd like to lick your pussy."
O-KAY. Shh. I'm going to close my reader sloooowly and let these two happily wander towards their HEA, okay? I tried and turned off my inner sarcasm but I just. cannot. go. on. Such a great idea gone to waste, unfortunately. Although I didn't like The Hooker and the Hermit (because I'm allergic to "caged-in" types of guys, they make me claustrophobic), The Player and the Pixie appealed to me because… Well, because how many times did you read about a male-lead who sucked at sex?
…
My point exactly. Romance novels are so full of hot tongues, formidable erections and mind-blowing first times that I thought it would be refreshing to read about a hot guy lacking any skills during the intercourse (I always dreamed to write this word. So deliciously cheesy). Anyway. I can't deny that it made for a good laugh (I'm horrible, I know, shh) and it could have grabbed me but it was without counting that,
1) I'm constantly amazed and baffled by these women who manage to answer asshole-ish comments by putting their hand on the guy's shoulder and saying things along the lines as, "aw you poor thing, you're so sad." And they're not even sarcastic!? They actually mean it?! Help me, because I genuinely don't get it? How do you do that? Is there some social skill I'm lacking? (maybe – I'm French, I'm rude by nature am I not?) I'm not saying that the right answer is necessarily "fuck off" (although…), but there must be a right balance to find? It makes it so, so hard for me to connect with this kind of MCs, even if Lucy isn't technically a doormat (yet). I like her enough, but I do not get her.
2) I can like assholes, but only to a certain extent? In order for me to root for a character, especially if romance is involved and if he's not supposed to be a villain, I need him to be… well, decent. He can play around, but only if he doesn't show double standards. He can be smartass and sarcastic, but there are some lines I'm not ready to cross, like, I don't know, racism.
Tell me what the fuck is this.
"So," he broached, "who's the Mocha Frappuccino back inside? Your boyfriend?"

I stopped immediately and turned to face him, my expression devoid of humor. "Could you be any more racist?"
"I'm not being racist. I'm being descriptive. I'll have you know that some of the warmest nights of my life have been spent with women of color. Lovely, lovely colors."
[ensues Lucy's answer about how she doesn't want to hear about his conquests]
SERIOUSLY? I'll have you know that you took the "I'm not racist, I have a friend who's black!" crap to a whole new level, Jerkface. Lucy calls him on it (because she's decent, remember, the "aw you poor thing" shoulder hug) but in the end, it doesn't matter. I cannot care about Sean's HEA when every time he opens his mouth I want to (violently) shut it. He annoys me, and above that, he's one-dimensional and completely uninteresting. How am I supposed to suffer through his POV now tell me? And the guy's actually talking to me, telling the reader to stop clutching their pearls and I'm like – HUH?! What do you mean, Dickhead? It's a sweatshirt. Anyway. Ugh. Do not talk to me.
3) There's no chemistry or any… point… to the story. Honestly, I can see the "twists" coming miles away, given that Mister Prick is Lucy's brother nemesis (oh, the pissing contests! Tell me when to swoon really). While predictability doesn't necessarily bother me in romance novels, I still need some kind of tension to make me interested. Their instalust, insta-I want to help you thingy going on bores me to death and to be honest, I'm not sure I have in me to enjoy these cardboard people falling in loooove.
Such a shame really.
"Nipping lightly at the underside of my jaw, he murmured, "Are you wet?"
Aw. I'll be missing so many of Sean's poetic lines. Boohoo, woe is me. DNF 33%.
PS. What's up with the tweets at the beginning of the chapters? Are they supposed to make the story more original? Because they add nothing, lack any spark and made me roll my eyes. Oops.
Related Posts