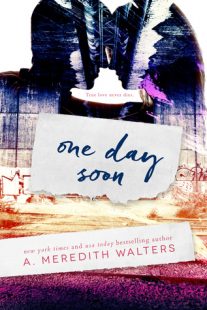 One Day Soon
(
One Day Soon #1
)
by
A. Meredith Walters
Purchase on:
Amazon
, 
Book Depository
Add to:
Goodreads
Synopsis:

He found me in blood and tears.
I stayed with him through darkness and fire.

We loved each other in the moment between innocence and bitter truth.
We were the kids easily ignored, who grew into adults we hardly knew.

We weren't meant to last forever. And we didn't.

He ran away.
I tried to move on.

Yet I never stopped thinking about the boy who had fought to keep me alive in a world that would have swallowed me whole. He was the past that I buried, but never forgot.

Until the day I found him again, years after believing I had lost him forever.

And in cold, resentful eyes, I saw the heart of the man who had been everything when I had nothing at all. So I vowed to hold onto the second chance that was stolen from the children we had been.

Sometimes fate is ugly. Life can be twisted.
And who we are can be ruined by who we once were.

For two people who had survived so much, we would have to learn how to hold on before we were forced to let go.
► DNF. Because. This. Gives. Me. An. Headache.
THIS :
"He smiled and I smiled. It was sort of contagious."
That… is what contagious means.
"He laughed and it was real and true and I felt it absolutely everywhere."
NO SHIT. Please give specifics.
"He had been my moon. My stars. My everything when I had nothing at all."
*snorts* *feels like a cold-hearted bitch* *snorts again*
I'm sorry, but this is horribly written – it's formulaic, cheesy, eye-roll-worthy material.
"Karla was giving me the ubiquitous once over I was used to from other females. (…) [She] gave me a nasty look, which I returned blankly."
Oh, isn't that nice? A little girl hate action utterly uncalled for! (Also WTF at females really???!)
Also, THIS :
"What had I ever done to him to deserve this kind of reception? When had his love transformed into this?"

OMG! I know this one!! This, my girl, is what we call The Big Misunderstanding. Don't worry, you'll get over it, but you'll have to annoy the fuck out of me for 200 pages before you reach your Happily Ever After.
► Oh, fuck this. I can't do it. Please, do me a favor and remind me to stop trying this author, because she's definitely not for me.
Related Posts