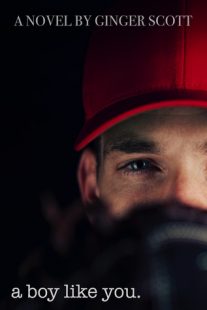 A Boy Like You
(
Like Us #1
)
by
Ginger Scott
Purchase on:
Amazon
, 
iBooks
, 
Book Depository
Add to:
Goodreads
Synopsis:

They say everyone's a superhero to someone. I'm not sure who I'm supposed to save, but I know who saved me.

We were kids. His name was Christopher. And up until the day he pulled me from death's grip, he was nothing more than a boy I felt sorry for. In a blink of an eye, he became the only person who made me feel safe.

And then he disappeared.

Now I'm seventeen. I'm not a kid anymore. I haven't been for years. While death didn't take me that day, the things that happened left me with scars—the kind that robbed me of everything I once loved and drove me into darkness. But more than anything else, that day—and every day since—has taken away my desire to dream.

I wasn't going to have hope. I wouldn't let myself wish. Those things—they weren't for girls like me. That's what I believed…until the new boy.

He's nothing like the old boy. He's taller and older. His hair is longer, and his body is lean—strong and ready for anything. I don't feel sorry for him. And sometimes, I hate him. He challenges me. From the moment I first saw him standing there on the baseball field, he pushed me—his eyes constantly questioning, doubting…daring. Still, something about him—it feels…familiar.

He says his name is Wes. But I can't help but feel like he's someone else. Someone from my past. Someone who's come back to save me.

This time, though, he's too late. Josselyn Winters, the girl he once knew, is gone. I am the threat; I am my worst enemy. And he can't save me from myself.
Review:
A Boy Like You was an extremely emotional story.  It was filled with heartache, struggles, alcoholism and strained relationships.  But there was also friendship, hope, courage, happiness and the possibility of love.  This was my first Ginger Scott book and I came to realize that her writing touches my heart.  I couldn't help but be moved by this story.  So I'll definitely be picking up more books by Ginger Scott!
He holds me until all of the other kids go home.
He holds me until the police arrive.
He holds me until I tell him it's okay to let go.
And then he disappears.
For good.
The prologue pulled me in right from the beginning.  We got to watch who Josselyn Winters, aka Joss, use to be as a child.  It was the moments before her whole world exploded. We met her best friend Taryn, the Marley twins and the kid Christopher who ended up saving her life and then never came back to school.  We also watched the demise of her parents marriage. I found myself completely addicted and it was a fabulous way to start this book. Then chapter one jumps eight years later and my heart broke with how Joss' life had turned out.
I step closer, until my front touches his back, and Wes pauses when our bodies meet. He sighs, and I lean my head against him, feeling both mortified and turned on from this touch.
"I'm so sorry," I squeak out, feeling his body rise and fall with his long breath.
"You're a beautiful girl. Don't be sorry," he says, his head tilted to the side enough that I am given the gift of looking at the line of his jaw and chin. His eyes glance over his shoulder and meet mine briefly before he inhales once more and leads me through the door while I replay what he said over and over.
Beautiful girl.
If the prologue pulled me in, then that first chapter sealed the deal.  There was a baseball scene that showed me in a way how this story would be written.  You see, the author's way of writing tension in such a normal setting was beyond addicting.  I completely devoured it.  Yeah it made some of the scenes, and even the story, longer.  But it worked for me and I was completely mesmerized.
The familiar feeling is gone quickly, but it leaves a trace of something behind. A memory. Wes Stokes has been here before. My chest constricts as I glance to the place in my front lawn a few yards behind me, the place where a boy once saved my life, and I live in that memory for a few long seconds before shelving it again—burying it back under everything I've promised myself to forget.
So Joss and her best friend Taryn met the Stokes brothers.  Wes, TK and Levi. And I loved how the five of them formed a friendship so easily.  But there was something about Wes that felt familiar to Joss. She swore that he was or at least reminded her of the boy who saved her life all of those years ago.  Christopher.  We got little clues here and there, along with another type of an element, and I was glued to the pages trying to figure out how it was all going to unfold.
He's caught between being my savior and being my seducer, and right now, I don't need saving—I need his touch.
Just like the story, Wes captured my heart from the beginning.  He was mysterious and quiet at times but his actions and even eyes spoke volumes.  And then when he did talk, oh my, he had my emotions in a mess. I loved him entirely.  Not only was he a gentleman, thoughtful and caring, but he could be seductive without even trying.  Wes made my heart race easily and often. Especially when he was being protective of Joss.
"I can't save you from you, Joss. Please…give up." – Wes
Joss on the other hand could be difficult to love.  She was her own worst enemy and she didn't make the best decisions in life.  And even though Wes was patient with Joss, you could feel that he didn't agree with what she was doing at times.  But underneath it all, I saw a girl worth loving. And I kept hoping that she would try to make the right choices for herself.  That she would turn it all around. Joss definitely owed it to herself after the life she had been dealt.
I give in, and I step into him, letting my forehead press deep into the center of his chest as I bring my limp arms around him, my fingers gripping the fabric of his shirt on the back. His chin slowly falls to the top of my head and his own arms circle me tentatively at first, until finally they lock around me, his palms sliding in slow tender circles along my skin. I'm overcome with his strength and the feel of his embrace, and I do something that I regret the moment it starts.
I cry.
You see, after Joss' mom left them, her dad became a shadow of himself and turned into an alcoholic.  There were many scenes between Joss and her dad that either had me with tears in my eyes or sobbing.  He could be so horrific and mean to her.  Even while she was trying to take care of her dad who was drunk.  And those drunken moments took me back to my teen years. To one of my best friends whose situation was very different, but they still dealt with a parent who was drunk every night.  Those moments gutted me and reminded me of so many countless scenes I saw with my own eyes. But it was not all darkness, because Joss started to realize that she now had Wes in her life.  And maybe, just maybe she could have the life she always wanted. But heaven help Joss because she had to go through hell.  I never thought the book would go where it went, so hold on because it was an extremely emotional ride.
I'm so very lost to this boy, it isn't even funny. I've given over my control, and as much as it scares the shit out of me, I'm more afraid of missing out on him—anything with him.
There were so many others that I adored.  I loved Wes' brothers, TK and Levi. I adored Joss' friends Taryn and even Kyle.  But Kyle ripped out my heart again and again. He had some struggles too, like Joss, and I could read a whole book just about him!  This book was the first in a duology and while it stopped at a great spot, I was definitely filled with the urge that I have to know what happens next!  So if you find yourself pulled in by YA stories that are on the more emotional side, but are also filled with hope, then definitely give A Boy Like You a try!
Related Posts