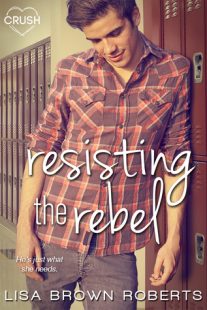 Resisting the Rebel
by
Lisa Brown Roberts
Purchase on:
Amazon
, 
iBooks
Add to:
Goodreads
Synopsis:

Spirit committee leader Mandy Pennington is secretly in love with her best friend, Gus, but when he hooks up with her archenemy at a party, she decides to win him over once and for all. She just doesn't know how. But who better to help than hot loner Caleb Torrs?

Caleb's got his own problems, but when he sees Mandy pining over Gus at a party, he thinks she's finally smoked the spirit stick and lost her mind. Maybe he has, too, because he just asked Mandy to be his fake girlfriend. She'll get her loser friend's attention, and he'll get his stalker ex off his back. It's a win-win.

But soon one fake date blends into the next and before he knows it, he actually wants to kiss Mandy. For real. Too bad their plan is working, and Gus is finally noticing the one girl Caleb just might be falling for…
Review:
Resisting the Rebel was the cutest book ever!  I just can't get over how adorable this fake boyfriend story was!  I constantly found myself smiling while sighing and laughing out loud.  And when you add in banter and angst that was perfectly done, well I couldn't help but go back and re-read a ton of my favorite scenes!  I am completely obsessed with this heartfelt story and it's definitely one of my favorite books from this year!
"Y-you're such a—" He was still holding her hand, though he'd loosened his grip.
"Jackass. I know. But let me pretend to be your jackass boyfriend and we'll both get what we want."
Everything in her screamed no, but when she finally opened her mouth, the word that fell out was "Okay."
But here's the thing, I wasn't so sure in the beginning that I was going to connect with Mandy Pennington.  Her thoughts and words seemed all over the place and her endless supply of energy had me pausing and looking at her sideways.  She was a lot to take in.  But by the second chapter I was laughing so hard I had tears pouring down my face and I absolutely loved everything about her.  And just a heads up, we do learn about her diagnosis that explains why she is the way she is.  Mandy was this sparkly, thoughtful, caring, sweet girl who had the hugest heart ever.  But she had a problem that she couldn't figure out how to solve.  She desperately wanted her friend Gus to want her back.  And thanks to Caleb, it looked like her problem would be solved.
Mandy snatched the cup from his hand. "Apparently they don't teach manners in hell."
He licked a few drops of chocolate from his lips, keeping his dangerous eyes on hers. "Oh, they do. Just not the kind you'd approve of." His lips curved into a wicked grin that sent her body temp into the stratosphere. "They teach us demons all kinds of bad things." He leaned in close, lowering his voice. "Very bad things, babe."
While Caleb Torrs spent his time by himself and his classmates were intimidated by him, he convinced Mandy to become his fake girlfriend after a run in at a party.  It was a win win for the both of them since he'd get rid of his stalker ex and it'd push Gus to make a move on Mandy.  Or so that was their plan.  But what happens when a friendship starts to form between them that has a very strong undercurrent of lust?  Or what happens when touches start to feel real and you want more?  How can you tell what's fake and what's not?  It all played out sooooooo good and the best part was that we got to alternate between Mandy and Caleb, so we got to know every single one of their thoughts.
"Practice makes perfect, Disco." He closed his eyes and brushed his lips across hers, barely making contact, but it was enough to light him up inside. He wanted more. A lot more. Fake, real, whatever the hell this was, he wanted more.
And I'm so grateful for that because I loved being in Caleb's head.  You see, Caleb was everything I want in a book boyfriend.  He was dark, broody, mysterious, and had a tragic history.  But my favorite thing about Caleb was when he took control of a situation or acted as Mandy's fake boyfriend.  Every single one of those moments he was insanely seductive and incredibly sigh worthy.  It was amazing how hot he could make some of the scenes, even though not much physically was truly happening.  You have to see what I'm talking about because he completely melted me into a puddle and I was absolutely obsessed with Caleb.  
"I know about life sucking, Caleb," she muttered. "Trust me, I know. But I choose to believe…I have to believe there's a reason for everything."
The desperation in her voice hit him like a punch. He hoped like hell he hadn't hurt her. He reached out his hand tentatively, resting it on her knee. After a moment, she rested her hand on top of his.
And while their story alone would have been more than enough, we got to witness some beautiful friendships and family dynamics that pulled at my heart.  Some of the friendships already existed, like Mandy with J.T. And Cammie, and others we got to watch form like Caleb and J.T.  I absolutely loved Caleb and J.T.'s bromance.  Especially their Red Ranger and Blue Ranger verbal spars!  I was laughing, cheering and their moments together always left me feeling all warm and cozy inside.  Ohhh I also loved Mandy's Grandma.  That woman made me laugh so hard I couldn't catch my breath.  This story was filled with so many fabulous characters that I want everyone to meet!
"Mandy," he whispered against her cheek, his mouth almost to her lips. Let's stop pretending. The words were almost there, just hovering in the back of his throat, waiting to escape.
"Caleb," she whispered back, just as he was about to finally taste her lips for real. "I want…"
You, he willed her to say. Say you want me, not that tool Gus masquerading as a dork.
Resisting the Rebel was exactly what I needed and I'm so thankful for this story!  So if you're looking for an adorable book that will make you laugh, smile and leave you in the best mood ever, then definitely pick up Resisting the Rebel!  I can't recommend it enough!
PS The song titles at the beginning of the chapters were so cute, and they fitted each chapter perfectly.
PPS Slade and Trina were in this book?!?!?!  Oh my gosh, I love them!  They were in Playing the Player and if you haven't read that book, I definitely recommend it too!
Related Posts