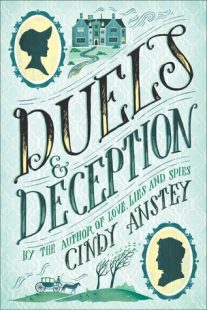 Duels and Deception
by
Cindy Anstey
Purchase on:
Amazon
, 
iBooks
Add to:
Goodreads
Synopsis:

Miss Lydia Whitfield, heiress to the family fortune, has her future entirely planned out. She will run the family estate until she marries the man of her late father's choosing, and then she will spend the rest of her days as a devoted wife. Confident in those arrangements, Lydia has tasked her young law clerk, Mr. Robert Newton, to begin drawing up the marriage contracts. Everything is going according to plan.

Until Lydia—and Robert along with her—is kidnapped. Someone is after her fortune and won't hesitate to destroy her reputation to get it. With Robert's help, Lydia strives to keep her family's good name intact and expose whoever is behind the devious plot. But as their investigation delves deeper and their affections for each other grow, Lydia starts to wonder whether her carefully planned future is in fact what she truly wants…
This book was totally cute. I'm realizing more and more how much I'm missing out on by not incorporating more regency romance into my diet.
I think what I loved most were the array of personalities and the humor, though I'm a huge sucker for this time period. I always crack up on how scandalous things like "escorting a lady" or "showing a bit of ankle" were back then.
The first half of the story was really fun. Lydia meets Robert in the first few pages – Lydia being a wealthy land owner and Robert being a lawyer on his way to her place to talk about the estate. Lydia is headstrong and intelligent, and the others that were set to help her manage her estate push back at her constantly. Hence, Robert comes in to take a look at what is really going on and to address any legal matters. Robert immediately finds himself in awe over Lydia and the two have instant chemistry in my opinion. He constantly is trying to make excuses to be around her.
Anyway, not long after they meet, Lydia gets kidnapped along with Robert. That was probably my favorite bit – especially the way it was told.. I was laughing so much. Blah blah blah happens (I don't want to spoil) and then they escape. The description of the book makes it sound like the whole kidnapping ordeal is most of the book, but be warned, that isn't the case. That bit is over really quickly.
My biggest complaint is that the story moved a bit slow in the middle and up until the end. It wasn't exactly dull, I think I just was expecting a bit more action (hence the title). But things did finally pick back up and I loooved the ending! (Even though I guessed who was guilty right off the bat.)
The best part was getting to read from both Lydia and Robert's POVS. I loved being in Robert's head.. he was so sweet and funny and just adored Lydia to pieces. He kept scolding himself for how much he kept thinking about her and my heart just swooned.
Anyway, this gets a thumbs up for me!
Related Posts