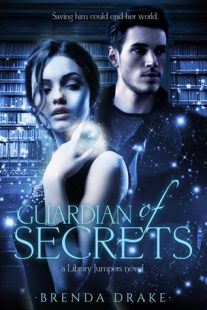 Guardian of Secrets
(
Library Jumpers #2
)
by
Brenda Drake
Purchase on:
Amazon
, 
iBooks
, 
Book Depository
Add to:
Goodreads
Synopsis:

Being a Sentinel isn't all fairytales and secret gardens.

Sure, jumping through books into the world's most beautiful libraries to protect humans from mystical creatures is awesome. No one knows that better than Gia Kearns, but she could do without the part where people are always trying to kill her. Oh, and the fact that Pop and her had to move away from her friends and life as she knew it.

And if that isn't enough, her boyfriend, Arik, is acting strangely. Like, maybe she should be calling him "ex," since he's so into another girl. But she doesn't have time to be mad or even jealous, because someone has to save the world from the upcoming apocalypse, and it looks like that's going to be Gia.

Maybe. If she survives.
Review:
Guardian of Secrets was filled to the brim with magic and fun!  This is the second book in the series, and I was easily transported back into their world right from the start.  The pages were filled with friendship, laughter, tears, betrayal, love and trust.  And I happily found myself addicted, since the characters continually pulled at my emotions.  I absolutely loved Guardian of Secrets, and I can't wait to discover the rest of Brenda Drake's books!
His face went serious. "Gia…"
"What?"
He stepped closer to me, lifted my chin toward his lips, and kissed me.
The story starts off right where Thief of Lies ended.  Gia, Nick and the Sentinels have gone into hiding in the human world.  They attend school, and I found myself completely absorbed in the drama that unfolded.  On top of school, they were still training, and Gia and Nick were tracking down the remaining Chiave, which are the keys to the Tetrad.  I can't say too much more about the plotline, without huge spoilers, but know that I loved how the storyline evolved.
If someone's soul could die, mine was withering with each painful step.
Speaking of evolving,  I'm happy to say that Gia has grown up and matured.  Her immaturity in Thief of Lies bothered me, but I'm so impressed with her now!  What I loved about her most still held true, she continued to stand strong, to not back down, and she tried to do what was right again and again.  And while she could still be rash and impatient at times, I expected it since many people she loved were in harms way.  So Gia rightfully earned my love and respect!
I felt safe with Bastien around. Cared for in a way I hadn't been before, even with Arik. I might not want to admit it, but I'd felt that way since the day I'd met him.
Arik also earned my love and respect, and well, that just made me want to cry.  I know that sounds weird, but he's not the one I want to ultimately end up with Gia.  I wanted to remain ambiguous towards him, so I wouldn't feel bad if and when he wasn't chosen.  You see there's a love triangle that is done fabulously in this series!  On one side is Arik, a Sentinel like Gia.  Their love is forbidden but Gia is a little obsessed with him and vice versa.  At the start of this book they're together, but another girl keeps coming into the picture which made me ecstatic.  Because on the other side of the love triangle is Bastien, a Wizard, who Gia was betrothed to as a child.  
"…..There's nothing more attractive than a girl who can decapitate a beast."
I laughed. "So you like the violent type."
He quirked a mischievous grin. "There's nothing better." – Bastien & Gia
From the first moment Bastien appeared, I fell head over heels in love with him.  He knows what he wants in life and will do anything to get it, which is so sexy!  Not only was he loving, caring and let Gia have her independence, but what he sacrificed for Gia *clutches heart*.  I desperately want to talk about that but won't because of spoilers.  But that event brought about his protective side.  And even better than Bastien being protective was his jealous side.  So hot, he was so unbelievably hot!  So in case it isn't obvious, I desperately and wholeheartedly love Bastien!
"I have desires, and need a wife." – Royston
There was a whole list of characters that I loved.  Especially Lei, Faith and Dierdre!  It was so refreshing seeing strong woman support one another and continually raise each other up!  I loved it!  But another character stood out loud and clear and his name was Royston.  He became a quick favorite!  Royston spoke those words in the above quote but here's the thing, I can't tell you who or what he is, or even how he fits into the story, but know that I felt guilty for even liking him.  Especially since he was so blunt and had no filters at times.  But he entertained me, and I hope that some of my guesses pan out for how his story will proceed!
Before he could swing it, I aimed my sword and threw it like a javelin. The blade flew through the air and punctured the upper left side of his back, making a sickening tearing sound as it broke through his flesh.
So Guardian of Secrets was such a huge win for me!  I laughed, I fell in love, I sobbed and I closed the book with the hugest smile on my face!  I loved that yet again the story continually built, and that we started to see more sides to the huge picture that is unfolding.  And while I guessed how a few things would play out, I was happily surprised and even shocked with a few of the twists!  So I can't wait for the final book, because this series continues to get better and better!
*ARC kindly provided by Entangled Publishing via Netgalley in exchange for an honest review*
Giveaway:
About Brenda Drake: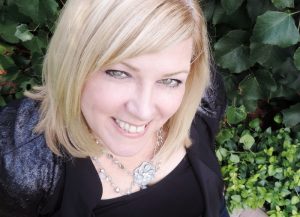 Brenda Drake is a New York Times bestselling author of Thief of Lies (Library Jumpers #1), Guardian of Secrets (Library Jumpers #2), Touching Fate (Fated Series #1), and Cursing Fate (Fated Series #2). She grew up the youngest of three children, an Air Force brat, and the continual new kid at school. She hosts workshops and contests for writers such as Pitch Wars and Pitch Madness on her blog, and holds Twitter pitch parties on the hashtag, #PitMad. When she's not writing or hanging out with her family, she haunts libraries, bookstores, and coffee shops, or reads someplace quiet and not at all exotic (much to her disappointment).
Website – Twitter – Facebook – Instagram – Goodreads
Tour Schedule:
You can check out the rest of the tour here.
Save
Save
Save
Save
Related Posts
I'm beyond ecstatic to be on this tour because spoiler alert – I LOVED this book! Guardians of Secrets was magical, fun and had my emotions all over the place. So check out my 5 Star Review below and enter a fabulous giveaway! Enjoy!