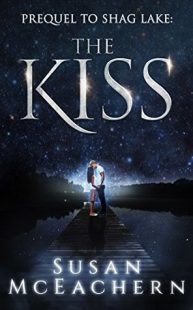 Shag Lake Prequel: The Kiss
by
Susan McEachern
Purchase on:
Amazon
, 
iBooks
Add to:
Goodreads
Synopsis:

Geri McKenna has a not-so-secret crush on Sean Eastman, her older brother's best friend. And it's ripping her heart out that Sean has graduated high school and is about to move away from their little town forever.

Sean Eastman was given a gift: three years of high school living a normal life in the small town of Pembroke. Problem is he doesn't want to leave, especially since he finally noticed that his best friend's little sister, Geri, is really hot.

Shag Lake Prequel: The Kiss, is a short story about the coming of age of two teenagers who finally discover each other, only to be torn apart by the different paths their future takes them. Will they ever meet again?
Review:
The Kiss was a quick, fun read.  And I was so happy to learn that it was free.  You see, I wanted to read this prequel to find out if I wanted to pick up the next book, Shag Lake.  And when I finished that last page, I knew I needed to continue the story!  I really liked Geri, even though she comes across as young and inexperienced.  I also liked Sean, who is Geri's older brother's best friend.  But I needed to know not only what he was, but what would happen to them next.  I definitely recommend picking up this novella, although you should keep in mind that Shag Lake is not only a full length book, but it's set eight years in the future.  So of course it has a different feel with action, suspense, steamy moments and creatures mixed into the pages.  FYI – It's a NA Science Fiction book.   And by then, Geri has matured and I absolutely loved her.  And Sean was even more irresistible and someone I swooned over.  Hard.  And I just have to tell you…….I LOVED Shag Lake….spoiler alert….I gave it 4.5 Stars!
My review of Shag Lake will be posted tomorrow on release day. 🙂
Related Posts