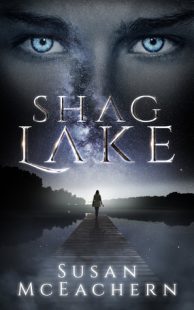 Shag Lake
by
Susan McEachern
Purchase on:
Amazon
, 
iBooks
Add to:
Goodreads
Synopsis:

Free short story, "Shag Lake Prequel: The Kiss" now available at all ebook retailers!

Geri McKenna hasn't seen her brother's best friend, Sean Eastman, since he graduated high school. Sean left their little town of Pembroke just hours after she nailed him with a kiss behind the shed, never to be seen or heard from again. No calls, no texts, no social media to stalk online.

Eight years after the awkward incident behind the shed, Geri and Sean meet again. She's now an ambitious journalist working in a dead end job, and he's a successful structural engineer working on a classified government project. For different reasons, they're both interested in a woman who has gone missing amidst allegations of a Sasquatch encounter in the vicinity of Shag Lake. Geri is determined to get the scoop on the hottest story to hit the Internet, while Sean is determined to stop her.

Dodging other-worldly creatures and a corrupt shadow government, Geri and Sean struggle to find neutral ground in this debut new adult adventure by author Susan McEachern (who also writes young adult as award-winning author S.M. McEachern).
Review:
Shag Lake was absolutely riveting and spellbinding!  This book was so much more than I expected.  I mean, I had a feeling that I would like it, since I enjoyed the prequel.  And while it started out a little slow, I found myself connecting to the characters and enjoying where the story-line was going.  But before I knew it, I was around 35/40% into the story, and I was beyond obsessed.    I didn't want to put the book down because Shag Lake built into an intricate story that was gripping, swoon worthy and so much fun!  This book was such a huge win!
I stand up and back away from the laptop, dragging both my hands through my hair. "There's no way," I whisper. "It's just too crazy."
I know Sean. He wouldn't hurt anybody.
But how well do I know him?
The story started up with everyone back together, since Geri McKenna's older brother is getting married.  Even Sean Eastman was there, and her brother's friend had been completely MIA for the last eight years.  I was so nervous for the moment Geri would see Sean again.  Not only has she had a crush on him forever, but their last moment together involved a kiss that didn't end in the greatest of ways.  I was so thankful that there was dual narrative between Geri and Sean, so we knew exactly what they were thinking and feeling.  And when they did see each other, I was happy that there was a strong chemistry between them.
But when she walked into the backyard this evening, I actually went weak in the knees. I had that moment when the world suddenly stopped turning and everyone at the party faded away into a blurry background, leaving just the two of us. I could barely breathe.
Get her out of your head , Eastman. She's still off-limits.
I can't offer her a future, and she deserves nothing less. – Sean
Fast forward to Shag Lake.  A women claimed Bigfoot attacked her, and her hiking partner is still missing.  Geri and Sean head there separately, but for entirely different reasons.  Geri thinks this news story about Bigfoot will catapult her career, and be the big break she's been waiting for.   Whereas Sean has every reason under the sun to want to stop Geri in her tracks.  And this is where the action starts and their sexual chemistry gets ratcheted up!
A throaty burbling sound brings me to a dead halt. – Geri
As I got closer to the end of the book, I was obsessed with how it all came together.  Completely genius!  And while I'm being vague about what happens when they're both at Shag Lake, it's because it'll be so much more fun to discover on your own.  But I can say that I loved the characters!  Geri was smart, determined, brave, yet she could still be so unsure of herself around Sean.  I loved how relatable she was!  And Sean was *starts wiping tears from eyes because he was so beautifully perfect* someone I fell completely in love with.  He was loyal, seductive, protective, playful and ever so sexy.  I have to mention the word balcony, because when you get to that part and see what he does, how could I not fall for such a caring, protective, fierce man?!  I love, love, love him!
And no matter how fast I push myself, the thing is keeping pace somewhere to my left. Not that I have eyes on the damn thing, but I can see bushes rustle, tree branches twitch, and the occasional tall patch of grass ripple.
Where the hell is it? Why can't I see it? – Geri
And here's two thoughts on the creatures and villains in this book…..although I'm not going to give anything away –
*The "creatures" in this book was the most unique combination I've ever read about!  Together they were original, and I was fascinated with how they interacted.  There were some surprises in regards to what they were capable of and how they were all connected.
*The "bad guy" wasn't that cut and dry.  While one of the creatures comes across as bad, you see that as the story starts to unfold there are so many shades of grey that appear.  Even within our own government.  And the way the creatures, their leadership and our government meshed together came across as shockingly real.  Which makes me laugh when I think about it because those creatures in our world?!  But still!  I could easily picture it.  Ugh, I wanna say SO much more.  But darn those spoilers!
We have to get out of here. This is utter madness. This is Alice in Wonderland kind of shit, and I don't want to be a part of it anymore. – Geri
So I found myself with tears in my eyes quite a few times towards the end of this book.  And that ending was absolutely perfect.  Oh this book made me ever so happy!  I can't recommend it enough!  If you adore science fiction that's more closely related to The Lux Series by JLA or Broken Skies by Theresa Kay, then you may adore this book too.  Or even paranormal lovers, that are open to different creatures in a story, could find themselves loving it just as much as me.  It was such a wonderful surprise.  Enjoy!
P.S. I am definitely going to beg – can there please be more stories set in this world?  Whether it follows the characters into the future or focuses on others like Sean?  Please, please, please?  I absolutely loved this book and would die of happiness if I could read more set in this world! *fingers crossed*
*ARC kindly provided by Pronoun/McMillan via Netgalley in exchange for an honest review*
Related Posts