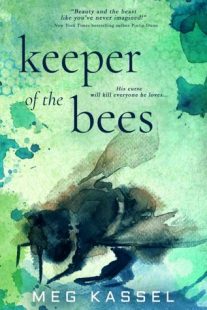 Keeper of the Bees
(
Black Birds of the Gallows
)
by
Meg Kassel
Purchase on:
Amazon
, 
iBooks
, 
Book Depository
Add to:
Goodreads
Synopsis:

Dresden is cursed. His chest houses a hive of bees that he can't stop from stinging people with psychosis-inducing venom. His face is a shifting montage of all the people who have died because of those stings. And he has been this way for centuries―since he was eighteen and magic flowed through his homeland, corrupting its people.

He follows harbingers of death, so at least his curse only affects those about to die anyway. But when he arrives in a Midwest town marked for death, he encounters Essie, a seventeen-year-old girl who suffers from debilitating delusions and hallucinations. His bees want to sting her on sight. But Essie doesn't see a monster when she looks at Dresden.

Essie is fascinated and delighted by his changing features. Risking his own life, he holds back his bees and spares her. What starts out as a simple act of mercy ends up unraveling Dresden's solitary life and Essie's tormented one. Their impossible romance might even be powerful enough to unravel a centuries-old curse.
Review:
Black Birds of the Gallows was one of my favorite books from last year!  So I couldn't wait to read this since we were going to see the world from the beekeepers view.  Those creatures terrified me, so I took a deep breath and dove right in. I happily found myself pulled in and I finished this book in one day.  Keeper of the Bees was a mesmerizing tale filled with peril, love, heartache, redemption, evil and sacrifice.  And I loved being back in this world!
She raises one eyebrow, seemingly unimpressed. "Are you planning to kill me?"
I am a monster . A beast. Lying about it would be pointless. "Yes."
While this book is a companion novel, it can easily be read as a standalone.  Information from the previous book was seamlessly laced throughout this story and was beautifully done.  There was no info dumps and it caught us up and gave us a complete understanding of the creatures and the curses.  If you haven't read the previous book, the creatures in her story are so unique! They're a breath of fresh air!
One day, I will say no to this girl and I will mean it. One day, I will walk away.
But not today. – Dresden
This time around we followed Dresden.  A beekeeper. He had a hive of bees that lived in his chest.  When a bee was released and stung someone, it made them even more dark and ultimately lead to their demise.  The bees were only supposed to pick those that had a darkness within them. Yet when his bees picked Essie, he stopped them.  Essie didn't have an ounce of darkness in her.
"You're safe," I say again.
She closes her eyes. Her breath hitches. Then she does the improbable and throws herself against me, wrapping her arms around my waist.
I am paralyzed. Motionless, breathless in my first embrace in a millennium. To be touched… My eyes close as I tremble from head to toe. The pain is glorious, excruciating.
The beekeepers terrified me in Black Bird of the Gallows, but Dresden easily captured a piece of my heart.  He was one of my favorite things about this book, and as the story unfolded Dresden became everything for me.  He was tortured from having to be this monster for so many hundreds of years.  And my heart broke for him that he didn't have a choice over what him and his bees had to do.  Until he met Essie, and he decided to spare her life. I wanted Dresden to get his happily ever after, especially since we kept getting glimpses of his humanity, heart and the boy he used to be.  
I lay a hand on his chest, very gently. Barely touching. It's buzzy and warm with all those bees in there. He jerks at my touch and winces, but his hand brushes my thigh, just above the knee, then tentatively settles there. His gaze drops to my mouth.
"Essie." He breathes my name. He's close. The air between us zings, honey-scented and charged. "You are the furthest thing from a monster. You are light and grace and all the things I thought I had forgotten. It's agony for me to be near you, yet I can't stay away."
Essie was unlike any character I have ever met.  She was a sweet girl who loved her family but she suffered from some type of mental illness.  Her hallucinations felt real and were filled with the stuff nightmares could be made of. She didn't fit into any type of diagnosis and it was such a huge mystery for why she was suffering.  But from the moment she met Dresden, her whole world changed. He quieted the hallucinations and she wasn't afraid of his ever changing face. Or that he had a hive of bees in his chest. Essie was brave, sweet, smart and had the hugest heart ever but I was never able to connect to her.  I was so sad that I wasn't able to feel her emotions.
I have someone to live for.
Someone to fight for.
Impossibly, someone who cares about me. It makes me wonder what else is possible. – Dresden
Dresden and Essie were hope and heartbreak all swirled together.  They both had so much going against them, and friendship and normalcy was something that felt unattainable to them.  But together they started to form a tentative friendship. And the moments they were around each other they actually felt normal.  It looked like they finally had a chance for happiness, redemption and love. Yet Dresden would eventually be leaving and with Essie's town being marked, there was no guarantee that she would survive it.
"Dresden, I don't want you to go." It's all I can say. It's all I have left.
"And I would give anything to stay," he rasps. "But I want you to live, more."
His eyes close, and he disintegrates into a heavy swarm of bees. It streams through the window and is swallowed by the night.
Just like her other book, I found myself enraptured when the action took place.  Since Essie's town was marked, something catastrophic was going to happen.  And on top of that, there was a mystery within the pages. Murders kept happening and Essie found herself in the middle of it all.  It was fun watching the twists and the turns and I didn't figure out what was truly happening till 3/4s of the way into this book. I enjoyed putting it all together!
"You… are…" I slide my fingers into her hair, letting thick strands slide between my fingers. "Worth a…thousand… deaths."
Essie's hand covers mine. "And you're worth a lifetime of delusions."
When I closed that last page I realized there is still so many stories this world can tell.  And I'm hoping and keeping my fingers crossed that there's going to be more, especially so I can get a peak of these characters since the book ended with a hfn.  I'd love to step back into this twisted world. I'm not ready to say goodbye to the Harbingers, Beekeepers, Strawmen and even the regular people who give these characters hope, a chance at normalcy and true love.  Fingers crossed!
PS  We got to see our favorites from Black Birds of the Gallows, Reece and Angie.  I loved seeing them together, I loved seeing their happiness of being together.  It made my heart so happy!
*I voluntarily read and reviewed an advanced copy of this book, provided by the publisher. All thoughts and opinions are my own.*
About Meg Kassel:
Meg Kassel is an author of fantasy and speculative books for young adults. A graduate of Parson's School of Design, she's been creating stories, whether with visuals or words, since childhood. Meg is a New Jersey native who lives in a log house in the Maine woods with her husband and daughter. As a fan of '80s cartoons, Netflix series, and ancient mythology, she has always been fascinated and inspired by the fantastic, the creepy, and the futuristic. She is the 2016 RWA Golden Heart® winner in YA and a double 2018 RITA® finalist for her debut novel, Black Bird of the Gallows.

Website  l  Twitter l  Instagram  l  Facebook  l  Goodreads  l  Amazon
Giveaway:
Related Posts
I completely devoured this book! So check out my 4 Star Review below and enter a fabulous giveaway! Enjoy!