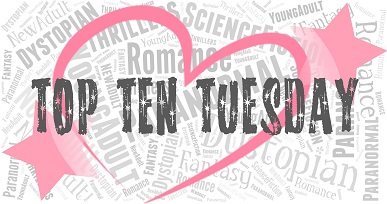 Top Ten Tuesday is a weekly meme hosted by The Broke and the Bookish
This week is – Books We Loved Before We Started Writing Reviews.  And they are….
| | |
| --- | --- |
| (Jen's Choice) | (Jen's Choice) |
1. Half-Blood (Covenant #1) by Jennifer L. Armentrout
Amazon * Goodreads
Greek mythology, forbidden love, a kick-ass heroine and a male that made my heart beat faster all made me fall madly in love with this series!  I ♥ JLA and it always bothers me that I don't have any reviews for this fabulous series.  Someday I hope to go back and re-read it!
2. True of Blood (Witch Fairy #1) by Bonnie Lamer
Amazon * Goodreads
This book made me realize that book boyfriends really do exist and it got me back into reading.  Not only was it sooooo easy to devour but the story-line was adorable and there were some scenes that melted my heart.  I still think about this series all the time, and it's another that I want to re-read someday.
| | |
| --- | --- |
| (Jen's Choice) | (Chelsea's Choice) |
3. The Upheaval (The Survivor Chronicles #1) by Erica Stevens
Amazon * Goodreads
I read this book in a matter of hours.  It was so fast paced and I had to know what happened next.  But then it ended on a cliffhanger that nearly killed me.  So I waited until all the books released and then I forgot to finish this series *smacks forehead*.  How could I forget that, especially when I can remember every single detail from The Upheaval?!  I'm so glad I did this post because now I can finish this series!
4. Yours to Keep (Kowalski Family #3) by Shannon Stacey
Amazon * Goodreads
By far one of the sweetest contemporaries I've ever read-and I've read a lot of contemporaries since then!
| | |
| --- | --- |
| (Chelsea's Choice) | (Chelsea's Choice) |
5. Deep in the Heart by Sharon Sala
Amazon * Goodreads
My very first 'adult' romance book…it hooked me from beginning to end. So sweet, fun, and sexy!
6. Beautiful Disaster (Beautiful #1) by Jamie McGuire
Amazon * Goodreads
So bad its good…I'll never regret loving this book, no matter what other people think.
| | |
| --- | --- |
| (Anna's Choice) | (Anna's Choice) |
7. Royal Assassin (Farseer Trilogy #2) by Robin Hobb
Amazon * Goodreads
THIS SECOND BOOK is when I fell in love with my beloved Fitz – I still remember the first time I read it and felt SO MUCH for his tortured soul <33
8. The Count of Monte Cristo. Alexandre Dumas by Rob Nudds
Amazon * Goodreads

By far my favorite French classic but I could have recommended you any one of Dumas' novels : please don't be shy and try them, they're fantastic!
| | |
| --- | --- |
| (Anna's Choice) | (Anna's Choice) |
9. His Dark Materials (His Dark Materials #1-3) by Philip Pullman
Amazon * Goodreads

Ahhhh such an enchanting trilogy! I absolutely LOVE Orphée's tale so I couldn't help but enjoy the way Pullman used it 🙂 This said, I will never get past the ending. N E V E R.
10. W, or the Memory of Childhood by Georges Perec
Amazon * Goodreads
Another favorite French novel of mine. Again, try theeeeeem! You won't be disappointed!
So these are the Books We Loved Before We Started Writing Reviews. Have you read any of these books or do you have them on your tbr?  If not, then what books did you love before you started writing reviews?
Save
Save
Save
Save
Save
Save
Save
Save
Save
Related Posts