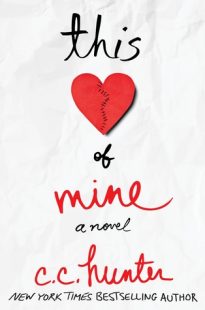 This Heart of Mine
by
C.C. Hunter
Purchase on:
Amazon
, 
iBooks
, 
Book Depository
Add to:
Goodreads
Synopsis:

A new heart saved her life―but will it help her find out what really happened to its donor?

C. C. Hunter's This Heart of Mine is a haunting, poignant tale about living and dying, surviving grief, guilt, and heartache, while discovering love and hope in the midst of sadness.

Seventeen-year-old Leah MacKenzie is heartless. An artificial heart in a backpack is keeping her alive. However, this route only offers her a few years. And with her rare blood type, a transplant isn't likely. Living like you are dying isn't all it's cracked up to be. But when a heart becomes available, she's given a second chance at life. Except Leah discovers who the donor was ― a boy from her school ― and they're saying he killed himself. Plagued with dreams since the transplant, she realizes she may hold the clues to what really happened.

Matt refuses to believe his twin killed himself. When Leah seeks him out, he learns they are both having similar dreams and he's certain it means something. While unraveling the secrets of his brother's final moments, Leah and Matt find each other, and a love they are terrified to lose. But life and even new hearts don't come with guarantees. Who knew living, took more courage than dying?
Review:
This Heart of Mine was such a touching story.  It revolved around family, friendships, sacrifices, new beginnings, first love and so much more.  I just know that so many people are going to absolutely love this emotional story!  I wish there wasn't a but…….but I wasn't able to connect to any of the characters.  I tried again and again, and continually failed all the way till that very last page.  I felt so heartless, especially since I got tears in my eyes reading the author's letter to the reader, at the end of the book.  Sigh.  So I closed the book wishing that I could have felt that same emotion towards Matt and Leah.
I grin. "If you're Matt, I've wanted you to kiss me since seventh grade."
His gaze slides lowers to my mouth and lingers. "Is your heart strong enough?"
I burst out laughing. "Are you that good of a kisser?"
"Maybe." A smile crinkles the corners of his eyes. He leans down. His lips are against mine, soft and sweet.
Leah's thoughts and words could be so heartbreaking.  Yes she's pragmatic about the fact that her odds of getting a new heart are low, but it still was shocking to see how she viewed the world.  I was hoping to resonate with her realness, but hopefully others will.  And while there were some heavy moments before her heart transplant, there's this one moment that was filled with nothing but brightness.  Leah ended up having a study session with a boy named Matt.  She's had a crush on him forever, and after studying they shared one of the sweetest kisses.  But after that moment, they both go back to their own lives.  Leah knew she was fated to die and Matt had too many family problems at home to start a relationship with Leah.  Yet both of their lives become irrevocably changed in the near future.  
Gasping for air, the fear, the raw, ugly panic I felt in the dream, hangs on with sharp claws. My heart thuds against my rib cage. I can't breathe. – Leah
One month later, Matt's twin brother died and Leah, who was in desperate need of a heart transplant, received his heart.  Every one believed that Matt's twin killed himself, but Matt believed his brother was murdered.  And after, they both started to have these dreams that ended up weaving their lives together.  So when the pieces of their dreams started to come together, they both found themselves in the middle of a huge mystery.  I'm not really a suspenseful person, but it was a fun mystery to figure out.  While I had some guesses here and there,  3/4s of the way into the story I figured out exactly what happened, and I was excited for the characters to catch up with my knowledge.
"Why would I hate you?"
She unfurls her fingers and brushes the tear away. "Because I'm alive and he's not."
Both Matt and Leah were definitely likeable and I enjoyed alternating between the two of them.  So I was grasping why I couldn't connect to them.  I'm not sure if it's because I had just finished an extremely emotional book, and I was still partially hung up on that story?  Oh, I don't know.  But what I do know is that it made me SO sad.  This was the type of book that should have easily pulled me in and broken my heart and then mended it perfectly back together.  So while this one didn't work for me, I'd still recommend to give it a try.  And here's hoping you absolutely love it!
*ARC kindly provided by St. Martin's Press via Netgalley in exchange for an honest review*
Related Posts