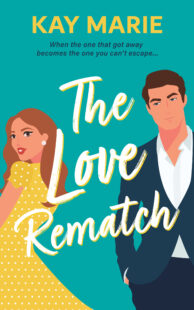 The Love Rematch
(
The Love Match #1
)
Purchase on:
Amazon
Add to:
Goodreads
Synopsis:

She's the new lead of a hit dating show.

He's the producer.

And seven years ago, they were in love.

Let the games begin...

Emily Peters spends her days working at her mother's flower shop and her nights working on her startup jewelry business. She has no time for romance, and she's happy that way. Until one morning she wakes up to find her mother on national television practically begging America to find her a boyfriend.

When the clip goes viral, Emily is swept away in a Hollywood dream, set to become the new lead of the hit dating show, The Love Match. But it all turns to a nightmare when she arrives on set and comes face-to-face with Jake, the man who broke her heart seven years ago-and her new producer.

She's hellbent on revenge. He's determined to secure a promotion. But the more they face-off behind the scenes, the harder it becomes to deny their attraction and ignore the secrets of their past. Jake will soon realize the only thing worse than abandoning the love of his life is finding her a new fiancé.

Love and Other Words meets The Hating Game in this Bachelor-inspired romantic comedy perfect for fans of forced proximity, second chance romance, reality television, revenge, working with an ex, emotional scars, and dual POV!
Review:
The Love Rematch was a second chance romance that was filled with reality tv show fun! This story started off absolutely hilarious and as the pages flew by, we got to see the emotional side too. With a little bit of spice and a lot of heart, this story had the perfect amount of angst.
"Revenge," Sam repeats. The word emerges like the sun bursting over the horizon of a brand-new day. "Do it, Em. Make him hurt."
The first chapter pulled me right in and I couldn't stop laughing. When Emily's twin called her, and said their mother was on TV with a sign to get Emily a date I was glued to the pages. Her mortification became my own! And she went viral. When she was offered the lead on The Love Match, similar to the Bachelorette, Emily couldn't say no. It was the publicity she needed for her business to go to the next step. Yet she had no clue that her ex, Jake, worked on the show. Seven years ago Jake left her in the middle of the night. The story unfolded in both Jake and Emily's POVs, making it so easy to fall in love with their story.
The undercurrent in the air clicks into place.
He finally understands her hidden message.
Game on.
Emily worked at her mom's flower shop and did her jewelry business on the side. She had hoped that her jewelry business would become her full time job someday. So while she was hesitant about being the lead on The Love Match, her twin sister gave her the nudge she needed. To grow her business. And when she realized that Jake was on the shower, her sister nudged her again. Revenge was what was going to get her through this experience. She got to flirt with 30 different men as her ex-boyfriend watched it all. Emily was strong, witty, quiet and so easy to adore.
"America will love you, if you give them the chance."
The floorboards creak as he climbs onto the sill.
"Give them that chance, Em. Let them in, and they'll fall. Trust me. It's impossible not to."
Jake's reaction to Emily being the new lead on the show he was producing was priceless! And as he watched her interact, flirt and even kiss the men, I loved seeing how jealous he was! I wanted him to feel all the pain! Yet as the story unfolded, we got moments into their past when they were younger. Those peaks showed how beautiful their young love was, and it was so easy to fall in love with younger Jake. Then as we got to see what his life was like, my heart towards him continued to soften. Especially when he was kind to Emily in the present. I literally wrote in my notes 'I don't want to like him, but he is making it impossible'. If you love tortured heroes, Jake is for you. I understood him inside and out, and even why he did what he did in their past.
She stops and spins on her heels to face him, wrath personified. "My name is Emily. And you know what? You're right. I didn't cheer in high school. I wasn't the type. I couldn't have cared less about football . My first boyfriend was the school loner. He wanted to be a director, a bit like you actually. And you know what he taught me? Even the nerdy boys can break your heart, so you might as well date the ones with muscles and enjoy yourself."
He should admit defeat.
He should apologize.
He should relent.
Instead, he puffs up his chest.
The fire and anger between Jake and Emily felt so real. Neither of them seemed to hold back, except when it came to talking about their past. It felt like that was the line that couldn't be crossed. So as Jake offered Emily peace offerings, helped her out at times, or was thoughtful, she too found herself softening towards him. It didn't help that she was still attracted to him and that their past love was so beautiful. I was nervous for her and her heart. All the while, we got to see the behind the scenes of the show and it was fascinating! As Emily kissed some of the men, I was smiling while also gasping out loud. Somewhere along the way I was head over heels in love with Jake. And I wanted them together. But there was so much healing that they both needed to do. And they desperately needed to talk about their past too.
A lump forms in the back of her throat. It's full of the what-ifs— questions she's never been able to get rid of, even after seven years of wondering, because deep down she wants the other life, the one she thought they were going to have until it all fell apart.
Does he feel the same?
I would love to see The Love Rematch turn into a movie! The writing was so easy to read, the storyline was smile inducing and the characters were multifaceted. When you add to that two plot twists that I didn't see happening, this book made for a fabulous second chance romance. Now I'll be patiently waiting for the next book…. by Chapter 16 I was begging for someone to get their own story and I can't wait to see how that story plays out!
"You were everything, Em,"Jake whispers. The soft confession hits her with the force of a tsunami. She can't move, can't run. She's caught in the wave with no control over her sense.
*I voluntarily read and reviewed an advanced copy of this book, provided by the author. All thoughts and opinions are my own.*
Related Posts