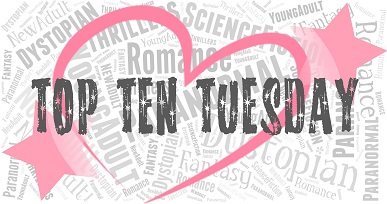 Top Ten Tuesday is a weekly meme hosted by That Artsy Reader Girl
This week is Books We Could Re-read Forever.  These are the stories that we love with our whole heart and soul.  And these are the books that we wish all of our friends would pick up and read.  We can't help but gush about these books that constantly beg us to pick them up again and again.  So here are our top twelve Books We Could Re-read Forever.
1. The Hunger Games (The Hunger Games #1) by Suzanne Collins
Amazon * Goodreads
No matter how many times I pick this series up, it enraptures and ensures me.  And I'll never forget that this is the series that helped me to become obsessed with reading AGAIN-I'll be forever grateful.
2. Angelfall (Penryn & the End of Days #1) by Susan Ee
Amazon * Goodreads
My snarky Raffe never ceases to put a smile on my face, and his and Penryn's relationship from hate-to-love is unforgettable.  I don't think I could ever be tired of this story. 
3. Six of Crows (Six of Crows #1) by Leigh Bardugo
Amazon * Goodreads
Kaz.  Kaz's cunning, amazing, deceptive nature…it takes my breath away EVERY. SINGLE. TIME.  I think about this book so frequently it's ridiculous-it will always be a forever favorite.

4. A Darker Shade of Magic (Shades of Magic #1) by V.E. Schwab (Victoria Schwab)
Amazon * Goodreads
This book was one that took me wholly by surprise.  I met Kell and my heart went crazy (much like when I met Kaz in Six of Crows-it was instant), making this yet another book that stole my heart in less than a moment.  This story will always be one I could read over and over again to lift my spirits. 
| | |
| --- | --- |
| Arielle's Choice | Arielle's Choice |
5. A Court of Mist and Fury (A Court of Thorns and Roses #2) by Sarah J. Maas
Amazon * Goodreads
After reading this book (and then immediately re-reading) I can easily say that it's my favorite book of all time.  While I didn't fall head over heels with the first book in the series, Feyre's journey to emotional healing and finding her mate in this one was too addicting.  Plus you can't mess around with the hilariously, loveable squad that is the Night Court.
6. Ella Enchanted by Gail Carson Levine
Amazon * Goodreads
Who doesn't love this book?!  It's a classic fairy tale/ fantasy about a young woman who ends up breaking her own curse because of her strength, bravery, and love.  There are fairy godmothers, mythical creatures, a couple of nasty step sisters, AND one dashing Prince Char.  What more could you want?
| | |
| --- | --- |
| Arielle's Choice | Arielle's Choice |
7. Harry Potter by J.K. Rowling
Amazon * Goodreads
I couldn't NOT add these to my list.  Even though I haven't read them in what feels like years, I can't tell you the number of times I've read and re-read these babies in the past.  These books are one of the main reasons I fell in love with reading.  I CAN'T wait to read them with my daughter someday.
8. The Infernal Devices Series by Cassandra Clare
Amazon * Goodreads
I have two words for you: William Herondale.  Only slightly joking there, but in all honesty, I have always loved books set in Victorian England.  There's something so magical about that time and place.  Plus I can relate to the MC Tessa in numerous different ways, the main one being that she loves her books just as much as I do.
9. Obsidian (Lux #1) by Jennifer L. Armentrout
Amazon * Goodreads
Daemon Black will always be the one that I will hold all other BBFs against. His infuriating smug sexiness and bad-ass sexy self was so swoon worthy.  And Katy turned into someone that I not only truly respected but is one of my favorite heroines.  Together they are giggle inducing, their chemistry is through the roof hot, and they still have those moments that make you sigh and melt into a puddle.  I love this series so much!
10. Punk 57 by Penelope Douglas
Amazon * Goodreads
Hate to love that was beautifully done!  I was obsessed with Ryen, who came off not only confident but intoxicating too. Whether it was the looks he would give, or the words he would choose to use, he always left me wanting more  This book was insanely seductive and emotionally raw and soooo addicting!
11. Come Back to Me (Come Back to Me #1) by Mila Gray
Amazon * Goodreads
I loved this story of forbidden love and falling in love for the first time.  It slowly enraptured my heart and I fell hard for Kit & Jessa's story.  A month doesn't go by where I don't grab this book and read a scene here and there to feel all of their emotions it all over again.

12. The Union (The Union #1) by T.H. Hernandez
Amazon * Goodreads
Cyrus was sweet, patient and was someone that was discreetly captivating and pulled you in.  He gave me butterflies and also made me smile and swoon.  And when you add in romance, action, torture, twists, friendship and political intrigue filling the pages, well then it's no wonder how many times I have picked up this series again and again!  
So these are our Books We Could Re-read Forever.  Are you obsessed about any of these books or series too?  Or do you have them on your tbr?  If not, then what books are you obsessed about?
Related Posts