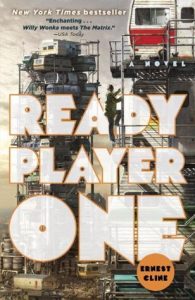 Ready Player One
by
Ernest Cline
Purchase on:
Amazon
Add to:
Goodreads
Synopsis:

A world at stake.
A quest for the ultimate prize.
Are you ready?

It's the year 2044, and the real world is an ugly place.
Like most of humanity, Wade Watts escapes his grim surroundings by spending his waking hours jacked into the OASIS, a sprawling virtual utopia that lets you be anything you want to be, a place where you can live and play and fall in love on any of ten thousand planets.

And like most of humanity, Wade dreams of being the one to discover the ultimate lottery ticket that lies concealed within this virtual world. For somewhere inside this giant networked playground, OASIS creator James Halliday has hidden a series of fiendish puzzles that will yield massive fortune—and remarkable power—to whoever can unlock them.

For years, millions have struggled fruitlessly to attain this prize, knowing only that Halliday's riddles are based in the pop culture he loved—that of the late twentieth century. And for years, millions have found in this quest another means of escape, retreating into happy, obsessive study of Halliday's icons. Like many of his contemporaries, Wade is as comfortable debating the finer points of John Hughes's oeuvre, playing Pac-Man, or reciting Devo lyrics as he is scrounging power to run his OASIS rig.

And then Wade stumbles upon the first puzzle.

Suddenly the whole world is watching, and thousands of competitors join the hunt—among them certain powerful players who are willing to commit very real murder to beat Wade to this prize. Now the only way for Wade to survive and preserve everything he knows is to win. But to do so, he may have to leave behind his oh-so-perfect virtual existence and face up to life—and love—in the real world he's always been so desperate to escape.
It's not escaped my attention that this is an extremely popular book that has exploded on my feed for YEARS. I've always seen such wonderful sentiments and tons of 5 star ratings-so why did it take me so long to read, you ask? Well. I don't know. And, for those of you wondering, NO-I am not reading this because of the upcoming movie. It might have REMINDED ME I had this on my iPad, but in no way do I choose to read stories just because they are being made into movies.
I loved our main character, Wade. He made this story worth coming back to, even after I had to take a break for a while to finish some other books. There was SO much 80's/pop culture talk that I both got and didn't get. Most of it was before my time. But I really enjoyed reading about all of it in this format because it felt close to home. I was born in 1989 so it was all on the cusp of what I know/grew up with-even so, it felt like nostalgia. I'm a nerd, but not so much so that I know every little pop culture reference or every piece of trivia-but I do know a lot.
Wade (obviously) breaks the mold when he is the first person to get the first key and clear the first gate. He becomes a phenomenon, someone who the people admire and adore…and public enemy number one. What follows is a grand chase to reach the end, a company that will not stop until they get what they want…and they don't draw the line at murder.
I enjoyed Wade's journey and the friends we get to know around him. And, I'm sorry, but I did love the little romance. It was just too cute and I loved how devoted he was to her…even though she was in a race for the egg, as well-and, did I mention, that the winner receives billions of dollars?
Fun, fast-paced, and addictive as all get out, I fell in love with this story. It had its moments I didn't just geek out over, but it was such a fun book I didn't even seem to care. To those of you on the fence, like I was, I suggest you read it. It's worth it. But, just know, it is a lot of pop culture references and a lot of gaming gaming gaming-lots of terms I couldn't begin to comprehend, as I'm not a computer whiz. But, if you get past all that, it's truly an excellent story with a character you can't help but to fall in love with and root for.
Related Posts