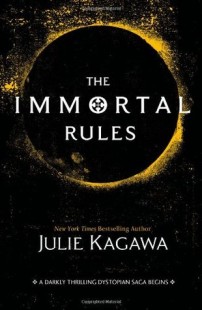 The Immortal Rules
(
Blood of Eden #1
)
by
Julie Kagawa
Purchase on:
Amazon
, 
iBooks
Add to:
Goodreads
Synopsis:

To Survive in a ruined world, she must embrace the darkness…

Allison Sekemoto survives in the Fringe, the outermost circle of a walled-in city. By day, she and her crew scavenge for food. By night, any one of them could be eaten. Some days, all that drives Allie is her hatred of them—the vampires who keep humans as blood cattle. Until the night Allie herself dies…and becomes one of the monsters.

Forced to flee her city, Allie must pass for human as she joins a ragged group of pilgrims seeking a legend—a place that might have a cure for the disease that killed off most of civilization and created the rabids, the bloodthirsty creatures who threaten human and vampire alike. And soon Allie will have to decide what—and who—is worth dying for…again.

Enter Julie Kagawa's dark and twisted world as an unforgettable journey begins.
Review:
Dark and enchanting, The Immortal Rules pulled me in quickly and held me in a death grip through parts of the story.  It was so easy to slip into this messed up world.  The writing had a way of making me become easily lost in the pages and caring for our heroine and the companions that she finds.  But I honestly had no clue what I was getting myself into.  Reading the blurb over a year ago, I decided to step blindly into into this series.  My only knowledge was that it contained vampires.  Julie Kagawa already made me fall for her Iron Fey Series, and I was hoping that I would fall in love with this series too.  I never should have hoped.  I should have known it was inevitable, and that I would be left begging for more!
Vampires had no souls, no emotions and no empathy to appeal to. If the bloodsucker wanted to drain me dry and leave me here to rot, there wasn't anything I could say that would stop him. But I'd give him one hell of a fight.
Allie lives in a world that is run and owned by the vampires, whom she loathes.  They have walled off the cities to protect their human cattle from the mindless despicable creatures that  wanders the land, looking for their next kill.  In exchange for a "safe" place to live, they have been branded and are forced to supply blood to the Vampire King and his followers.  But Allie is one of the people who refuses to be branded and in exchange for living in the Fringe, between the city and the wall, she has to search and scavenge for her food.  And each day is a fight to stay alive.
"All we have left is our faith." His voice dropped even lower as he looked toward the horizon. "And sometimes, I wonder if that will be enough."
Upon the beginning scene, I knew that I liked Allie Sekemoto.  She had to be tough to survive this type of life, which I respected, but she had such an amazing heart and conscience.  She also scavenged for her friend, Stick, who was too terrified to search for his own food.  And as her daily struggle became something I absorbed with a morbid fascination, I watched and listened to Allie be extremely blunt and realistic (at times) to herself.  I couldn't help but love her voice!  She was someone who had me rooting for her to beat the odds.  But life in that world could be horrific at times, and Allie was forced to make a choice.  Die or become a thing that she despises with her whole heart.
Nothing lasted in this world; it was everyone for himself. Allie the Fringer knew that; Allison the vampire just needed the reminder.
This story became brutal in the last third. But the best kind of brutal!  In case you're not familiar with her work, she writes such a well crafted novel filled with peril so horrific that it makes me want to curl into a ball and sob.  And, well, I did just that.  But it's worth every single tear and held breath!  Because it feels as though I'm watching my friends go through these moments.  I swear they are real!  And here lies the real danger in her writing – she makes me care for people that I should just write off.  Yet I don't.  And then I am left struggling, making incoherent sounds, finding myself caring for too many of these characters and scared out of my mind for their fate.  Bad move on my part.  Bad, bad move.
As I smiled back and followed him to where he had set up watch, I couldn't help thinking that this boy—this helpful, friendly, genuinely nice human being—was probably going to get me killed.
There were a few slower parts in the middle of the book, but after reading and falling madly in love with The Iron Fey Series, I get it now.  I am sucked into the beginning of the first book and it's ending left me clutching my heart wondering if I safely made it through all of the angst, grief, and horror.  But the middle part that runs a little slower, it works.  Because I found myself being pulled further into the hearts of all of the characters.  And do you remember what I said above?  That's dangerous territory.
"I'm not like you. I'm not like the vampires in the city. I might be a monster, but I can be human, too. I can choose to be human." Reaching back, I gripped my sword and drew it out, a bright flash of steel in the darkness.
So yes, please devour this book!  Even with my heart in a holding pattern and knowing that the future events will most likely have me freaking out for who she will graciously spare and keep alive, it's a must read.  You must meet Allison and the future characters that I want to scream my head off about.  Ok I will for just a tiny second….there's this human named Zeke, sigh doesn't it always end up with me and falling for a guy, and he made me want to sneak into this horrific world to see him for myself.  He was that beautiful of a person inside and out. I could write paragraphs about him and his little group, but I won't because that's something you must learn for yourself. Now don't mind me as I try my hardest to shake off the sadness that is stuck to me and jump head first into the second book!
Related Posts