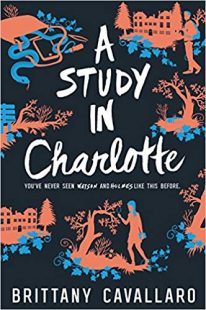 A Study in Charlotte
(
Charlotte Holmes #1
)
by
Brittany Cavallaro
Purchase on:
Amazon
, 
iBooks
Add to:
Goodreads
Synopsis:

The last thing Jamie Watson wants is a rugby scholarship to Sherringford, a Connecticut prep school just an hour away from his estranged father. But that's not the only complication: Sherringford is also home to Charlotte Holmes, the famous detective's great-great-great-granddaughter, who has inherited not only Sherlock's genius but also his volatile temperament. From everything Jamie has heard about Charlotte, it seems safer to admire her from afar.

From the moment they meet, there's a tense energy between them, and they seem more destined to be rivals than anything else. But when a Sherringford student dies under suspicious circumstances, ripped straight from the most terrifying of the Sherlock Holmes stories, Jamie can no longer afford to keep his distance. Jamie and Charlotte are being framed for murder, and only Charlotte can clear their names. But danger is mounting and nowhere is safe—and the only people they can trust are each other.
"Why didn't you just break in in the first place?" Her smile flickered. "You seemed so eager to do something. I thought I might as well include you." "Um, thanks?" "But tonight I'll go alone. You're about as stealthy as a lame elephant. See you later." She patted me on the shoulder and took off down the path, leaving me behind, both charmed and insulted. The side effects of hanging around Charlotte Holmes.
I'll admit this book was one I passed over many many times…but was extremely curious about. I would pass over it, but then I'd be thinking of what to read, and this book always crossed my mind, inexplicably. Last year a friend told me I might love it but she wasn't sure, and it always stuck with me. I guess this answers THAT question. This book blew me away, actually. Maybe because, overall, the reviews are extremely mixed. Maybe because I was told I possibly might not like it. Maybe because I didn't know if I'd like it. Whatever the reason, I loved it-and, honestly, it passed a major test: Time. I have not given this poor book the time of day. My husband and I have been binge-watching all things Marvel to prepare for Endgame and, wouldn't you know it, we started while I was 70% into this book. 5 days passed-five-where I wasn't able to finish this story and it still got 5 stars. I'm just saying. For me? That's unheard of. So, that should say something in and of itself. I must say that this review isn't going to do justice to this wonderful book because I am just so freaking tired. My eyes are drooping and I am pushing to find the will to be productive-but there is so little time, these days, for me to keep up on reviews, so I am seizing this opportunity and running with it. Jamie and Charlotte deserve at least that.
Truth be told, I liked that blurriness. That line where reality and fiction jutted up against each other.
As promised, I ADORED JAMIE. And how could people not? He's just so sweet and kind, yet he is far from perfect. He has meltdowns, he has anger issues, and really doesn't have many people after being shipped off to boarding school. But then that's why he and Holmes go together-they've never really fit into a mold, aside from their namesake (though, Jamie doesn't come into it until he meets Charlotte).
"Hey, so, he said something about protein powder? Do you . . . do you know a good brand?" I bent to lace a cleat so he couldn't see my face. I wasn't sure I could pull that one off: I wore cable-knit jumpers and read Vonnegut novels and had a girl for a best friend. I was about as likely to build up giant biceps as to build a colony on the moon.
And Charlotte…Charlotte is odd, but I honestly thought of her as I would any female lead. And if not for my friend saying she had sporadic behavior that might deter me from liking her, I don't think I'd have even paid attention. It really was that inconsequential to me. I thought she was [oddly] sweet. Endearing. Loyal. And she has issues…so what? I do, too lol. Maybe not drugs, per se, but she has somewhat of a traumatic excuse, I suppose. Either way, I could care less. I enjoy some balance in my characters, and Charlotte's flightiness paired with Jamie's steadfastness really spoke to my soul-the yin and yang made it so my slump slowly slipped away and I was just a happy little Chelsea curled up in bed, devouring this epic little read until it was late at night. Night is when I flourish, ye ken.
She was altogether colorless and severe, and still she managed to be beautiful. Not the way that girls are generally beautiful, but more like the way a knife catches the light, makes you want to take it in your hands.
Ultimately, I loved the slow burn progression of their 'feelings' and how things come to a head. I loved the peril that was mixed in slowly, twisted into the quietest moments, making them much more impactful for me and, frankly, making it a lot more unputdownable. You know those books where you just know action is coming or it isn't coming so you set it down so you don't miss anything or because you're tired and why push because obviously nothing is happening then. Well, this book doesn't allow that. They're waist deep in a murder investigation and you never know what might happen when they are alone, when they enter a room, when it's the dead of night, and I am trash for it (and them, but that's young, yet). And I loved that it was a fun little mystery, yet it wasn't scary, like in SJTR. That series is great and I adore Thomas….but oh do I lose sleep over those. My only [tiny] complaints stem from plot progression. I love when characters meet and hit it off organically, and this was a bit predetermined due to their family's names. And I LOVED when they actually met- it was a great introduction and it was the first time we saw Jamie's fire and loyalty. But then they became friends a little easier than I'd have liked. Otherwise? This book is gold, in my opinion. Better than gold. And I just cannot wait to read book two-I'm practically salivating over the thought of it.
Ever since I'd come to Sherringford, I'd existed in a state of constant loneliness without ever actually being alone.
So, you see, there is much to love about this hit or miss series, and I truly cannot wait for what's to come. And I don't actually think I highlighted much in yellow (my color I use when I'm going to put it in a review) because I was so immersed in the story… which is rare, for me. Many firsts came about when I read this fun little book, and I honestly have to thank it for reigniting my flame for reading-I was scared it was lost for a bit. I'm just so dang picky.
Related Posts