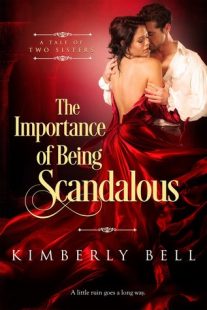 The Importance of Being Scandalous
by
Kimberly Bell
Purchase on:
Amazon
, 
iBooks
, 
Book Depository
Add to:
Goodreads
Synopsis:

A horse race in trousers on Rotten Row. Visiting a gaming hall in a dress that would make her mother faint. Sneaking an invitation to a masquerade ball attended by only the wickedest, most debauched members of society…

None of these things are scaring off bookish but strong-willed Amelia Bishop's stuffy, egotistical fiancé.

The only thing left is to entice childhood friend Nicholas Wakefield into a truly engagement-ending scandal. The Wakefields are the height of propriety, and Nicholas's parents have made it clear a wife from the neighboring Bishop family would be unacceptable…

But Nicholas would give up his family and his fortune if Amelia would ever see him as more than just a childhood friend. He'll go along with her scheme, even if it means ruining them both, because he's got a plan that will change her mind about him being merely the boy next door.
Review:
You know that feeling when you click with a book and the whole world around you fades away?  That's exactly what happened to me. I found myself addicted to the story and completely obsessed with these characters.  So if you adore romance that makes your heart race, has strong friendships, and is laced with moments that will have you laughing and then sighing out loud, then you definitely have to give The Importance of Being Scandalous a try!
"What is for you?" she teased.
You.  Nick put a stranglehold on his heart so he didn't say it out loud.
Amelia Bishop was in a tough predicament.  What was once a wonderful idea, being engaged, now felt claustrophobic.  She tried her hardest to give her fiance a chance, but the more she saw who he was, the more desperate she was to get out of her arrangement.  With her childhood friend back home, Nicholas Wakefield, Amelia had someone to help her out. Nicholas was the boy next door, who had secretly been in love with her.  He was the perfect person to help Amelia end her engagement and I found myself constantly smiling with everything that took place.
Amelia sighed.  Before she closed the cloak, she turned to her sister. "How do I look, honestly?"
"Like a women who is up to absolutely no good."
Amelia nodded. "Well, then I suppose I'm ready."
You guys, I loved Amelia.  She was strong willed, fierce and protected those that she loved.  It was a breath of fresh air that she knew what she wanted and had no problems speaking her mind.  I clicked with her instantly. Amelia made me smile, laugh and my heart hurt for her for the situation she was in.  Thankfully she had a lot of light in her life. I loved the relationship she had with her sister Julia. While they didn't always see eye to eye at times, I loved that they were the best of friends.  They joked around and caused lots of hilarious trouble. While I adored their relationship, I was even more addicted to the one she had with Nicholas.
He might not be ready to declare himself, but he could start clearing up some misunderstandings of her not knowing he was interested. "Just because I haven't doesn't mean I haven't thought about it."
She blushed, looking away when he didn't. "Well, maybe you should have."
Nicholas took a streaming breath.
Nicholas, sigh.  Nicholas was beyond intoxicating and spellbinding.  His words, mannerisms and slight touches had my heart racing.  I loved how he was there for Amelia and that they confided in one another.  Their friendship and trust was so beautiful.  But underneath that friendship simmered tension, since Nicholas had been in love with Amelia for forever.  I was an emotional mess over it because a union between them shouldn't happen, regardless of her fiance. Being with Amelia would disgrace his family. But Nicholas was a smart man, and while he knew his role with his family, he also knew what he wanted his life to be.  And I loved that he went after what he wanted.
Nick pushed his hands through his hair in frustration. "I love her, Jas.  I want to spend the rest of my life with her. I can't start with a stolen kiss in her bedroom while she belongs to someone else."
"And that's where you and I differ," Jasper said, raising his glass. "Because I can imagine no better beginning."
There was someone else that I loved in this story, Jas/Jasper/Viscount Bellamy.  He was Nicholas' friend and I loved him whole heartedly. When Jasper, Nicholas and Amelia where together, I couldn't help but laugh and smile while they got into trouble.  It was seemless how easily Jasper fit into their lives and it was amazing to watch him protect and help those he cared for.  He was such a hilarious, brave, smart man.  And I'm excited to see more of him in the next book!
His words died off as she leaned in close, lips a hair's breadth from his.  The deep rise and fall of his chest as he breathed in drew her hand up in fascination.  She played her fingers along the edges of his cravat. "I'm still interested. Are you certain?"
His hand brushed her rib cage.  His thumb whispered against the underside of her breast.  "It is not in my power to deny you."
The Importance of Being Scandalous was mesmerizing and I loved being lost in the pages.  This was my first book by Kimberly Bell and I adored this charming story. She made it so easy to fall head over heels in love with these characters.  So I definitely can't wait to read the rest of Kimberly Bell's books!
Related Posts