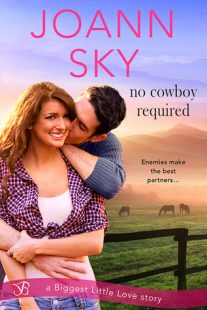 No Cowboy Required
by
JoAnn Sky
Purchase on:
Amazon
, 
iBooks
Add to:
Goodreads
Synopsis:

Grace Harper is a pro at handling the unexpected—which comes in handy when she inherits the ranch she ran away from years ago...along with a young, autistic stepbrother she's never met. And because nothing ever goes easy for her, Grace finds her frustrating, sexy ex-flame, Noah, taking care of JJ. But if she's getting out of this nowhere town, she'll have to find a way to keep from throttling Noah—without kissing him first.

Noah Taylor may be enemy number one to Grace, but she needs his help. He knows the girl he used to love is still there, beneath the heels and fancy clothes, so he'll help her—and keep his distance like she says she wants. Only the more time they spend together, the closer he wants to get. Grace has no intention of staying, but she belongs in his arms—he just has to prove it to her.
Review:
No Cowboy Required was such a heartwarming story filled with small town charm.  I adored the characters, I had a lot of fun watching how the story progressed and the happy ending left a huge smile on my face.  This was JoAnn Sky's debut novel and I'll definitely be checking out her future books!
This trip was supposed to be in and out, nice and easy. Sell the ranch, scoop up JJ, and skedaddle.
Noah's gaze rolled down her body, lingered on her too-high heels, then climbed back up. "The city's treated you well," he said.
Bronzed abs peeked through the rip in his dirty T-shirt. Reno had treated him well. Very well. Not that she'd ever admit it, especially to him. "How did you know I'd be here?"
Grace Harper made a life for herself in NY, in photography, and it was everything she had ever wished for.  While she was in a hurry to get back there, she had to spend two weeks back home in a little town south of Reno, Nevada.  Not only was she meeting JJ, her 10 year old step brother, for the first time. But he was left in her custody, since her father and his mother had just passed away.  Grace planned to quickly sell her dad's ranch and take JJ back to a boarding school in NY, but everything started to combust.  There were so many more variables than she could have ever fathomed, including her ex-boyfriend Noah.
Maybe he'd made a mistake pushing her away. But he wasn't mistaken about what they could accomplish if they worked together. They could do what was best for JJ. Together, he and that girl were unstoppable. And he had less than two weeks to prove it to her.
I don't want to say much more, because it was so much fun watching everything unravel.  From Grace's life back in NY, to finding a connection to JJ, to seeing people she knew from her past to even how her and Noah interacted, I found myself completely lost in their story!  And there was a lot of emotion packed into every single one of those moments.  So while it easy to connect to Grace, Noah was definitely my favorite.  He could be quiet at times but there was a lot simmering underneath his surface.  He was thoughtful, caring and had the hugest heart ever.
"But that something that used to be between us, Gracie, it's still there. You're pretending you don't feel it." He reached her, trailed a finger up her left arm. She shivered. "Don't fight it."
On top of all of the emotions, I loved how everything was so easy to visualize.  While I'm extremely familiar with where this book took place and have even seen the wild horses myself, the images came alive within the pages.  I loved how the words crafted such a quaint, little town to fall in love with. The only thing I was left wanting more of was Grace's falling out with her father.  It felt like we only scratched the surface and I wanted to fully grasp her past with him.  So if you adore stories about second chance romance and finding yourself then definitely check this one out.
*I voluntarily read and reviewed an advanced copy of this book, provided by Entangled:Bliss. All thoughts and opinions are my own.*
About JoAnn Sky:
JoAnn Sky writes adult contemporary romance and young adult romance with a magical twist. As J.A. Sky, she writes children's books. For more information about her children's stories, go to: www.dogsandbooks.com.
JoAnn is a member of Romance Writers of America and its YARWA and Golden Network chapters. Her manuscripts have seen success in various RWA-sponsored contests, including as a Golden Heart® finalist in 2014 (YA category) and 2017 (Contemporary Short category). Originally from the Midwest, JoAnn currently lives in northern Nevada with her husband a.k.a. love of her life, three teenage children, and three crazy rescue dogs.
JoAnn is represented by the fabulous Nicole Resciniti of The Seymour Agency.
Related Posts