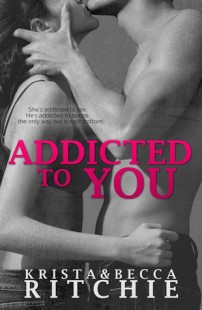 Addicted to You

(Addicted #1)
by Krista and Becca Ritchie
Purchase on: Amazon, iBooks, 
Book Depository
Add to: Goodreads


Synopsis:

She's addicted to sex. He's addicted to booze…the only way out is rock bottom.

No one would suspect shy Lily Calloway's biggest secret. While everyone is dancing at college bars, Lily stays in the bathroom. To get laid. Her compulsion leads her to one-night stands, steamy hookups and events she shamefully regrets. The only person who knows her secret happens to have one of his own.

Loren Hale's best friend is his bottle of bourbon. Lily comes at a close second. For three years, they've pretended to be in a real relationship, hiding their addictions from their families. They've mastered the art of concealing flasks and random guys that filter in and out of their apartment.

But as they sink beneath the weight of their addictions, they cling harder to their destructive relationship and wonder if a life together, for real, is better than a lie. Strangers and family begin to infiltrate their guarded lives, and with new challenges, they realize they may not just be addicted to alcohol and sex.

Their real vice may be each other.

New Adult Romance recommended for readers 18+ for mature content
If you guys can't tell, I have been on a crazy streak of only reading books by these ladies lolol OH WELL
"I want to love you more than I love this"–he waves his bottle–"and I don't know how else to do it unless there's something to lose."
After reading Alphas Like Us I went a little crazy and decided to re-read the entire OG series because it had been awhile and I missed the core six (parents and uncles/aunts of Moffy and the gang).   I actually ended up changing my original rating from 3 stars to 4 in the process.  Honestly I'd give it 5 stars because it isn't that the book wasn't good, it's that it was so hard to read because of some of the content. Back when I first read all of these books, I started with the Calloway Sisters series. Because of that, I first was introduced to Lo and Lily while they were already working through their alcohol and sex addictions. In these books, actually reading about their struggles and problems before any of their friends/family knew was HORRIBLE. I myself have never had a serious addiction to anything so I had no personal experience to relate what they were really going through. That made it hard for me not to hate both of them at different times for enabling each other instead of truly helping like they should have been doing. It was so hard because they loved each other but just….didn't quite know how to channel that love without giving up the love they had for their respective addictions. UGH. 
She looks at me with more concern than I thought possible. In the end, it was not a boy who helped me. It was my sister. <—LOVE that quote
For those that want to start in order with this book, here's a little rundown of what this book and the start of this series is all about…
This and the next book, Ricochet, are the only two in the entire series that have only one (Lily's) perspective.  Since these books are truly about the Calloway sisters, I think I like that we at first only get her perspective on things.  We learn right away that she is a sex addict but don't truly come to understand the extent of it until later on.  You might just think "oh Lily, she's just a slut, how can her wanting to sleep around count as an addiction…" but that is DEFINITELY not the case.  Enter Loren, or Lo, Hale.  He's Lily's best friend and fake boyfriend.  You see, for years these two have been covering up their addictions (his is to alcohol) by being together.  They take care of each other to the best of their abilities but honestly like I mentioned above, they do much more harmful enabling than good.  Because of their problems, they basically have shut out Lily's family, never going to family functions, never picking up their calls…it's heartbreaking.
Eventually, the two are in a situation on a boat trip with their family were they end up at a crossroad and Lo gives Lily an ultimatum. Yes, her addiction is so bad that she is contemplating sleeping with one of the bartenders on the boat.  She would have given up their secret to satisfy her addiction and Lo ends up telling her that if she does this, they are done for real.  Instead he offers himself up to help curb her needs.  What she finds out is that he's not just offering himself up because he feels bad, no he truly loves her.  All of the years of teasing and offering to "help" her was really him trying to get her to realize she could have picked him over any other guy any day.  Unfortunately, Lo can kind of be a snarky ass and Lily didn't pick up on his clues AT ALL.  Because she's always loved him too, she decides to actually try a real relationship with him.  Their addictions eventually come out (though I won't say how or who to in case you start with this book) and their lives change a LOT after that.  Like I said, it isn't an easy read but Lily and Lo are such compelling characters and it was refreshing to read a romance that is entirely different than anything else out there.
What I did love about this book was meeting them all. Seeing how Lily and Lo met Connor and Ryke and how their relationship, and Connor and Rose's started out. Those relationships are what have become so important to me so reading about them from the very beginning was great. I will definitely read the rest of this series but just know that the Calloway Sisters books are a much better read if you want more hope and happiness!
"Wait for me." The words come out choked and pained. "I need you to wait for me."
Related Posts