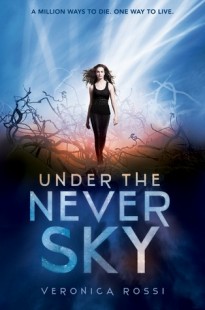 Under the Never Sky
(
Under the Never Sky #1
)
by
Veronica Rossi
Purchase on:
Amazon
, 
iBooks
Add to:
Goodreads
*4.5 Amazing Stars*
Thank God. Thank God I have found another dystopian worthy of falling in love with. I found out this year that while I love most genres with romance, dystopian makes my blood pump the most and makes me the happiest. There is just something so appealing about finding love while a world is crumbling around you-having to fight for your survival everyday and protect this person that you are slowly falling in love with. I don't know why this scenario resonates with me, seeing as how I've never had to live this way, but it just pulls me in so completely and excites me more than I could ever explain. I love it.
In his glinting eyes, she saw tears of gratitude and trust. She also saw the shadow of what neither of them would dare say to each other, with only days left together. But for now, for tonight, they were done with words.
What appeals to me the most about UTNS, though, is the lack of 'like' for one another from the very beginning. No, this is no friends to lovers romance, nor is it an insta-love connection-they practically hate one another upon first sight. Yes, it's hate at first sight.
She looked up. "A world of nevers under a never sky."
She fit in well then, he thought. A girl who never shut up.
Born into totally different worlds, one a Mole, one dubbed savage, they have lived completely different lives; Aria, a child of privileges, Perry born in the outside world. Aria's lavish, Not so real life is set in Reverie, a world of virtual realms where you never feel pain and being in the woods is merely sitting in your own living room, being transported virtually to the place you desire-in other words, you aren't really in the woods, you are practically imagining it until you decide you're done with that 'realm'. Then, on one fateful day, Aria and a group of friends break into the Agriculture room where food is grown and pain CAN be felt, and everything changes forever.
For days he'd had a shifty, anxious feeling in his gut. A feeling like the instant after a cut, before the pain came. He knew when the hurt would hit him. Three more days and they'd reach Bliss. And she'd go back to her mother. He didn't know what he'd do if they didn't find Lumina. Bring her to the Tides? Take her back to Marron's? He couldn't imagine doing either. He tightened his arms around her. Brought in her scent, breathing deep, letting it mellow him. She was here now.
Kicked out of Reverie after breaking into the Ag 6 room, Aria is left to defend herself in the outside world where death for a 'Mole' or 'Dweller' is inevitable. There is so much more that happens that I could never possibly explain without giving you a play by play and eventually ruining the story, so I will make it simple: Perry and Aria HAD met before when he broke into Reverie. He HAD saved her life in her earlier altercation in the Ag 6 room. And this whole altercation WAS the catalyst that got the ball rolling on everything negative that happens to Perry's tribe and family immediately after (or were we just led to believe that?). So when Perry and Aria meet again, tensions are high.
One of the most unique things about this story/series is the abilities of outsiders….Perry for instance. He can, like, smell your emotions and see better and farther than just a normal person like you and me. Okay, okay, I know that sounds so, so stupid, and I thought so too when I initially read the reviews. And, hey, if I'm being completely truthful here, it's the reason I've waited two months to read this series. But, and I can't stress this enough, OH MY GOSH it is what made Perry so sweet, vulnerable, and caring. I kid you not. This guy is the sweetest thing, and he is always doing for others. He cares immensely and would do anything for the people he loves-he is never insincere in his actions and never puts himself first. This sense is what makes Perry, Perry. Sweet, endearing Perry.
"I've been watching you with Roar. Wanting it to be me training with you." His shoulders came up. "I don't want to do it now."
"Why?" Aria's voice was high and thin.
He smiled, a flash of shyness, before he leaned close. "There are other things I'd rather do when I'm alone with you."
The journey that Aria and Perry take is so fun, risky, and addicting. They grow from being stubborn, weak allies to people who would die to protect one another without a second thought. Unsure of where it can lead, being from different worlds, they try to make the most of their time together as the time winds down on their journey and the realization that they might never see one another again becomes a likely outcome. I absolutely loved the progression of the story and there was never a dull moment. If you have any qualms about this story and the out-there elements that revolve around the book, I suggest you forget them and give it a chance. It's dangerously addictive and obsessively appealing-I finished both books in a matter of three days without even trying, and with Christmas this week, that's a HUGE feat. 'Nuff said.
Related Posts