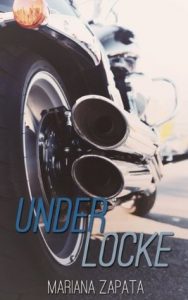 Under Locke
by
Mariana Zapata
Purchase on:
Amazon
, 
Book Depository
Add to:
Goodreads
Synopsis:

After moving to Austin following six months of unemployment back home, Iris Taylor knows she should be glad to have landed a job so quickly... even if the business is owned by a member of the same motorcycle club her estranged father used to belong to. Except Dex Locke might just be the biggest jerk she's ever met. He's rude, impatient and doesn't know how to tell time.

And the last thing they ever expected was each other.

But it was either the strip club or the tattoo shop.

… she should have chosen the strip club.
He squeezed me to him, tight. "But you don't gotta worry about anything. There's only a few things I've ever given a shit about. Everything else… is seasonal, as Ma would say." He pressed his mouth to my temple, whispering, "Then there's you."
That moment when you know an author has changed your life forever….it's this one. This moment. Yes-I have posted only two other reviews previously for said author, but like with your love life-if you know, you know. And here? It's unmistakable to me that Mariana Zapata was someone I was destined to find right when I needed a push for happiness in my life.
When exactly I'd started looking forward to spending time with him, I had no idea. When I started eating up those little smiles at Pins and those little secrets we shared… I have no idea either. But I had. I'd grown to accept the fact that I had a massive attraction to someone who might not be capable of liking me in return.
We can't choose who/what we love (I mean… we can, but c'mon) or why we love it-sometimes something or someone just falls into your lap and it's meant to be. And the emotions that are invoked when I pick up a Zapata book can't be faked nor embellished. Nothing about these books are perfect-in fact, I'd even venture to say that my stuck up ass would have lifted my nose in the air not even two years ago and refused to finish this story because of some of the editing errors-few though as there are. But they're perfect for ME, right now, here and in this moment. And I refuse to believe these characters wouldn't have stolen my heart, anyway.
"Babe, I've handpicked everythin' and everyone in here. I know what I want and I get what I want," he breathed. "And I keep what's mine."
I won't make this as long as my other Zapata reviews because, well, if you've heard me gush about one of her men, you've heard me gush about all of them, really. Her books tend to have the same formulas, the same macho-ness, the same heroine psycho-babble inside their minds….but, somehow, they always seem to touch me in different ways. How in the world do you explain that? But, I will say this: This is by far the most different MZ to date.
"What do you think?"
"Jaywalking?" I laughed.
"No." I turned my head to look at him over my shoulder. "Indecent exposure?"
All he did was stare at me for the longest moment in history in response. When I snickered, he blinked, one side of his mouth tipping up just barely.
"I don't think I've ever let anybody gimme as much grief as you do."
The guy was a bit grittier, the story not a sports romance, and the end result a little different. Yes, there were a LOT of similarities-wonderful friends, hilarious banter, devoted man, amazing storyline, hate-to-love, but that's, for me, where the similarities ended. For one, the guy in this book was a lot, hmm, gruffer. He wasn't frills and flowers-he was a tattoo shop owner and a member of a motorcycle club. He didn't conform to what I'm accustomed to, and I dug it-I dug it hard. And, MZ is the QUEEN of slow-burn, yes? Well, the MC's get together MUCH earlier in this story so we have a lot more couple time-which I just plain adored. And this story-line, while not completely dastardly, had a more menacing undertone. So, ya know, just a smidgen (and I do mean SMIDGEN) of peril to dash on an already beautifully concocted sundae of feels.
His laugh was hard. "Honey, you and me, we're more than just friends."
And… I was dead. I had to be.
Dex scrubbed his fingers over his lips again, his glare violent. "Look at you. I never stood a fuckin' chance."
And, as always, my favorite parts included both jealousy of the MC (yaaassss Zapata), the slow burn, and the NEED to protect the heroine at all costs. So, naturally, what I always love in most any book-it just is always done so well, here. Now….like with any book, I'll be candid-There was more here I could see people having a problem with than her other works. And it's hard for me to say what those things are because they just plain don't bother me. The only tic that lightly bothered me was Dex's southern lilt. It was an adjustment for me, because I'm super picky with speech in stories. But, other than that, what might bother people include, but are not limited to, the virgin heroine storyline, the motorcycle=bad boy trope, the more 'aggressive' nature of Dex (fists first, questions later (SOMETIMES)), the possessive feel he has for Iris even when they aren't together-NONE of this bothers me, and, frankly, tons of books have guys that get jelly and are possessive of the girl they adore, but I suppose, on top of everything else, this might be harder for others to swallow. Just my honest opinion, there. See? I can be rational and unbiased for the sake of others.
I finally had it though. Only one of us could be a moody shit, and that would be me.
And, finally, I just plain adored the sex scenes in this one. Yeah, I know, weird of me to say-but in every MZ you know there is at least ONE explosive scene we all wait for at the end….but I felt these sex scenes were, by far, the most well-written and the most addicting. Perhaps it has to do with the timing in the other stories where we wait so long that we are extremely picky, but I just know that this one was my favorite, so far, of the three. And, I'll be honest, I just LOVE the bad boy/virgin trope. SORRY NOT SORRY.
I was swallowed whole by emotion. By this terrifying thing that had to be love because it hurt as much as it soothed.
Once again I have gushed myself into oblivion, but I did it with no frills and I think this is what this book needed and deserved. It wasn't a cutesy sports romance like the others (they were far from cutesy but what else could I explain them as?), and it needed more subtle reviewing. I adored this book, like all the others, and I cannot wait to order my signed copy. I hope everyone continues to give this amazingly raw and honest author rave reviews-because she deserves all the hype. All of it.
*****
When you're having a bad week and nothing else makes you happy-You'll always have Zapata…
Nothing makes me happier or relaxes me more. Or, at least, that's how I feel :)))
Related Posts