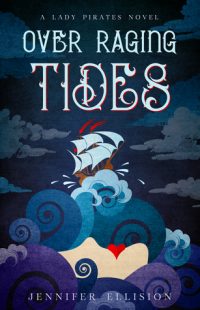 Over Raging Tides
(
Lady Pirates #1
)
by
Jennifer Ellision
Purchase on:
Amazon
, 
iBooks
, 
Book Depository
Add to:
Goodreads
Synopsis:

A mythical map. A pirate's quest for revenge.

The pirate crew of the Lady Luck lives by many rules, but chief among them is this: they do not allow men on board.

That's a rule that first mate and quartermaster Grace Porter is willing to break when a shipwrecked young nobleman offers her information of an omniscient treasure map, stolen from his warship by an enemy vessel. Until now, the map was only the stuff of legend… but with its help, Grace may finally be able to hunt down the Mordgris, the sea monsters who stole her mother away from her.

Unfortunately, some members of her crew have other plans...

To find the magic map and face the Mordgris, Grace will have to confront her past, put the Luck between warring nations, and uncover treachery aboard the ship. And ultimately, her revenge and the destruction of the Mordgris will come at a hefty price: the betrayal of her crew.

Grace promised them they wouldn't regret this.

She just isn't sure that she won't.
Review:
Over Raging Tides was completely consuming and so easy to devour!  The writing had an effortless feel to it, which I loved, and each of the characters stood out easily in my mind.  So if you like books filled with adventure, mystery, strong women and a man who is so much more than first glance would seem, you definitely have to give this book a try!
"Captain?" My voice is low, waiting for the order.
She grins. "Take it."
Planks are thrown from our ship to theirs, and like animals loosed from a cage, we storm our way across.
The Lady Luck was an all women's pirate ship.  Grace was first mate and the captain of the ship was Captain Ilene.  They had what felt like a mother-daughter relationship and I loved learning about their past.  Two other woman captured my attention completely and they were Sam, who seemed like Grace's only true friend and Cecilia who wanted Grace's position.  While sailing, they ran acros a battle between two ships. And once it was over, The Lady Luck veered towards the loser to hunt for treasure. While searching for treasure Grace saved two brothers, a boy her age and his little brother, and brought them on the ship.  Even though no men were allowed on The Lady Luck. And from there an addicting path was torn and I couldn't help but be glued to the pages to see what was going to happen next.
He scuffs his foot against the deck, but doesn't have the cowardice to look away from me. "You're…pirates," he says, shrugging.
"And?" I cross my arms, waiting for him to go on.
"And all we ever hear of pirates are the atrocities your kind commit. Theft, death…"
"We're still human. We laugh. We cry. We love."
"I see that now. But it would be easier if I could still think of you as a heartless lot."
I liked Grace from the start.  She was a strong, brave woman and she took care of those she cared for.  I loved that she was a hard worker and even if she didn't always show it, she had a lot of compassion in her heart.  I could easily see Grace being a captain of her own ship someday. But when Grace found herself around Leo, the boy close to her age she rescued, we got to see a more playful side of her.  There was definitely something between them, but it was a slow burn and I'm hoping it will turn into more.  And while I quickly liked Leo, I still have so much to learn about him.  I feel like we've only scratched the surface and I would have loved to get into his head or had more scenes between him and Grace.  Especially since he turned into someone more than Grace or I expected.
He's bold, I think as I step away. Too bold. He goes from spoiled weakling to something just this side of dangerous. And I'd prefer him to stay in the safe zone.
Leo and his brother got to stay aboard the Lady Luck since he could help them find a map that would lead them to treasure.  But nothing was simple and so many difficulties happened. Between treasure maps, to a male pirate group and even the Mordgris, there was a lot of mysteries and it was fun to look for all of the clues.  And while I have some guesses for how it will all pan out, I love that I'm still left unsure if I'm right.  Especially in regards to the Mordgris. They were sea creatures who seemed bent on death and had abilities that were terrifying. They could easily haunt ones nightmares.
"Do you mind the company?" Leo asks.
I grin, tossing him a wink so he knows I'm joking when I say, "I think I can stand the company of a spoiled nobleman. That is, if you're not terrified to be in such close proximity to a pirate."
His eyes, warm with an emotion that sets a fire to light in me, rove my body. "I think I'll manage somehow."
Over Raging Tides was filled with excitement and intrigue and I devoured this book.  When I reached that last page, I couldn't help laughing and covering my face because it ended on a huge cliffhanger.  So I can't wait to see what happens next, I'm very excited for what the future holds!
*I voluntarily read and reviewed an advanced copy of this book, provided by the author.  All thoughts and opinions are my own.*
Related Posts