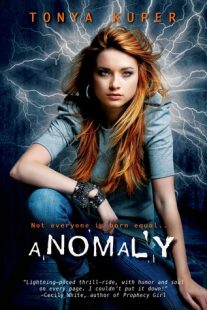 Anomaly
(
Schrodinger's Consortium #1
)
by
Tonya Kuper
Purchase on:
Amazon
, 
iBooks
Add to:
Goodreads
Synopsis:

Reality is only an illusion.
Except for those who can control it…

Worst. Birthday. Ever.

My first boyfriend dumped me―happy birthday, Josie!―my dad is who knows where, I have some weird virus that makes me want to hurl, and now my ex is licking another girl's tonsils. Oh, and I'm officially the same age as my brother was when he died. Yeah, today is about as fun-filled as the swamps of Dagobah. But then weird things start happening…

Like I make something materialize just by thinking about it.

When hottily-hot badass Reid Wentworth shows up on a motorcycle, everything changes. Like, everything. Who I am. My family. What really happened to my brother. Existence. I am Oculi, and I have the ability to change reality with my thoughts. Now Reid, in all his hotness, is charged with guiding and protecting me as I begin learning how to bend reality. And he's the only thing standing between me and the secret organization that wants me dead…
Review:
Anomaly was fast paced, had me completely addicted and was so much fun!  I flew through the pages, I became attached and connected to the characters, I swooned over the romance, and the abilities/powers we learned about was beyond unique!  This book was such a huge win, and I can't wait to see how it all wraps up in this duology!
Her safe little world had to be disrupted, and I was the one chosen to drag her into hell. It was my responsibility to keep her alive and in check. Her life depends on me. My throat felt dry. She didn't deserve this, but she also didn't have a choice. – Reid
Josie Harper made me laugh.  And totally not on purpose.  You see, she's this science loving girl.  And the facts and explanations she gave throughout the book was spot on, but so not right for the moment lol.  I mean, we start out the book with her bestie bringing her a birthday cupcake to school…….with the image of Sheldon Cooper (Big Bang Theory TV Show) on it ha.  I quickly found myself liking her.  Josie was smart, sarcastic, strong, brave, honest and everything I love in a heroine.  So when Reid burst into her life, I felt a little clueless, just like Josie.  You see, she's not aware of who she really is, and what's she's capable of doing.  She's been sheltered and lied to her whole life, and Reid is about to blow her whole world up.
"I understand you're scared and you don't know what's going on, but you can trust me . I won't let anything happen to you."  We stood there, staring at each other, and after a few seconds, something changed in her eyes and she closed the gap between us.
The day Reid entered her life, strange things started to take place.  She thought things, and they happened.  Plus she had this blinding pain in her brain.  Thankfully Reid explained to her that that was normal, since she was Oculi.  Oculi have the ability to make what they observe a reality.  That was SO original for me.  I was fascinated learning about their powers, and all that they could and couldn't do!  Yet life wasn't all roses.  Because of her powers, people wanted her dead.  And Reid was there to train and protect her from those people.
I wanted to grab her and run. To hell with the war, the Resistance. I wanted to take Josie away and keep her safe. – Reid
From the moment Josie and Reid met, I was a goner.  They have this attraction between them that was undeniable.  And their beautiful chemistry had me sighing out loud and left me wanting to curl into this happy little ball.  Plus I loved that we got to alternate between Josie and Reid!  Because then we got little clues about the past and what the bigger picture was from Reid.
"You've sacrificed so much," I said, watching the water lap around my shins.
"Well," he whispered, drawing me toward his side, "some things, some people, are worth making sacrifices for."
Oh, Reid Wentworth.  I loved everything about him.  That he worked so hard to earn Josie's trust and friendship.  That he was fiercely loyal.  That he was her ultimate protector, while also training her to take care of herself.  The things he sacrificed to keep Josie safe and to train her, ugh, it pulled at my heart and made me fall harder for him.  He was such a good guy and I completely fell for him.  And as the story progressed, I loved hearing his thoughts and how he felt about Josie.  Melt me into a puddle why don't you!  He was charming, strong and I was completely enchanted by him!
"I'm tired of not living," I whispered. I hadn't planned the words—they just broke out of me.
His eyes searched my face, then he dipped his head, lips barely grazing mine. – Josie
So I can't say more, other than there were some manifestations of Josie's powers that floored me and there was a twist I didn't see coming from a mile away.  Anomaly was such a fun book, and it's for people who love their sci-fi and paranormal stories to have a romance that plays a strong part.  Now I'm off to see how it all ends up in the final book, Enigma!
*ARC kindly provided by Entangled Publishing via Netgalley in exchange for an honest review*
Reading Order & Links:


Amazon

(click on covers),

iBooks (click on titles) & Book Depository

(click on book #)


Anomaly #1
Reviews:
Jen

Enigma #2
Reviews:
Jen
Related Posts