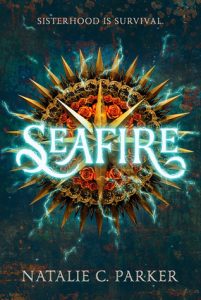 Seafire
(
Seafire #1
)
by
Natalie C. Parker
Purchase on:
Amazon
, 
iBooks
Add to:
Goodreads
Synopsis:

After her family is killed by corrupt warlord Aric Athair and his bloodthirsty army of Bullets, Caledonia Styx is left to chart her own course on the dangerous and deadly seas. She captains her ship, the Mors Navis, with a crew of girls and women just like her, whose lives have been turned upside down by Aric and his men. The crew has one misson: stay alive, and take down Aric's armed and armored fleet.

But when Caledonia's best friend and second-in-command just barely survives an attack thanks to help from a Bullet looking to defect, Caledonia finds herself questioning whether or not to let him join their crew. Is this boy the key to taking down Aric Athair once and for all...or will he threaten everything the women of the Mors Navis have worked for?
"Take your ship, take your crew, and prove to that man that he has not quelled all of us. Prove that there is a fire on these seas he cannot contain."

So vivid in detail, you can practically taste the salt from the sea. So engrossing, it's as if you can feel the wind in your hair. So mind blowing and addicting, you might as well sign your soul over to the Mors Navis crew-because once you start this story….you might as well say goodbye, because you're done for. Dead. Dying. You're addicted like any old Bullet to the most powerful Silt Aric Athair can offer. Say hello to your newest obsession.

I'll admit I was scared when I started this story-well, that's a lie. From the minute I started, I was ADDICTED-that prologue may be one of the saddest, harshest beginnings to a story EVER. And, let me tell you up front-Parker isn't afraid to kill people off. JUST SAYIN'.
He smiled in return, saying, "I might not be quite the hammer Redtooth is, but I'll do my best."
Redtooth leaned in to answer, "Don't feel too bad about it. The way you take a beating, you make one helluva nail."
But no, it's more than that. It started off so great-it truly pulled me in. But then I found it hard to find and buoy to a connection (har). I don't know why, honestly, other than the fact that perhaps it has to do with me moving and not feeling wholly myself that first week when I was reading this beauty. But I also wonder if I needed more of a mix of men and women for longer throughout the story-but, like with many things, that's a personal preference.
Redtooth pushed a finger into his face. "Damn dirty Bullets don't touch my ship. Try it and I'll put you down." Then, as an afterthought, she added, "Unless the captain says otherwise."
 But, fear not, because a true beauty this is indeed, for I was a total goner not long after that minor lapse in judgement. How can you resist the piratey pirateness that comes with a sea-filled read, full of action and adventure, friendship and heartbreak, loyalty so strong you almost choke on the palpable tension when things aren't going just as they should be, and an addictive beginning to a slow burn, but [enemies-to-lovers] oh so tiny and fresh, romance. Tell me-HOW. HOW DO YOU RESIST THIS?!
The thought didn't give Caledonia as much pleasure as she'd expected. It left an uncomfortable crook in its wake, a sea snake disturbing the flow of water. Ceepa was right to call him poison. There was something truly insidious about him. So insidious, Caledonia had stopped wishing for his immediate demise.
 Alas, I did not, could not, and would not resist. And though my not-so-adorably stubborn self did my best to find flaws…there really weren't any. Truly. Well. I don't understand boat talk, so there's that. But I'm going to GUESS that falls under the 'it's me, not you' category.
Masterfully written with a style so smooth and oh-so-wonderfully fluid that you get pulled into its seamless story line and feel as if you're being lulled to sleep with the beauty of it-I can't explain it right, but it's almost like-okay-it's style of writing drew me in because it was so captivating and had so much action and adventure, but while doing so, it captured the subtle depth of feather-light writing that somehow RELAXED me …just because it was THAT good [that's not even to mention the excellent, amazing, alluring, vivid world building]. There's just something about peril mixed with beauty that makes my masochistic self feel, well, self-actualized.
Hm. Wonder what that says about me. I don't care to analyze that tonight [as I write this], though. So I'll move on.
But world-building and soothing writing hardly make for a complete book-you need relationships to root for. To ride and die for. To make it worth coming back for after detaching yourself from the story every night when you have to catch up on a pesky thing called 'sleep.' What IS sleep, anyway? And why do we need it? Pesky pesky sleep…interfering with my reading every night-sigh. I digress. ANYWAY. There are just so many relationships to root for here-friendships, family bonds…and a hate-to-love between a Bullet and the captain who swore to never trust a Bullet.
"Thank you."
Her eyes snapped open. She turned to find Oran still watching her. Had he been watching her this whole time? She scowled.
"For saving my life today. I know you didn't have to, and I'm grateful."
"I'm not concerned with your thanks. Or your gratitude." She thought she detected the hint of a smile on his mouth, and she wanted to hit it. Hard.
 Let's start with that last one, shall we? Actually, ARGH, ya know-sometimes it's just best to leave it to the imagination, so I will. Just know THIS-Oran was adorable. Their relationship was something that blossomed slowly, like a flower-it didn't happen overnight and, frankly, I was DYING for it to develop-but when it did…that tentative bond they share-it was ELECTRIFYING. So short, sweet…and well worth the wait. That's all. (He's so cute, thoughhhh). Shh, Chelsea, just shhh.
One of us needs to lead, Pisces had said. You need to lead us.
Why not you? Caledonia asked.
Because, Pisces began. One of us also needs to follow.
 I suppose I should focus on my favorite bond of all, and that was between Cal and Pi. Best friends. Both mourning the loss of their families-sworn to be by each other's side until the end, even in the toughest moments. I ADORED them and their sisterly friendship-the loyalty, understanding, and the push that each needed when things got tough-but, I have to say, Pi stole the show for me. Wow, was she a great, strong, and empathetic person. She saw reason when Cal only saw fire and revenge…and I really connected with her as a person. One act of kindness can start a whole new cycle, and one act of trust can save a life. It can easily go the other way around, but you can't know until you try, and Pi was so inspirational in that way, standing against her best friend because she knew what was right. I just…I loved her.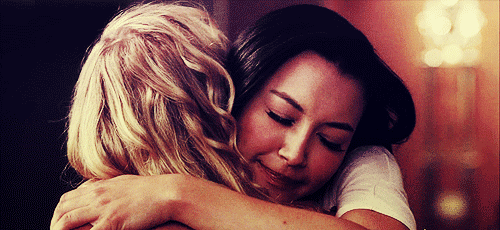 Cal? She was a little stubborn and hard to connect with sometimes, for me, honestly, because I'm a bit fluffier on the inside, like Pi-however, I know that pain Cal feels, we FELT it from the depths of our soul (damn you, Parker *shakes fist at sky*) because of that poignant and jarring prologue-we know the pain Caledonia hides…and we can't help but understand that sorrow. So no, I can't (and didn't) judge her harshly, which is why I ended up loving her, in the end. Plus, she was a flawed MC-and I dig that.
But, most importantly, probably, is the fact that this book is fueled by the strongest bond of all-family. Even when they aren't around, we can draw strength from them….and, apparently, drive us to bloody and just revenge.
(Lol, legit pictured this voice/scene in my head, so naturally I needed the GIF to send my point home)
He hopped to the ground at Redtooth's feet. "You wanted the gear snapped in, right? No chance for movement."
Alarm showed on Redtooth's face. "Snapped in? No, I didn't want it snapped in! I-" Her teeth crashed together. "You're joking. You're a damn dirty Bullet and you're joking." 
In the end, this story was a big punch in the feels that gave me a lot to think about. And it had an epic end I won't likely forget (UGH COME ONNN) any time soon. I felt every sad moment, even when I wasn't all in, and that's saying something about this author's ability to write. It got me where it hurts, even in the face of doubt, and that's where the biggest punch in the feels comes from.
"She's right," Oran said from beside her. "If anyone could lead a fleet, it's you."
In spite of the cold, Caledonia felt a small warmth bloom in her chest.Redtooth groaned. "Things have gone very wrong when a Bullet agrees with you. Quick, say something terrible. Shouldn't be hard. Just open your mouth."
"Red, you're faithful and strong, and if I die tomorrow, I hope you remember I considered you a friend," Oran said brightly.
 A strong story about friendship, bravery, and a ship of girls all loyal to a fault-but, mostly, it's a story that centers around love…and that's what made my heart beat, my soul soar, and my head spin with possibilities. I was lost in the clouds when I read this, and I am SO ready for anything that comes next. Sign me up-I'm a loyal fan. And more Oran, please. Yum.
Pre-order HERE!
Amazon l iTunes l Book Depository
Bookstagram Picture: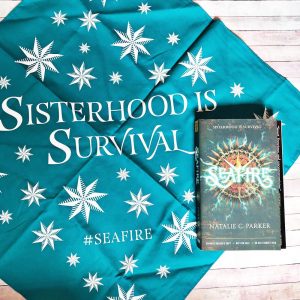 (I'm in the process of moving so it is NOT what I normally can do…but it's the best I could do with no props and no light!)
AUTHOR BIO:
Natalie C. Parker is the author of the Beware the Wild duology, the Seafire trilogy, and the editor of Three Sides of a Heart. She earned her BA in English literature from the University of Southern Mississippi and her MA in gender studies from the University of Cincinnati. She grew up in a Navy family finding home in coastal cities from Virginia to Japan. Now, she lives surprisingly far from any ocean on the Kansas prairie where she runs Madcap Retreats with her wife. She tweets @nataliecparker.

 
Follow the tour below!
WEEK ONE
August 20 – Bibliobakes – Review
August 21 – My Friends are Fiction – Creative Instagram Picture
August 22 – Gladiatorglory – Moodboard
August 23 – YA Books Central – Author Guest Post: What gave you the inspiration for this book?
August 24 – Starcrossed Book Blogger – Review
WEEK TWO
August 27 – Here's to Happy Endings – Creative Instagram Picture
August 28 – NovelKnight – Review
August 29 – Utopia State of Mind – Author Guest Post: Who would be in your pirate crew and why?
August 30 – @Darkfaerietales – Creative Instagram Picture
August 31 – The Fandom – Author Guest Post: Natalie C. Parker's favorite stories of sisterhood and survival.
WEEK THREE
September 3 – IceyBooks – Quote Candy
September 4 – Novel Novice – Styled by the Books
September 5 – The Young Folks – Author Guest Post: What was the world building process like? What type of research was involved in creating the world/learning about ships or sailing and what was the inspiration of the world and story?
September 6 – Lindseyybooks – Review + Creative Instagram Picture
September 7 – Brittany's Book Rambles – Spotlight + Listicle
WEEK FOUR
September 10 – Cayla Reads – Review + Playlist
September 11 – Herbookstacks – Review + Book Aesthetic
September 12 – Swoony Boys – Character Interview
September 13 – Book Is Glee – Creative Instagram Picture
September 14 – Sarah June – Review + Creative Instagram Picture 
Related Posts
I won't lie-I NEEDED this book the moment I saw it. I mean...LOOK at it! And I'm happy to report that the beauty within matches the absolutely stunning cover. Rarely does the beauty of a cover match what's inside, so it's a rarity and I'm ecstatic that's the case. Soooo many thanks to Penguin Teen for sending me an early copy and for letting me participate in this amazing tour for this amazing book. See below to follow the tour, learn about the author, and to read my 5 star review. Enjoy!