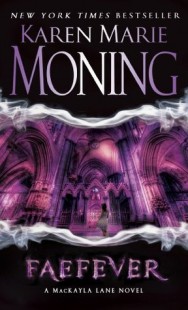 Faefever
(
Fever #3
)
by
Karen Marie Moning
Purchase on:
Amazon
, 
iBooks
, 
Book Depository
Add to:
Goodreads
Synopsis:

He calls me his Queen of the Night. I'd die for him. I'd kill for him, too.

When MacKayla Lane receives a page torn from her dead sister's journal, she is stunned by Alina's desperate words. And now MacKayla knows that her sister's killer is close. But evil is closer. And suddenly the sidhe-seer is on the hunt: For answers. For revenge. And for an ancient book of dark magic so evil that it corrupts anyone who touches it.

Mac's quest for the Sinsar Dubh takes her into the mean, shapeshifting streets of Dublin, with a suspicious cop on her tail. Forced into a dangerous triangle of alliance with V'lane, a lethal Fae prince, and Jericho Barrons, a man of deadly secrets, Mac is soon locked in a battle for her body, mind, and soul.
Review:
Addictive?  Yes!  Infuriating?  Yes!  Will I continue on?  Of course!
Faefever was intense, action-packed and I tore through the pages as fast as possible!  As in the past, we finally get to learn a little bit more about some of the questions that are unanswered.  History and a few tidbits for some of the characters, finally have some light shed on them.  Thank goodness!  I soaked up every single tiny detail that was delivered, but ultimately I felt as though I was lost in the dark.  I still only have a handful of puzzle pieces laid out in front of me.  And in all honesty, I'm not entirely sure they are even correct.  Learning who characters are inside and out is shockingly not something that is going to happen to you by the third book.  My list of questions continues to grow exponentially and it's kind of driving me insane.  I want to know exactly who each character is and what they stand for!  But as I was nearing the end of the book, those annoyances got blown far from my mind with that ending.  Twenty-four hours later and I am still terrified to open up the 4th book, Dreamfever
!  Deep breaths!  I'm going to need them!
Nobody looks good in their darkest hour.  But it's those hours that make us what we are.  We stand strong, or we cower.  We emerge victorious, tempered by our trials, or fractured by a permanent, damning fault line.
Mac is on her way to meet Christian MacKeltar.  He claims to have known her sister, and Mac is thrilled with the possibility of learning anything she can.  But on her way to meet him, she crosses  paths with the Sinsar Dubh.  Horrifyingly, she watches and learns what the book truly is.  From here, you get taken on a wild ride of  lies, threats, deceit, hotness and of course more ass kicking!
When Barrons looks at me like that, it rattles me.  Lust, in those ancient, obsidian eyes, offers no trace of humanity.  Doesn't even bother trying. Savage Mac wants to invite it to come out and play, I think she's nuts. Nuts, I tell you.
I still love Mac, but you know what I've come to realize?  She's a little crazy.  Hmmm, actually she's ferociously brave.  Let's go with both.  I love that Mac is a crazy, ferociously brave woman!  The things she did SHOCKED me.  They were ingenious moves on her part that I never once saw coming.  Whether she realizes it or not, she is becoming a powerful, manipulative, controlling being like Barrons.  It's funny because I can rationalize every which way for all of Mac's actions.  But when Barrons does the exact same thing, I just call him an ass.
Why, oh why, do we find the most dangerous, forbidden men the most irresistible?
Barron is still a sexy, mysterious man that runs from hot to cold in the blink of an eye.  V'lane is still a sexy, mysterious man errr Faery that runs from hot to cold in the blink of an eye.  Ha!  They do have more distinctions and differences, but for now that is how I am going to view both of them.  While I'm not falling for any of V'lane's little tricks or lies YAY, I no longer feel guilty for liking Barrons BOO.  The boo exists because I don't like his barbaric actions and I still want to punch him in the face.
If you enjoyed the two previous books, you can easily count on being entertained in this one as well.  Mac continues to be our favorite kick-ass heroine and Barrons is still a sexy, brutal, jerk (that may be too kind of a word) that keeps racking up even more questions.  Fingers crossed I'll learn some more answers in Dreamfever
.  Now don't mind me as I go hold my breath and wish that I could just close my eyes and skim over the first few pages or chapter in the next book!
P.S. I LOVE the View Spoiler »MacHalo….picturing Mac wearing that contraption on her head, wrists and ankles made it impossible to stop laughing!  An ingenious, hilarious contraption! « Hide Spoiler
Save
Related Posts