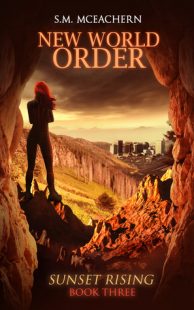 New World Order
(
Sunset Rising #3
)
by
S.M. McEachern
Purchase on:
Amazon
, 
iBooks
Add to:
Goodreads
Synopsis:

In the third book of the Sunset Rising Trilogy, Sunny O'Donnell is determined to find Jack and bring him home. With the high-tech assistance of Doc, Sunny and her friends, Summer and Reyes, team up with the Nation to set out into a lawless post-apocalyptic world. But as the ruthlessness of the recruiters unfolds amidst the discovery of betrayals within their own group, friends will become enemies and enemies will become friends on a journey that will lead to a New World Order.
Review:
New World Order was a fabulous conclusion to the Sunset Rising Trilogy! This world was harsh, brutal and unforgiving and the story could be so dark and twisted at times. Yet friendship and love shined brightly and I was completely invested in this series. In this final book we got to alternate between Sunny and Jack, which I absolutely loved. And because of that, we got to see how friends became enemies, lies were hidden under the radar, and we found out exactly who we could trust. Some of it was very surprising! So here are some of my favorite things about this book…
I ran my fingers through his short hair and gazed into his intense blue eyes. "Whoever would have thought that Leisel's betrayal would turn out to be just the beginning?"
✮ Friendship
"How dare you judge me!"My hand itched to slap him. "While you were busy moping around pissed off at the world, my bourge husband and I were outside the Dome risking our lives to find a way to open the doors so the Pit could go free."
Reyes stood up straighter and looked down his nose at me. "You did open the doors, Sunny,"he said calmly. "And then you just walked away."
Friendship played such an important role in this series. Between the Pits, Alliance, Bourge, The Nation and Ryder's people there was a vast group and racism was prevalent. So I loved watching how friendships helped bridge the gaps and unite some of them at times. Like the team that was formed to go rescue Jack. It was an unlikely group whose dynamics were fascinating to watch. Especially since there was some changes as the story progressed and I was surprised that my opinion even changed towards some of the characters. By the end of the book, I loved that tentative friendships were formed, another was patched up and a new and heartfelt friendship was created. While there was obstacles in their way, it was amazing to watch all the friendships unfold.
✮ A story that continued to grow
From the very beginning, we had accepted that we would eventually be executed, and so we lived our last days in the name of saving humanity, making alliances, bridging enmity, and falling in love along the way. The seeds of betrayal so carefully planted by Leisel had failed to produce their crop. Solidarity had grown in their place. – Sunny
I felt that this series had the best of both worlds. While characters were the heart, the soul was the way the story unfolded. There were a lot of moving parts and when you throw in some fabulous twists and turns, it made this story even more addicting. I had sweaty palms and learned that you should always go with your gut. Even if you want to believe otherwise. It was fascinating to watch how deception and lies could tweak this story and I loved that I didn't see some of it coming. On top of all of that, there was fighting and political unrest happening. I wondered how it could all end up right, but just watch. Because it was brilliant.
✮ Inherent darkness
I looked at Naoki. "The minute they cut me loose, I'm going to kill every last one of them."
He gave me a curt nod. "I'll help." – Jack
While dystopians usually have a darkness or bleak feel to them, the issues in this series were one that I could easily see in a scary, possible future. Bigotry, slavery, sexism and racism bled from the pages. Hundreds of years later and we were still fighting about the same issues. And some of those issues would go down such a dark path that I found myself hoping certain people would die. Their actions were beyond horrific and some of it was even hard to stomach. There were a few moments I just wanted to cover my eyes, but I had to keep reading. And while some justice was served that made me shout out loud yes, I have hope that even more will take place in the future spin-off series.
✮ True Love
She was so much more than my soul mate. She was my hero. And I needed her strength more than ever. – Jack
If you love romance in your books, you're in for a treat with this series. It was forbidden and filled with the best tension. And when it finally turned into more, my heart was soaring and oh so happy. In this final book we saw exactly how strong Sunny and Jack's love was for each other. The lengths they would go to for one another was beautiful, and they are cemented as one of my favorite couples ever.
He stood and held his hand out to me, and as I laced my fingers through his, I remembered the first time I'd ever placed my hand in his, a year ago, when we'd decided to take on the Holt regime. It filled me with as much strength now as it had then.
This series will always have a special place in my heart. I cried tears of sadness and happiness, smiled, laughed and fell more in love with these characters. Plus it wrapped up in such a fabulous way that made so happy. Yet I love that there is so much to cover in a spin-off series and I can't wait till it's released! So if you love forbidden romance or dystopian then definitely add this series to your tbr. I absolutely loved it and I'm look forward to reading everything else S.M. McEachern writes!
Trigger warning for: View Spoiler »Rape, talk off the pages of raping women and children and seeing some of the victims afterwards. « Hide Spoiler
Related Posts