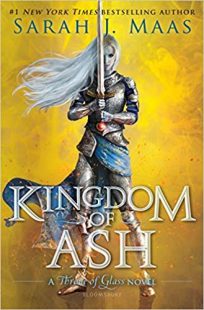 Kingdom of Ash
(
Throne of Glass #7
)
by
Sarah J. Maas
Purchase on:
Amazon
, 
iBooks
, 
Book Depository
Add to:
Goodreads
Synopsis:

Years in the making, Sarah J. Maas's #1 New York Times bestselling Throne of Glass series draws to an epic, unforgettable conclusion. Aelin Galathynius's journey from slave to king's assassin to the queen of a once-great kingdom reaches its heart-rending finale as war erupts across her world. . .

Aelin has risked everything to save her people―but at a tremendous cost. Locked within an iron coffin by the Queen of the Fae, Aelin must draw upon her fiery will as she endures months of torture. Aware that yielding to Maeve will doom those she loves keeps her from breaking, though her resolve begins to unravel with each passing day…

With Aelin captured, Aedion and Lysandra remain the last line of defense to protect Terrasen from utter destruction. Yet they soon realize that the many allies they've gathered to battle Erawan's hordes might not be enough to save them. Scattered across the continent and racing against time, Chaol, Manon, and Dorian are forced to forge their own paths to meet their fates. Hanging in the balance is any hope of salvation―and a better world.

And across the sea, his companions unwavering beside him, Rowan hunts to find his captured wife and queen―before she is lost to him forever.

As the threads of fate weave together at last, all must fight, if they are to have a chance at a future. Some bonds will grow even deeper, while others will be severed forever in the explosive final chapter of the Throne of Glass series.
Review:
Once upon a time, in a land long since burned to ash, there lived a young princess who loved her kingdom …
Honestly this might be one of the hardest reviews that I have ever tried to write and that's only because I want to be able to perfectly communicate what this series has meant to me..how it has impacted my very soul…and I just don't think my words can ever fully do it justice. But that's all right, I know that most of you will understand.
"I obey no man," she snarled. 
While Tamora Pierce was the one who got me started on YA, Sarah J Maas is the REASON I read YA. My first few reviews of her books usually started out something like, "She isn't the best writer that I've ever read, but her books have made me feel things that no other book/ author have." Fast forward several years and I now think…you know, just because someone's writing isn't lyrical or on par with the classics, it doesn't mean they aren't the best writer you've ever read. For me, I treasure ANY book that makes me feel even a fraction of what these, what all of her books, have made me feel. I swear to God I spent this entire book crying, laughing, heart racing, scared out of my wits, clutching my heart or throat because I was damn invested in what I might find on the next page. If some evil person were to tell me that I was only able to read one author's books for the rest of my life, it would be hers.
Who do you wish to be? 
"Someone worthy of my friends," he said into the quiet night. "A king worthy of his kingdom." For a heartbeat, snow-white hair and golden eyes flashed into his mind. "Happy," he whispered, and wrapped a hand around Damaris's hilt.
I guess I should probably start this review with the characters, huh? Can I just say how PROUD I am of all of these characters?! Oh my GOSH when I think about how each and every one of them started from the first page we met them to their last page…I can't even express the amount of growth that every. single. one. of them went through. I sobbed my way through that last scene when Aelin, Dorian, and Chaol were saying their goodbyes and she told them she loved them. They began as a haunted, swaggering assassin, a fickle, devil-may-care prince, and a everything-has-to-be-the-book captain of the guard to….well you'll just have to read until the end to find out, now won't you? 🙂
Even all of the secondary characters will forever hold a very special place inside my heart. I am SO glad that Tower of Dawn became a full length novel so we were able to meet and fall in love with Yrene, Sartaq, Borte, and crew. I MEAN YRENE TOWERS/WESTFALL PEOPLE??!?!?!? I feel like I don't need to say more about that incredible woman. Her and Chaol are marriage goals x1000000.
Speaking of couples, I ship them all. Every single one of the lovesick fools. View Spoiler »I fucking died at Lord Lorcan Lochan bhahahahah. Also I am in love with the open ending that is Dorian and Manon..Finally yes, Aedion was a fucking prick but…he atoned for his shittiness. I believe that he is the one person who truly understands what Lysandra has gone through and that they both can work through their past's together « Hide Spoiler. It's funny…my heart was initially SHATTERED when my Chaolaena ship sank. Not looking back, all I can do is laugh. Rowan is so ~it~ for Aelin. He is her equal in every. single. way. I feel like I don't even really need to get into why they're perfect for each other because it just all makes sense.
Be the bridge, be the light. When iron melts, when flowers spring from fields of blood—let the land be witness, and return home
What else? 
Battles: Hmm..well..can we talk about how intense the battle scenes were in this book. Like they were on a J. R. R. Tolkien level with the Battle of Helms Deep/ the last battle in Return of the King. I get shivers just thinking about them. Also….also. View Spoiler »The hardest I cried in the entire book was when Manon's Twelve sacrificed themselves to destroy that witch tower. God, I didn't realize how important they were to me until then. ESPECIALLY Asterin. I am so glad she was able to take the Blackbeak Matron down with her and that she's hopefully happy with her hunter and her baby. *sobs all over again*. « Hide Spoiler
Gods: screw 'em. View Spoiler »HOW SATISFYING WAS THAT????????!?!? I hope Deanna was ripped apart by the Valg. Bitch. UM ALSO WE ALL KNOW THAT WINGED MALE WAS RHYS. I freaked the F out. AHHHHHHHHHHHHH. I want that in their perspective so freaking badly, lol « Hide Spoiler
Loose ends: allllllllll tied up, mostly. The only thing that I thought was going to be more important was finding out who the owl was that Maeve keeps as her personal healer. I was CONVINCED that it was going to be someone important but…whatever. Other than that every single thread was tied up neatly. I am fully satisfied.
Final thoughts: Fireheart, I couldn't be more proud of the character you became. You will be a beacon of hope and courage for me for the rest of my life. I hope that someday I can share your story with my own daughter and that she will grow up brave and strong and knowing that her heart will always lead her home.
Sarah, thank you. From the bottom of my heart, thank you for this story. I will treasure it forever.
My name is Aelin Ashryver Galathynius, and I will not be afraid. I will not be afraid. I will not be afraid. 
Related Posts