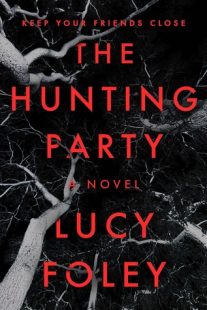 The Hunting Party
by
Lucy Foley
Purchase on:
Amazon
, 
iBooks
, 
Book Depository
Add to:
Goodreads
Synopsis:

For fans of Ruth Ware and Tana French, a shivery, atmospheric, page-turning novel of psychological suspense in the tradition of Agatha Christie, in which a group of old college friends are snowed in at a hunting lodge . . . and murder and mayhem ensue.

All of them are friends. One of them is a killer.

During the languid days of the Christmas break, a group of thirtysomething friends from Oxford meet to welcome in the New Year together, a tradition they began as students ten years ago. For this vacation, they've chosen an idyllic and isolated estate in the Scottish Highlands—the perfect place to get away and unwind by themselves.

They arrive on December 30th, just before a historic blizzard seals the lodge off from the outside world.

Two days later, on New Year's Day, one of them is dead.

The trip began innocently enough: admiring the stunning if foreboding scenery, champagne in front of a crackling fire, and reminiscences about the past. But after a decade, the weight of secret resentments has grown too heavy for the group's tenuous nostalgia to bear. Amid the boisterous revelry of New Year's Eve, the cord holding them together snaps.

Now one of them is dead . . . and another of them did it.

Keep your friends close, the old adage goes. But just how close is too close?
Thank you to Edelweiss, HarperCollins UK and Lucy Foley for my ARC!
That's the thing about old friends. You just know these things about them. You have learned to love them. This is the glue that binds us together.

The first time I tried to start "The Hunting Party" by Lucy Foley, I was baking in the Florida sun on vacation. Suffice to say, a book set in a remote winter setting didn't quite gel with my current situation and I couldn't get into the story.
Fast forward another week, when I was back in the cold Midwest and I began attempt number two. Bundled under blankets, I fell easily into the story.
The book takes place from multiple perspectives. It took me a little while to get each person straight and their relationship to others. Some characters are much more utilized to others, but as the story develops, I found myself totally engrossed.
There are a lot of relationships to untangle here. There are genuine friendships and romantic relationships, as well various toxic friendships, frenemies and not-so-healthy romantic pairings.
But here I'm in the middle of nowhere, with no one except my closest friends. The silence here, the expanses, seem suddenly hostile.

As with many mystery/thrillers, the setting is that of a remote getaway for a group of friends, plus a few others. There is a death, but help cannot reach the group, as a blizzard has made the group totally inaccessible for some time.
The narrative jumps forward and backward, from perspective to perspective. As I mentioned before, once you figure out who is who and how they relate to the others, the timeline jumping shouldn't really affect one's ability to understand the story line. Sometimes, it feels like authors use different perspectives to muddy the waters so it's not clear what the big reveal is. However, I found the different perspectives brought a lot of great character development and insight into this fascinating friend group that we would not have otherwise received from a singular perspective.
I look straight back at her, as I tread water. I hate you, I think. I hate you. I don't feel bad anymore. You deserve everything that is coming to you.

And not for the firs time-but with much better reason now-I think: I do not know this person at all. I do not know what he is capable of.

While the story starts off a little slow, it truly goes full throttle into the ending. Layer by layer, characters' feelings and intentions are revealed until we finally understand what happened and why. I'm happy to say the whole story is nicely wrapped up – no cliffhanger or unclear ending. I had my suspicions about who was dead and who did it, but I was still definitely surprised at all the revelations!
Overall, I was very happy with the book and enjoyed it. I certainly look forward to Foley's next thriller novel!
But that's the thing about old friends, isn't it? Sometimes they don't even realize that they no longer have anything in common. That maybe they don't even like each other anymore.

Related Posts