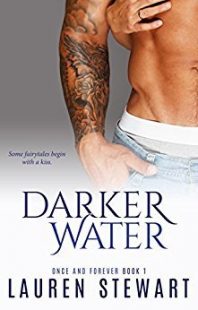 Darker Water
(
Once and Forever #1
)
by
Lauren Stewart
Purchase on:
Amazon
, 
iBooks
Add to:
Goodreads
Synopsis:

Some fairytales begin with a kiss...

Laney
I finally get it. And to think, it only took my heart being pried out of my chest and stomped on five separate times by men who claimed they loved me. That's got to be a record, right?
Let me put it as simply as I can.
Fairy tales aren't real. Love is a lie. And, at least in my experience, sex never comes with a happy ending.
Fortunately, I still have a battery-operated boyfriend who'll never fall out of love with me. I won't walk in on him in bed with another woman either. Nope. As long as I keep supplying him with fresh batteries, B.O.B's only purpose in life is to make me happy.
And, damn it, I deserve to be happy. I'm a nice person. I work hard. And, most importantly, I've learned my lesson:
I will never, ever let a man near my heart again.

Carson
My secret to happiness is to be completely upfront with what I want and, trust me, it has nothing to do with Laney's heart. Her lips? Hell yeah. A few other parts of her body? You better f*cking believe it. But her heart? Nope. Not even a little.
Until it does…a lot.
Forget I said that. I don't have feelings for anyone. They were all ripped out of me when I was a kid.
This thing between Laney and me could be great. But we have to follow certain rules. We have a good time—no dates, no sleepovers, no expectations. When one of us is ready for something new or if she starts getting too attached, we move on with no hard feelings. Win-win, and everybody's happy.
I came into this thinking it would be the same thing as it had always been and that she was like any other woman.
It isn't. She isn't.
But how do I tell her she deserves someone better, someone who can love her, someone who's not broken, if I can't seem to let her go?
Review:
Darker Water was a steamy, heart-felt story that constantly had me smiling.  Just within those first few pages, I was already laughing and obsessed with our two main characters.  It all flowed so seamlessly and I devoured it in no time at all. Darker Water became an instant favorite and I'm kicking myself that I didn't pick it up sooner.  Especially since I bought this book four years ago.
He was ten times more wicked than anyone I'd ever dated, the complete opposite of everything I used to look for in a man. Untamed, irreverent, demanding. Exactly what I needed. I wouldn't fall in fake-love with a guy like this in a million years.
Laney Temple had sworn off guys, after having her heart stomped on again and again.  So when Carson Bennett barged into her life, she told him to go away. Their first conversation had me cracking up so hard and it's going down as one of my favorite meet cutes!  You see, Carson knew what he wanted and it was Laney in his bed.  He didn't do relationships and he was completely upfront with Laney.  It seemed crazy at first, but then it started to sound like the perfect situation.  But something got in their way and they parted, which left me begging for more!
"Do you ever think us spending time with each other is one big, drawn out lapse of good judgment?"
"All the fucking time," he muttered, his lips grazing my forehead before he walked away.
From there, Carson and Laney started to meet for coffee which lead to them hanging out.  They weren't dating, they weren't having sex, they were actually getting to know one another.  So while a friendship and trust started to form, they struck a deal. Laney wanted to learn how to not mix sex and love.  And Carson had never been friends with someone he slept with.  And while neither of them wanted to get attached, it's funny how life doesn't always work out how you want it too.
"If I get you drunk, will you let me take advantage of you?" I teased.
"Alright, that's it," he growled. He took the dress box from me, picked me up, plopped my ass on a display of jeans, and nudged my knees apart so he could stand between them. "I tried to be patient. I really did, but this friend thing sucks."
"Umm…" I took a quick breath when he put his hands on my thighs. "You know we're in public, right?"
I. Loved. Carson.  If you love alpha males then you have to meet Carson.  He was addictive, seductive, powerful and charming without any effort at all. His words and actions had me melting into a puddle.  Even if he was kind of an ass at times, but that didn't matter because I loved how kind he was to Laney.  I was so obsessed with him that I've already gone back and re-read so many of the scenes where he shows exactly who he was and what he could do.  Sigh.
"If I turn around now things are going to escalate, Lane." I spoke with my eyes closed, my hands clutching the countertop. "So what would you say if I asked you how far you wanted to go with this?"
"I'd say, 'Why are you asking me questions when you should be fucking me?'"
I loved Laney too!  She was brave, outspoken and I loved how she stood up for herself.  I had so much respect for her and her sharp mouth. So when Laney and Carson were together?  Be prepared to laugh, they were hilarious! They were so perfect together, especially when they crossed that physical line.  Those moments were toe curling and would leave the hugest smile on my face.  I loved how steamy and exhilarating they were *fans face*.
"Being with you makes me feel like I'm more of a man, because I know without a doubt that I would do whatever it took to protect you." My voice caught. "So that's what I'm finally doing. I'm telling you to go away."
She lifted her head to say one word: "No."
This book also had a strong emotional side and I kept hoping they'd see what I saw.  How much they deserved one another. So looking back, this book was a ton of fun. Darker Water made me laugh, smile, sigh and even tugged on my heart which made tears spill from my eyes.  Now I'm looking forward to picking up the second book.  It's about Carson's brother and just from the few glances we got of him, I can't wait to learn all there is about Hayden!
Related Posts