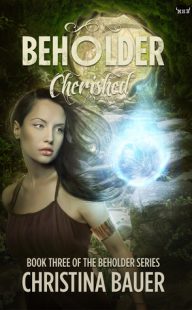 Cherished
(
Beholder #3
)
by
Christina Bauer
Purchase on:
Amazon
, 
iBooks
, 
Book Depository
Add to:
Goodreads
Synopsis:

For Elea, there's never been a better time to turn away from witch life. The Tsar is in exile. The Vicomte is dead. And Rowan? Falling for him only broke her heart. Instead of casting spells, Elea spends her days running Braddock Farm and enjoying the flirtations of the very handsome and non-magical Philippe. Everything is going perfectly, except for one problem.

Someone's trying to kill her.

Shujaa is a Changed One, a Creation Caster mage whose mutated form makes him invincible in battle. Now that the Tsar and Vicomte are gone, Shujaa wants to rise and rule. To do so, he must eliminate all those powerful enough to oppose him, and Elea is top on his list. Anyone who offers her aid quickly ends up dead.

In the end, there's only one person who can keep Elea safe while helping her defeat Shujaa: Rowan. Like it or not, Elea must team up with her old love. With Philippe along for the ride, Elea plans to team with Rowan without losing her heart this time. But that's when all her plans fall apart…
Review:
Cherished was action packed and a ton of fun.  I know I've said it before, but this series is so easy to devour.  It's filled with magic, fabulous characters and a plot that keeps me entertained.  I absolutely adore the Beholder Series!  This time around I was ecstatic to see that the puzzle pieces were falling into place and so many of my questions were finally getting answered.  So here are some of my favorite things about the third book in this series –
✮Redemption –
"Would it change anything to say I can explain?"
"Some lines can't be uncrossed."
"But my culture isn't yours. When we exchanged mating bands, you saw my soul. Am I capable of such terrible deceit as to become betrothed to another?"
"Souls are tricky things. I once thought my friend Tristan was incapable of deceit."
"I'm not him."
This book toyed with my emotions in the best of ways.  I'm more than impressed!  You see, I started getting frustrated that so many of the characters spoke in riddles, didn't tell Elea what was going on and seemed to know what was best for her.  I was about ready to throttle quite a few of them.  And Rowan was sadly even in that group.  But looking back, oh how Rowan deserved more of my faith in him!  Because we finally started to learn truths.  And it wasn't just an oh okay that makes sense kinda thing.  It was an oh my gosh, I definitely get it and all is forgiven kinda thing.   So have faith, because that was the one of the best explanations I have ever read!
✮Heartfelt characters –
My mind became a blank as I strode toward Rowan. Curse the gods, the man was smirking.
How I hated him.
Definitely.
Possibly.
Whether it was Elea, who was a heroine that was fierce and deserved my respect.  Or Rowan who melted my heart and made me want to steal him out of this book.  To even new characters we meet, like Jicho, who were absolutely adorable.  There was something heartfelt about each and every one of them.  But my favorite moments, with all of these characters, was when Elea and Rowan were together.  Their chemistry was captivating and I loved being caught in their seductive spell.
✮That ending –
He paused by the edge of the bed. "I'm not going anywhere, Elea. You're my heart and my future. I won't ever give you up. I love you."
That ending was everything I was desperately hoping for in the last two books.  It was beyond wonderful, beautiful, and heart warming.  It left me ecstatic to see how the final book will play out.  And the best part was that I was finally given the hope that I desperately needed.
Now I'm off to read the final book, I can't wait!
PS Again there were typos in this book but I'm emailing them to the author so they can get fixed.
*Book was kindly provided by Christina Bauer in exchange for an honest review*
Related Posts