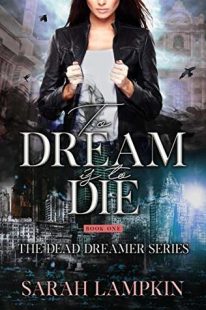 To Dream Is To Die
(
Dead Dreamer #1
)
by
Sarah Lampkin
Purchase on:
Amazon
Add to:
Goodreads
Synopsis:

Eighteen-year-old Brenna Whit is entering college as a freshman and starting to meet new people, but she hides a dark secret. Because of an accident that happened three years ago, her spirit wanders the Fade whenever she falls asleep. It's something she wants to keep hidden from the world, but when she sees someone watching her in spirit form, she fears the secret's out. With new friends, possibly new enemies, school, and a new crush, Brenna has too much to worry about for just her freshman year of college.
Review:
To Dream Is To Die was a story that kept me turning the pages.  It all unfolded so effortlessly and each time we were given a piece of the puzzle, there was still so much I couldn't wait to learn more about.  There was a few different mysteries along with some twists and turns that kept me guessing. So if you adore paranormal stories, set in college, then definitely check this one out.
Brenna Whit was a dark, snarky college student who ended up dying three years ago. She came back from the dead and her life had been different ever since.  Now, when she was supposed to be dreaming, she wandered the fade instead. Brenna moved into the college dorms for the first time and I loved watching her friendship unfold with Aeria.  They were kindred souls and friendship definitely played a central theme in this story.  And while each character was unique, I wasn't able to connect with any of them.  I tried my hardest, because the story line was a ton of fun, but sadly I couldn't ever make that connection.  Regardless, I still enjoyed reading about Brenna and her journey.
As the story unfolded, we learned more and more about the world that Brenna wandered while her body slept.  I was beyond fascinated, especially since some of it seeped into the times when Brenna was awake. It was entertaining watching how it even affected those around her.  So when I reached that final page, I was so happy that some of my questions were answered. Yes there is still so much for us to learn, but we stopped at the perfect waiting spot until the next book in this series releases.
Goodreads / Amazon / Barnes & Noble / Kobo
About Sarah Lampkin:
Sarah Lampkin is a New Adult/Young Adult fiction author from Southern Virginia. She currently resides in Northern Virginia with her cat, Fox (who is practically a dog). When she's not writing, she's playing video games, rock climbing, or getting ready for hunting season. Sarah began writing over a decade ago with her first novella called Angels: Moon and Sun, which is now being rewritten as Tainted Wings on Wattpad. She draws inspiration from Celtic mythology in her stories and aims to create unique worlds following strong female protagonist. In 2015, Sarah was able to utilize her Dead Dreamer series in her graduate program and graduate with an MA in English.
Giveaway:
Related Posts
I was so happy to join this tour because I adore Paranormal stories! So check out my review below and enter a fabulous giveaway. Enjoy!