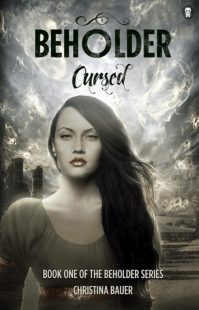 Cursed
(
Beholder #1
)
by
Christina Bauer
Purchase on:
Amazon
, 
iBooks
, 
Book Depository
Add to:
Goodreads
Synopsis:

Most days, Elea couldn't care less about being a witch, even if she does have special powers over spirit and bone. Why bother with incantations when you're a farm girl? Elea only uses her Necromancer magic to speed up chores and scare off suitors.

Everything changes when the evil Necromancer Tsar curses Elea. Now, she only has five years left before she burns as a ghost, tortured for all eternity. They say there's nothing she can do, but Elea disagrees. Embracing her Necromancer ability, Elea trains as a magical assassin. Her goal? Kill the Tsar before his curse kills her. After years of preparation, Elea's finally ready to strike.

That's when everything goes horribly wrong.

A handsome warlock named Rowan steps up to help. Elea wants him as an ally, but she can't ignore the mixed-up feelings that come with every one of Rowan's crooked smiles. An assassination mission is no time to fall in love, but Elea's heart may have other ideas…
Review:
After I had so much fun devouring Christina Bauer's Wolves and Roses, I knew I had to try her other series.  I thought Cursed would have a similar vibe and be filled with tons of fun and snark.  But once I read the first few chapters, I realized that these two series were worlds apart.  While Cursed was an adventure that was filled with magic and heartfelt characters, it was impossible not to notice the darkness that permeated throughout certain parts of the story.  This was an entirely different type of fun, and I'm so glad I gave Cursed a try.
After so many years of hard work, the time had finally come. I would either defeat the Tsar… Or suffer forever in fire.
Elea watched her one true friend die a horrific death.  He was cursed by the Tsar, and not only would he continually burn to death for all of eternity, but she would die from the same curse in five years.  To destroy the curse, and set her and her friend Tristan free, she must kill the Tsar.  By the second chapter we jumped ahead five years where Elea had completed her training to become a Grand Mistress Necromancer. With only one week left to live, she was ready to find and take down her target, the Tsar.
Right now, my mission hinged on Rowan's trust in me.
And mine in him.
I absolutely loved Elea!  She definitely didn't have an easy path in front of her, but she was tough and resilient.  She always tried her hardest, no matter how dire her circumstances were.  And I loved that she thought things out and tried to make the best decisions.  She was someone I would want next to me in a battle!  Thankfully luck seemed to be on her side when a man named Rowan came into the picture.  He was a Caster who wanted to get rid of the Tsar too.
"I suppose I was worried."
"You're over six feet tall and large as a barn. Plus, you can cast spells that affect me, so you're strong in magick as well. I can't imagine what you'd have to worry about."
"I wasn't worried for myself, Elea."
The impact of his words seeped in. He was worried about me. – Alea and Rowan
I still have a lot to learn about Rowan, but the little that I do know, I love!  He was brave, loyal, fierce and I saw so much good in him.  I couldn't help but notice that Rowan and Elea had a lot of similar traits and would make a fabulous couple *smiles hugely*.  While there was definitely chemistry between them, Elea was set on her goal and tried her hardest not to succumb to his charm.  But I have tons of hope that that will change in the future.  They were too magnetic around each other for it not to go anywhere!
The sun dipped so low behind the church, it almost touched the horizon.
Panic chilled me to the core. The curse was happening.
The fires awaited me, and there was nothing I could do.
As Alea and Rowan worked together, a lot of action came their way.  But there were also slower moments, friendships developed, and clues were discovered about what was truly happening.  There was also a twist that made me feel awful for Alea, she was definitely put through the ringer!  So by the end of the book I felt like there was a little bit of everything to be found in Cursed.  And that ending left me excited to see where the rest of the series will take me!  So if you enjoy books about magick, with strong heroines, then definitely check this book out!
PS There were some typos in this book.  But I emailed the errors to the author and they are to be fixed. 🙂
*Book was kindly provided by Christina Bauer in exchange for an honest review*
Reading Order & Links:


Amazon

(click on covers),

iBooks (click on titles) & Book Depository (click on book #)

Cursed #1
Review:
Jen

Concealed #2
Reviews:
Jen

Cherished #3
Review:
Jen



Crowned #4
Review:
Jen

Cradled

#4.5


Review:
Jen
Related Posts