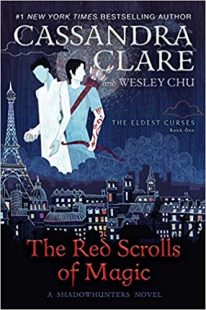 The Red Scrolls of Magic
(
The Eldest Curses #1
)
by
Cassandra Clare, Wesley Chu
Purchase on:
Amazon
, 
iBooks
Add to:
Goodreads
Synopsis:

From #1 New York Times bestseller Cassandra Clare and award-winner Wesley Chu comes the first book in a new series that follows High Warlock Magnus Bane and Alec Lightwood as they tour the world after the Mortal War. The Red Scrolls of Magic is a Shadowhunters novel.

All Magnus Bane wanted was a vacation—a lavish trip across Europe with Alec Lightwood, the Shadowhunter who against all odds is finally his boyfriend. But as soon as the pair settles in Paris, an old friend arrives with news about a demon-worshipping cult called the Crimson Hand that is bent on causing chaos around the world. A cult that was apparently founded by Magnus himself. Years ago. As a joke.

Now Magnus and Alec must race across Europe to track down the Crimson Hand and its elusive new leader before the cult can cause any more damage. As if it wasn't bad enough that their romantic getaway has been sidetracked, demons are now dogging their every step, and it is becoming harder to tell friend from foe. As their quest for answers becomes increasingly dire, Magnus and Alec will have to trust each other more than ever—even if it means revealing the secrets they've both been keeping.
WHAT THE WHAT?! That ending….???!?!?!
It literally pains me that I can't add quotes to this review but hey, I get it, it's an ARC and things are subject to change. Just know that I was highlighting like crazy the last 25%.
—
I can't lie, when I first found out that Cassie was writing ANOTHER series based in the Shadowhunter world, I was a little peeved. I mean I love Magnus, I really do, but I was just like "how much longer can all this be drug out?!"…I'm sure I'm not the only one who feels this way, too. Even throughout this book, I was enjoying it but kept thinking okayyyyy was this really necessary?! What is this story adding to the bigger picture besides just basically being fanfiction for Magnus x Alec shippers??
Yes. Yes it was necessary. For numerous reasons but DEFINITELY because of what happened in the epilogue. But really, no, even though *you know who* was found *you know where* that isn't why I will devour the rest of this series, no no no. I will soak up every single page of the next two books because finally being able to see Magnus and Alec's love front and center was a beautiful thing. Like literally I'm tearing up just thinking about it.
There are so many times when Magnus can be TOO MUCH…like, basically all the time. I find myself wondering often, how can he be so glib and joke-y about everything?! It's almost exhausting to read. Aaaand then you catch a small glimpse of who he really is, and why his facade is like that, and you understand. Magnus has been alive for a VERY long time. He has seen a lot of terrible things and lost a lot of people he had truly loved. He was almost killed as a child because of who he is and I'm sure since then there have been many more attempts on his life. He has lost friends, and he has seen the deep prejudices of the Clave play out against his fellow Downworlders. It's no wonder that he doesn't like to be serious. I think that is 100% his coping mechanism for dealing with the pure shittiness of the world. But there is so much more to him than that and it is really explored here. Magnus is so good it hurts. He is one of the best characters Clare has ever written.
And Alec, oh Alec. You sweet, strong, kind, and caring man. Guys, I LOVED getting Alec's POV in this book. I literally can't wait to see him in action View Spoiler »as Consul « Hide Spoiler in The Wicked Powers. He has grown SO MUCH from the boy in City of Bones who was the epitome of a rule follower. He has learned that while the most Shadowhunters abide by the saying "The Law is hard, but it is the Law" that things can't always be taken care of properly and fairly by the stupid "Law." Watching him in love with Magnus was like watching the most beautiful flower bloom (AND I DON'T CARE HOW CHEESY THAT SOUNDS). They are one of my favorites OTPs of all time.
Also, we get to see Aline and Helen meet and see the very beginnings of their relationship too which was great. Even though they are a big part of TDA overall, we don't get much time with them at all. Getting to know their personalities a little more was great. Also Raphael. I feel like I took him for granted during TMI. He's funny and snarky AF and cares so much more than you will ever know. Any who has entered and even just liked the world of the Shadowhunters will fall in love with this book and like I said, after that epilogue I am dying to get my hands on the next book!
This eARC was provided by Edelwiess and the publisher in exchange for an honest review! ♥
Related Posts